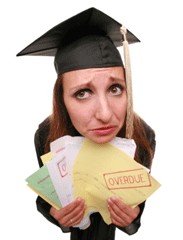 This September, over a million Canadians will start or resume their post-secondary educations. We take this for granted now, but half a century ago it was rare for young people to seek education beyond grade 12 -- if that far.
The desire for more education was clearly there, however. Studies like the 1962 Macdonald Report motivated the B.C. government of Wacky Bennett to build a new university (Simon Fraser) and to found a community college system. Similar trends made post-secondary accessible -- and cheap -- across Canada.
To give you a sense of how costs have changed, when Capilano College opened in 1968, a year's tuition in academic courses cost $200 -- equivalent to $1,184 in today's dollars. In 1987, tuition was $1,048 in today's dollars. In 1995, it was $1,424. But fulltime enrolment at Cap College this year will cost you $3,120 -- double the cost just 10 years ago.
Even so, Cap College is a bargain. According to StatsCan, average tuition for B.C. undergraduate students in 2003-2004 was $4,519 (in 2007 dollars). It hasn't gone down since then.
Tuition fees this year make up 23.3 per cent of B.C. post-secondary revenues, up dramatically from 19 per cent in 2003. Another 15.7 per cent comes from "other sales of goods and services" like parking, food, and photocopying. Federal funding covers only about 8 per cent of those revenues, with about 48 per cent coming from Victoria.
In other words, students are paying close to a quarter of the costs of their post-secondary education. Some manage to work part-time, often hurting their grades in the process. Others try to make enough money during the summer to cover the next year's expenses.
Many just can't make ends meet.
A million students in debt
So they borrow. And borrow. At least 990,000 students and former students across Canada have had to borrow to finance their educations, according to Julian Benedict of the Coalition for Student Loan Fairness.
If you visit the website of the Canadian Federation of Students, you'll see a "Canada Student Loan Debt" clock that is now well over $12.5 billion.
Shamus Reid, the head of the CFS in B.C., says the clock covers only the indebtedness incurred through the federal Canada Student Loan program. To get a real sense of the debt, we should add 30 per cent for B.C. provincial loans, plus whatever students run up on their own credit cards.
Reid says that half of the B.C. class of 2007 graduated in debt -- an average of $27,000. That's a 28 per cent increase from 2001, when the average debt burden, in today's dollars, was $21,000.
How did students get into this mess? When rich kids and scholarship students were the only ones who went to post-secondary, the system was small. It focused on advancing the brightest and flunking the rest. Those who passed would run the country.
But Wacky Bennett's Socreds could see that the future depended on teaching the local kids instead of just importing experts educated somewhere else.
A cheap, small post-secondary
The parents of the baby boomers were demanding better opportunities for their kids. They were glad to pay higher taxes to help get their children into law or medicine or business management. And by today's standards, the new post-secondary system was really cheap.
But it was also inadequate. B.C. had almost no post-secondary infrastructure: few instructors and staff, tiny libraries, and no suitable buildings. Cap College spent its first six years at West Van Secondary and various church basements. VCC started at the old King Edward High School at 12th and Oak, in classrooms with desks on rails.
Under the Dave Barrett NDP government in the early 1970s, however, the college system expanded rapidly across the province. The universities grew as well. Thousands of teaching, administrative and staff jobs opened up. A whole generation of MA's and PhD's soon took those jobs. Another generation of students flooded in. Post-secondary now had a lot of stakeholders.
Employers could pick and choose their employees from a much more qualified pool. Those without post-secondary were up the creek, and knew it -- especially when the recession hit in 1980. Young people and adults alike came back to school to improve their qualifications for the few jobs remaining. Women began to enroll in increasing numbers to help support themselves and their families. They're now a majority of both students and graduates.
Putting warm bodies in seats
Post-secondaries, meanwhile, came to depend on more students to support more programs. The whole system needed not just rich kids and smart kids, but every possible warm body.
Those bodies have been available. Virtually all students now understand that without post-secondary education, their career opportunities are limited. So they have been willing to borrow the money it takes to get them a diploma, certificate, or degree that they can take into the job market.
Colleges and universities are eager to sell them whatever program they want because the alternative is staff and faculty layoffs.
Governments since the 1960s have changed, however. Rather than go to their taxpayers, they have increasingly passed the cost of post-secondary on to the students and their families. And they have charged what the market will bear.
By now, the market will bear almost anything. When the Liberals took power in 2001, they jacked up tuition fees. We faculty were astounded to see students enroll in ever greater numbers ... at least until the last few years.
The market isn't bearing it any more, even with six different federal and provincial loan programs. And that bodes ill for everyone.
A bid for loan reform
Julian Benedict, who runs the Coalition for Student Loan Fairness from a Vancouver office, is trying to improve the situation. He and another former student, Mark O'Meara, founded CSLF last April. Among other resources, the organization's website offers news, horror stories from borrowers, and copies of the CSLF's correspondence with the Canada Student Loans Program.
Benedict is especially unhappy with the fact that Canada Student Loans is essentially funded by borrowers themselves, thanks to the high interest rates charged. The program also spends millions trying to collect from borrowers who have defaulted on their loans -- and it's easy to default since payments now kick in as soon as the borrower leaves school.
CSLF offers an eight-point plan for reform, including lower interest rates and a single-loan system. Since a significant number of borrowers run into bureaucratic hassles, CSLF wants an ombudsperson who can help resolve those problems.
"Borrowers aren't asking for a free ride," Benedict says. "We are asking for a fair lending rate and responsive customer service."
Low-income students giving up
Everyone agrees that post-secondary education means higher lifetime earnings. But the up-front costs of loan repayment can be a burden to graduates and a deterrent to students who don't want to get into debt. That, in turn, threatens a system with thousands of employees and a major impact on local and provincial economies.
StatsCan reports that in programs with rapidly rising tuition fees, students from low-income families have simply stopped enrolling. Education, long seen as a means of social mobility, is instead becoming a means of maintaining social stratification.
Most European countries charge very little tuition, and Sweden charges nothing at all. Such countries see the value in a highly educated population and workforce, so everyone invests in educating the next generation.
Here in North America we still see education as a benefit to the student, not the society. So we expect the individual to pay a substantial portion of post-secondary costs.
Until we change our minds about that, college and university will go on being unequally accessible.