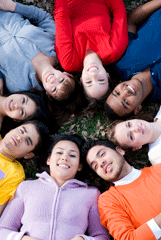 My Contemporary Literature college students are writing a final exam on a Saturday afternoon in December. Twenty-two have shown up, the number I'd hoped for. An early Christmas present. Thirty are registered in this course. A few stopped coming about halfway through. Jobs? Conflicting courses? With the high cost of tuition, it's hard to believe. Two here have submitted neither term papers (25%) nor oral reports (10%). Passing is not remotely possible. Why are they here?
More and more in recent years as a college instructor I ask myself this question. Do parents force them to come? Do high-school standards follow them like a thin miasma: come to class, warm a seat, and you'll be sure to pass?
Friend Rita recently returned to teach Adult Basic Education after a seven-year absence. Many of the same students were in the same beginners' class. School as social life, as outing, cheaper than the pub.
Is that the case here? Despite the collective lack of the work ethic, of rigour, this has been a spirited and engaging class. A restless invigilator (I always channel their nervousness), I look in the cupboard at the "goodies" I've saved over the term: party hats in glinting colours; reindeer ears with gold bells, now appropriate for the season; and paper paddles with fiercely illustrated Yes!'s on one side and No!'s on the other. All are from the students' oral presentations.
Consumed long ago were the clever food items: alphabet soup for a presentation on the poet b. p. nichol; the penis cake for Sharon Olds' poems (tasty and tastier). In my office are group drawings of stories' epiphanies. These students are willing to put themselves out there, wherever there is (I adopt their vernacular). But where's there? It's not any place academic.
Sweet bumblers
My Creative Writing class seems similarly hindered. They forget due dates, cannot find their way to another building to pick up copies of the journal we are studying. Daniel cheerfully confesses to not having completed the day's readings because he had his presentation to prepare. If three or four items are required for class preparation, students will pick one, then look hurt that I expect more. "But I wrote a poem. I couldn't prepare for the quiz, too." When asked if anyone will read more of a poet's work, Kelly announces, "I will. It's out there! . . . Well, if I had a choice, I'd probably play a video game instead."
And apparently it's not so different at the universities. My friend Meg's daughter says that all pupils in the back row have laptops open during the professor's lecture. He's an entertaining mosquito while they tool around in Facebook.
My husband says that soon enough a BA will be like Grade 12 completion. That sort of explains it. My current university-transfer students are the equivalent to yesterday's Grades 9 or 10.
They are sweet, so sweet. I love my students. In Creative Writing, Kelly and Sonya bring hoards of leftover Halloween candy bags to class because "we wanted to give them to people we liked." The jaws methodically chew as I do the class's work: the pupils are not prepared. Friendship as the great constant. In the Contemporary Literature class, dear Lisa, who didn't submit the term paper, participates in a group presentation on the last day of class, not wanting to let her teammates down. Bakes gingerbread cookies three at a time in a toaster oven. Now she is attempting to withdraw because of "extenuating circumstances." And what might those be, I wonder. The slap of the hand across the forehead: "Oops! I forgot to work."
No A's
And I'm becoming complicit, guilty. It seems odd to have no grades at the A level. I have talented students who don't have the wherewithal for the long haul. While one assignment might be carefully prepared, the rest will not. Students blithely admit to being on page 10 of the "novel/book" (read: play) we are studying that day.
No A's. Does it reflect badly on me as a teacher? I've not inspired them enough? Should have been more on their backs about due dates? Could have been as lenient as some of my colleagues -- the same ones who think plagiarism is an effective political response to authority -- who let papers come in, "oh, whenever," and mark them "oh, whenever," though always with an A?
I give Credit rather than No Credit to most of my Language Skills (read: Remedial; read: ESL) students, though several have not completed the requirements of the course. What good would repeating the class do? If an exercise in futility, my trigger finger presses "Credit" on the computer keyboard while my heart sighs.
Bums in the seats
The newspaper this morning dispirited me, not only because my favourite comic strips have been replaced with new 'n' improved ones. Change is a constant, I tell myself. Doris Lessing notes that the affluent have little interest in or regard for books. Another article foresees the closure of several elementary schools in the near future.
ADHD of the entire school system. Head in my hands. Bring on the Ritalin, for the teacher too. Especially for this teacher.
The seducing B.C. universities, vying for the same increasingly small number of students, have decided to dispense with much of the provincial exam requirement. The declining demographic. And then the further dumbing down.
The spring term is sadly under-enrolled. The new mantra, "Bums in seats." Hey, you with the pink hair, your computer bookmarked to Wikipedia and Sparksnotes, the un-cracked books. Yo! Over here. Me with the reindeer ears. Let me sign you up.
Related Tyee stories: