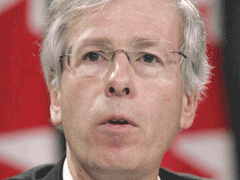 Stéphane Dion needs to make a big move. Public support for the Liberals is languishing around 32 per cent, virtually unchanged from a year ago. Any hopes that their protracted leadership race, or time in the penalty box would easily return Canada's "natural governing party" to power now seem delusional. Any thoughts of returning to the days when Liberals coasted from majority to majority are pure fantasy.
In fact, we haven't seen a majority government elected in Ottawa since 2000. That is no accident. While the Harper Conservatives don't want to admit it, the public has grown weary of the Versailles-like arrogance of majority governments. Quite rightly, Canadians no longer trust either national party with absolute power, a condition that may be permanent.
Dion should seize this as an opportunity rather than a problem. How? By following the inspired lead of many provincial governments and publicly committing to a process leading to federal electoral reform, such as proportional representation. The timing for this move is almost perfect.
First and foremost, Canadians would take notice that Dion is the Liberal leader and is acting like one. That in itself would be a major political accomplishment. Harper has shrewdly made such bold moves, including recognizing Quebecois as a nation within Canada, that have both impressed the public and isolated the Liberals.
Box out Harper, Bloc
Embracing electoral reform would be a similarly daring policy shift for Dion and force Harper to defend an electoral system that regularly fails to accurately represent the will of the voting public -- a sticky spot to put any conservative leader.
Because Harper has waited such a long time for his turn at majority rule, he can be counted on to defend the status quo -- an unsavory position for someone who has invested so much in being unlike the Liberals. Dion could then rightly claim it is now the Conservatives who are defending the politics of entitlement -- something that would make Harper blow a gasket.
It would also elegantly isolate the Bloc, which has enjoyed a free ride under our antiquated first-past-the-post voting system. In the last election the Bloc attracted only 10 per cent of the national vote but elected 17 per cent of the nation's MPs. They have shown no hesitation in wielding this disproportionate political power and most Canadians are sick of it.
Changing the electoral system would also be relatively simple. Unlike the past decades of seemingly endless constitutional debates that essentially changed nothing in lives of average Canadians, changing the electoral system could be done with a simple act of Parliament.
Forget backroom jackpot
In fact, the main obstacle of electoral reform lies not with the voters, but with vested interests in major parties. Like compulsive gamblers, backroom powerbrokers in both Liberal and Tory camps yearn for the political jackpot of majority rule.
Fortunately, Dion owes the backroom boys of the Liberal party very little. The split of the Liberal brain trust, backing either Rae or Ignatieff allowed Dion to come up the middle and win the leadership.
However, the hoary pragmatists in the Liberal party have not gone away and they will not hesitate to toss Dion from the hive should he lose the next race, which might well occur if an election was held today.
Those backroom boys should look beyond the latest polling results -- they might realize that electoral reform would actually help them in the long run. The political left is increasingly fragmented in Canada and Liberals better get comfortable in the opposition benches. They could be there for a long time.
However, a governing coalition of Liberals, NDP and Greens under a proportional voting system would hold a clear majority voting block and ensure the Liberals had a place in government for the foreseeable future. They just wouldn't enjoy absolute power -- thank God.
Energize voters
The transformative power of electoral reform could also make the political pie bigger. Only 65 per cent of eligible Canadians bothered to vote in the last election -- and for good reason. The politics of confrontation and the childish spectacles of question period typical of our first-past-the-post system are enough to make any self-respecting voter stay at home.
This leaves an untapped pool of over 8 million Canadians -- fully 35 per cent of registered voters -- who could be tempted to participate again in democracy if they felt there was a good reason to do so. Dion could capture a large portion of those disenfranchised voters if he came out with a bold vision to improve our democratic system.
There is also the small matter of good governance. First-past-the-post is an electoral museum piece now shared in the developed world by only the U.K. and the U.S. Those countries that instead enjoy some type of proportional representation have much higher voter turnouts, less scripted bickering among politicians and more progressive social policies.
You've got nothing to lose Stéphane. Surprise us. I might even vote for you.
Related Tyee stories: