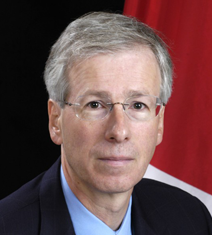 Mea culpa. My only excuse is pretty lame: taking a federal Liberal leader's statements and spin at face value.
In my last Tyee column looking at the next election, I got carried away with the widespread (by his supporters and others) notion that the new Liberal leader, Stéphane Dion, is a social liberal, a man to the left of his two predecessors, Jean Chrétien and Paul Martin. While anything (well, almost anything) is still possible, the evidence for Dion's progressive positioning is -- as a couple of friends gently pointed out to me -- pretty thin.
And getting thinner by the week.
The most recent evidence is found in revelations about Dion's new staff picks. Key amongst them, it seems to me, is Marcel Massé who, according to the Globe and Mail, will be Dion's principal secretary. Massé, a former senior cabinet minister under Chrétien, "will serve as the senior adviser in many areas." This should put to rest the debate going on amongst many people as to just what Dion's economic policies will be. But more than that, it is a disturbing revelation about where Dion sits vis-à-vis the role of government.
I suggested, based on listening to the man as he competed for the leadership, that Dion was a passionate believer in the role of government. But his principal secretary (and his cabinet colleague from the Chrétien era) could not be further from that belief unless he jumped off the scale. Massé's record in the Chrétien government marks him as one of the most dedicated neo-liberals and advocates of corporate globalization ever to hold a senior Canadian cabinet post.
Massé destruction
A long-time bureaucrat, Massé was a former Canadian director of the International Monetary Fund (IMF), and he is a hardliner on structural adjustment. He once stated: "It isn't just the Third World that needs structural adjustment -- we all do, in one form or another. We should avoid the temptation to let our desires for justice in the world obscure the view of reality." It leads me to wonder what Massé thinks of his boss's third policy pillar: social justice.
More than any single individual, Massé was responsible for designing the systematic gutting of the role of the federal government between 1995 and 1997, when Paul Martin's unprecedented budget cuts took place. He was chair of the Program Review Committee, which, despite its benign name, struck fear into the hearts of every Liberal cabinet minister and was referred to throughout the government as the Star Chamber. Cabinet ministers, even the most senior, were invited to the committee to receive -- not to discuss or debate -- their single piece of paper revealing the size of the cut to their departments. Paul Martin, Massé and Martin's deputy minister David Dodge (now head of the Bank of Canada) designed and implemented the most radical restructuring of the Canadian state in history.
Massé opposed across the board cuts -- he wanted, as did Paul Martin, to rewrite the role of government. So he saved the largest cuts of all for what we might call nation-building departments: transportation, natural resources, industrial and regional development, the environment, agriculture and fisheries. Then he delivered a savage, if not fatal, blow to the guiding principal of social program universality, killing the Canada Assistance Plan (CAP), which had provided national guidelines for social assistance since the era of Lester Pearson, and the long-standing (1977) Established Programs Financing, the method by which Ottawa provided targeted, accountable funding for health and post-secondary education to the provinces. These two programs were now to be delivered in a single lump sum to the provinces with no strings attached.
It was massive decentralization beyond anything Brian Mulroney had ever contemplated and greater than even Preston Manning had publicly called for. With the stroke of a pen, the three men reversed 40 years of federal leadership in social policy.
Dion versus labour
That Stéphane Dion has chosen this particular man to be his principal secretary comes as no surprise to those who have followed him closely.
When he first came to Ottawa, the academic he sought out for discussion and advice was none other than Tom Flanagan, the extreme-right Calgary School guru who advised and wrote policy for Preston Manning during the most critical years of the Reform Party's growth. Dion had spent a formative year at the Brookings Institution in the U.S., a strictly free-market research and policy institute whose public policy perspective is light years from the social liberalism of the Lester Pearson/Pierre Trudeau era.
His hard line on economic policy is also demonstrated in his attitude towards labour. His voting record on anti-scab legislation introduced by the Bloc and passed by the House? Dion opposed it twice and abstained once while most of the Liberal caucus (and even some Conservatives) voted in favour.
On his leadership candidate website, Stéphane Dion claimed: "My vision is that of a Canada that reconciles economic development, social development, environmental sustainability and public health better than any other country of our world." But he also said that he believed the vicious cuts to social spending by Paul Martin showed "compassion."
These two declarations are irreconcilable. So, too, are Dion's stated intention of creating jobs through the creation of a green economy and his hiring of Marcel Massé as his most important economic advisor. Taking an energy-guzzling economy focussed almost exclusively on exports to the U.S. and turning it into one based on environmental sustainability would require an enormous interventionist role for government. That is something Mr. Massé could never abide.
Maybe the secret is in Mr. Dion's pledge to model his first election campaign on Mr. Chrétien's winning 1993 bid. That election was based on the Red Book of promises. It turned out to be the Book of Lies. And even more reason not to give the Dion Liberals a majority.
Related Tyee stories: