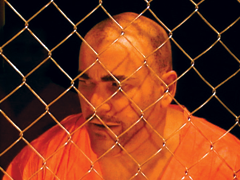 [Editor's note: The Tyee is pleased to welcome Andrew Struthers as our first videocolumnist. He will say his bit through the short films he makes and accompanying notes. If you somehow missed, two weeks ago, his Tyee article "My Wild Million-Hit Ride on YouTube," explaining how Struthers's little film about the lowly wood spider managed to top YouTube, nabbing 2.5 million viewers so far, that account with the film itself is here. As well as being a Web 2.0 celeb, Struthers is an old-fashioned accomplished author. He lives in Victoria, and you'll find him here at The Tyee twice a month.]
This week, as my second film to showcase here on The Tyee, I offer a thoughtful documentary on water boarding, mistaken incarceration, and the perils of being born outside the U.S.
One of the things I love about YouTube is the almost complete absence of censorship or hierarchy, which has made it possible to screen politically touchy documentaries.
For example, you can watch Adam Curtis's three-hour doc on the War on Terror, The Power of Nightmares. This film has not been shown on American television because, as the head of one major network told Curtis, "We would get slaughtered if we put this out." The carte blanche used to cover such failures of executive nerve is that we are at war.
But as they say in Vietnam, it's not a war until John McCain gets taken prisoner and tortured for years. Senator McCain endured half a decade of weekly thrashings so brutal his shoulder blades were damaged beyond repair, to the point where he can no longer salute his own flag.
Safe in Canada?
That's why McCain introduced his 2005 amendment to the Detainee Act, limiting the power of the White House to torture enemy combatants picked up in Afghanistan. And that's a good thing, because, as The Power of Nightmares reveals, those detainees were mostly out-of-town jihadists who had come to Afghanistan to fight the Soviets, and were shopped to the Americans by Northern Alliance rebels, who hated them more than they hated the occupying enemy (and who also received a cash prize for each). Three of the prisoners were children under the age of 16.
McCain's amendment does prohibit torture, but when Bush ratified it, he attached a signing statement that made it clear he would use his executive privilege to circumnavigate the new law whenever he deemed it necessary in the higher cause of protecting American citizens from terrorist attack.
The Detainee Act itself was then promptly rewritten by Rumsfeld so that the anti-torture proviso only stands on U.S. soil, and specifically points out that Guantanamo Bay is not part of the U.S.
Nor is Canada. As the law stands, you or your children can be picked up by the CIA and flown to a secret prison, tortured for years without recourse to trial or habeas corpus, and your torture-induced confession can then be used against you should you ever see the inside of a courtroom. The terrorists may not yet have won, but the terror certainly has.
Bush & Co. declaim that unless you are a militant Islamist, you have nothing to fear. Cold comfort indeed, as this is the same crew that screwed up Iraq, Katrina and the last midterm. Their next fiasco might involve your fine self, a free plane ticket to a secret prison and more dunking than a Tim Hortons franchise.
It's a brave new world, in which we have all somehow become inmates of Guantanamo Bay.
Related Tyee stories: