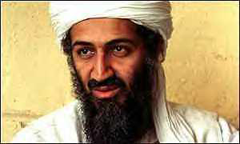 As the silhouette of a naked woman sways on the TV screen, a female voice coos: "Hi sexy. You've reached the live, one-on-one fantasy line."
A guy in a suit appears to the right of the screen, leering at the woman.
The ad isn't selling sex. It's selling a political candidate in New York state.
The 30-second commercial, complete with a cheesy porn-flick saxophone soundtrack, attacks the guy in the suit, Democratic congressional candidate Michael Arcuri, for allegedly billing taxpayers for a call to a phone-sex operation.
Arcuri says it was a wrong number. He says he dialed 800-457-8462 when he meant to dial 518-457-8462, the number for the New York State Department of Criminal Justice Services.
The phone records seem to bear him out on this point and even his opponent is distancing himself from the ad, which was produced by the National Republican Congressional Committee.
The anti-Arcuri ad is just one of a welter of sleazy attack ads that are breaking out like a bad rash across the U.S. as the Nov. 7 elections near.
'Terrorists need their privacy'
Ignoring potential election issues such as the economy and the war in Iraq, candidates are getting personal in a campaign that has been dominated by the revelations of Representative Mark Foley's creepy e-mails.
What is really great, however, is that Canadians can enjoy this big-budget mudslinging for the first time, thanks to the Internet. Ads like the Arcuri soft-core hard-sell are available on YouTube to anyone with a high-speed connection.
Thanks to the World Wide Web, it's no longer true that all dirty politics are local.
Check out, for example, this attack on Tennessee Democratic Congressman Harold Ford, which features people who appear to be actors saying things like: "Terrorists need their privacy" and "I'd love to pay higher marriage taxes."
"Canada can take care of North Korea," says a gent in a ball cap and overalls. "They're not busy."
"So he took money from porn movie producers," adds a guy in sunglasses. "I mean, who hasn't?"
And a blond bimbo says, "I met Harold at the Playboy party."
Unfair? Ford, who spends a lot of time on the campaign trail talking about God and denies he's ever been to Hugh Hefner's mansion, certainly thinks so.
Entertaining? You bet.
Ford is hitting back with an ad dedicated to "The Fabulous Life" of his opponent, Bob Corker. An announcer who sounds vaguely like Robin Leach declares that Corker, a Republican, lives in a 30-room mansion, owns six SUVs and denied raises to Chattanooga police and firefighters when he was mayor of that city.
No sex, but you can't have everything.
Hobo invaders: old school
These ads are, let's face it, a lot more fun than the namby-pamby stuff that passes for attack ads here in Canada. Sure, there was the Progressive Conservative ad back in 1993 that made fun of Jean Chrétien's face. But that's nothing compared to the kinds of smears the Americans have perfected.
Modern media-enabled mudslinging dates back to 1934, which is when writer Upton Sinclair ran for governor of California on a platform that promised to alleviate the pain of the Depression.
The Republicans fought back with a series of ads that looked like newsreels and ran in cinemas all over the state.
In one, a train-full of hoboes invaded California, looking for handouts.
"Sinclair says he'll take the property of the working people and give it to us," explained one made-up tramp.
Another bum resorted to dialect to reinforce his message.
"His system vorked vell in Russia, so vy can't it vork here?" the bearded Bolshevik inquired.
Daisy, and the sequel
It would be another 30 years, however, before the Democrats cooked up what is probably the most celebrated attack ad of all time.
The "Daisy" ad played upon perceptions that Barry Goldwater was too wacky to have his finger on the nuclear button. The ad aired only once, but scholars and political junkies still talk about it.
It starts with the twittering of birds and a shot of a little girl in a meadow, pulling the petals off a daisy. She counts the petals -- "five, seven, six, six, eight, nine, nine" -- then falls silent as a mechanical voice begins a missile-launch countdown.
The camera zooms into an extreme close up of her eye, until the screen goes black. Cut to a mushroom cloud.
"Vote for President Johnson on November 3," says the announcer. "The stakes are too high for you to stay home."
This year, the Republicans have come up with their own version of the "Daisy" ad. The only sound is a ticking watch, which grows increasingly louder. Shots of Osama bin Laden and his al-Qaida cronies are superimposed over footage of terrorist training camps. Threats to kill Americans inside America are displayed.
As the watch suddenly stops ticking, an inferno engulfs the screen. "These are the stakes," reads the message on the screen. "Vote November 7."
'Didn't come in a spaceship'
Not all ads are that scary, though. Some, like those approved by Vernon Robinson, a congressional candidate from North Carolina, are just plain loopy.
One Robinson ad declares that illegal aliens are stealing jobs from millions of Americans, taking government handouts and burning the flag. Robinson's opponent, Democrat Brad Miller, is soft on this issue, we are told. Robinson, according to the ad, proudly served in the Air Force under the American flag -- "the flag Brad Miller voted to let illegal aliens burn and trample."
Another starts out by zooming in on a black-and-white TV set from the 1950s as an announcer says: "If you're a conservative Republican, watching the news these days can make you feel as though you are in The Twilight Zone."
Islamic bad guys are attacking Americans all over the world, the announcer explains, while "homosexuals are mocking holy matrimony" (shot of two men kissing, followed by a shot of two male figures on a wedding cake), "lesbians and feminists are attacking everything sacred" and liberal judges are completely rewriting the U.S. Constitution.
Not only that, but "you can burn the American flag and kill a million babies a year (shot of a fetus), but you can't post the Ten Commandments or say 'God.'"
The ad goes on to attack Jesse Jackson and Rev. Al Sharpton (Robinson is black) and announce that "illegal aliens are here, but they didn't come in a spaceship."
Turns out they came from Mexico.
The ad ends with Robinson promising to send all this bad stuff back to The Twilight Zone and resurrect traditional American values. Cut to a clip of the Cleaver family from Leave It to Beaver, complete with the show's insanely cheerful theme music.
Forward into The Twilight Zone or back to the '50s? On Nov. 7, America, it's your choice. And thanks to YouTube, Canadians will be watching.
Related Tyee stories: