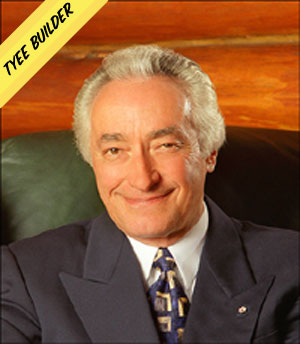 "Why do I support The Tyee? Because it consistently features first-class, informative journalism of the kind you're not likely to find elsewhere." -- Mel Hurtig
Hurtig's support means a lot to the Tyee. After all, he's a guy who knows informative writing when he sees it; Hurtig published the Canadian Encyclopedia, the definitive national encyclopedia for our country. Besides being a publishing mogul, Hurtig has also owned a chain of book stores, tried his hand at politics, and helped establish the Council of Canadians. He's also an author. His most recent book, The Truth About Canada, takes on "how Canada has changed, very much for the worse, in the last 20 years."
If you, like Mel Hurtig and the rest of the Builders who support The Tyee, believe that Canadian media needs independent voices contributing to the news, join us! Besides knowing that you're supporting award-winning journalism, you'll also get a few treats out of the deal like, oh, a signed book by one of our famous Builders! That includes copies of Hurtig's latest: The Truth About Canada, reviewed by The Tyee here. Just click on the yellow button below to sign up -- and do so quick for your best chance of getting your top choice of book.

About this Tyee Builder: Mel Hurtig was born in Edmonton, Alberta. He is an author, publisher, and former politician, and has been awarded the Order of Canada for his contributions. In addition, Hurtig has been awarded the Lester B. Pearson Man of the Year Award, the Royal Society of Canada's Centenary Medal, and the Speaker of the Year Award. He has chaired various foundations, including the Council of Canadians and the Committee for an Independent Canada. Finally, he has written, on occasion, for The Tyee. You can find out more about Hurtig on his website.
About the Tyee Builder Program: Want to give independent Canadian journalism a boost? You've come to the right place. The Tyee is trying to become fully sustainable. In order to do so, we've launched the Tyee Builders program to allow readers who love The Tyee's work to help fund more of it. Every penny you support us with will go directly to pay Tyee writers and editors. And besides the warm, fuzzy feelings you'll get knowing you're helping dial up the volume on an independent voice in Canadian media, we've come up with a few other ways to thank you. Click on "Hammertime" above to learn more and start Building!