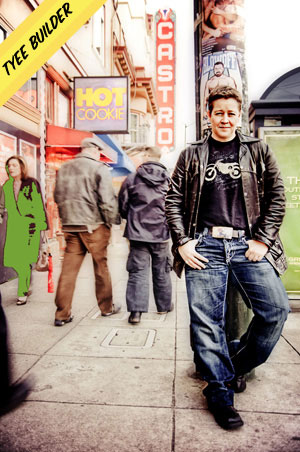 "What hooks me? Rain, hail, sunshine and a windstorm, all on the same day." -- Ivan E. Coyote
Now before you get jealous, remember: Ivan grew up in the Yukon. They have 23 hour days up there. For most Tyee readers, you'd be better off setting your expectations lower. In southern British Columbia, where The Tyee has its headquarters, we're always able to guarantee the first part of Ivan's ideal weather system: RAIN.
And what do you do when it's raining? If you're lucky, you stay inside and cozy up with a good read. Something...informative. Entertaining. Independent! May we humbly suggest The Tyee?
For nine years, The Tyee has been doing its darnedest to publish top-notch journalism about the events and issues that matter to Canadians. We've been doing a good job, which is why Ivan and the rest of the famous Tyee Builders have signed on to support us, along with over 300 Tyee readers. However, we want to do more.
If you'd like, you can help us. Simply click on the yellow button below, and you can become a Builder. That means you're part of our inner circle of supporters, that you value independent voices in Canada's media conversation, and that you want to read more Tyee journalism in the months to come. All funds that we accumulate from our Tyee Builders drive will go directly to producing more journalism, with no fees or overhead deducted. We have our basic costs covered. Please be part of our Builder team!

About this Tyee Builder: Ivan E. Coyote was born and raised in Whitehorse, YT. She is the author of several books of poetry and short stories, including the award-winner, Bow Grip, which The Tyee reviewed in 2007. This month, Ivan has a new book out, published by Arsenal Pulp Press, called One in Every Crowd.
In addition to being a literary phenom, Ivan is also a role model. Through writing and performance, she has made great contributions to the dialogue about sexuality and gender identity, and has been especially influential in the lives of queer youth in Canada. Ivan currently teaches at Capilano University.
About the Tyee Builder Program: Want to give independent Canadian journalism a boost? You've come to the right place. The Tyee is trying to become fully sustainable. In order to do so, we've launched the Tyee Builders program to allow readers who love The Tyee's work to help fund more of it. Every penny you support us with will go directly to pay Tyee writers and editors. And besides the warm, fuzzy feelings you'll get knowing you're helping dial up the volume on an independent voice in Canadian media, we've come up with a few other ways to thank you. Click on "Hammertime" above to learn more and start Building!