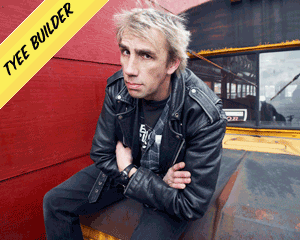 "What hooks me? People doing the right thing because it's the right thing to do, and stopping to help somebody in distress rather than getting out their iPhones to record a YouTube moment." -- Joe "Joey Shithead" Keithley
Joe is absolutely right. "Doing the right thing" and helping friends in need is something we could probably all do a little more of. That's why he supports The Tyee as a member of our Tyee Builders program. Want to join Joe in lending independent Canadian media a much-needed hand? Click on the big yellow button below to learn about how you can help and to sign up.

Like much of Joe's music, the Tyee Builders program is a response to the state of the world today. He believes that right now, "we need independent media more than ever." If you think so too, and you want to do something about it, become a Tyee Builder today. By doing so, you can help ensure that Canadian media keeps one of its most outspoken, independent voices.
About this Tyee Builder: Born and raised in Burnaby, B.C., Joe Keithley rose to fame in the 1980s as the leading man in the punk band, D.O.A., Today, this world-renowned musician often plays for audiences at peace rallies and environmental events: D.O.A.'s 2011 tour included stops at Occupy protests in Ottawa, Regina, Vancouver, and at Occupy Wall Street. Joe is also the founder and president of Sudden Death Records.
In addition to being a rock star, Joe is an author (in 2004, he published the autobiographical I, Shithead) and has a political streak: he has run twice for provincial office as part of the Green Party. With all these talents, it's no wonder that he was nominated in The Tyee's "People's Order of BC" in 2011. You can read all about that here, and can find out more about Joe "Joey Shithead" Keithley on the website for Sudden Death Records.
About the Tyee Builder Program: Want to give independent Canadian journalism a boost? You've come to the right place. The Tyee is trying to become fully sustainable. In order to do so, we've launched the Tyee Builders program to allows readers who love The Tyee's work to help fund more of it. Every penny you support us with will go directly to pay Tyee writers and editors. And besides the warm, fuzzy feelings you'll get knowing you're helping dial up the volume on an independent voice in Canadian media, we've come up with a few other ways to thank you. Click on "Hammertime" above to learn more and start Building!