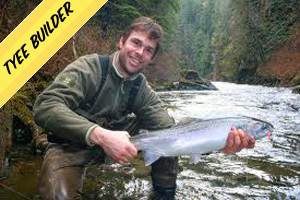 "What hooks me? The ocean wind over an eagle's back or hearing the rush of water over the rocks. I'm not sure if this is paradise or a form of therapy, but there are few things I love more than the morning stillness on the water." -- Willie Mitchell
Born and raised in the Vancouver Island town of Port McNeill, British Columbia, it's no wonder Willie has a soft spot for the ocean... and its inhabitants. He's on the advisory committee for the Save Our Salmon Society, and he's supporting The Tyee as we strive to make our organization more sustainable.
In order to help The Tyee publish more top-notch, independent, Canadian journalism, Willie has become a member of our Tyee Builder program. He's helping us spread the word about "building up" our reporting capacity, and you can join him. Just click on the yellow button below and choose your level of support.

About this Tyee Builder: A former Vancouver Canuck, Willie Mitchell is now a player for the Los Angeles Kings. His NHL career began with the New Jersey Devils in 1999, and has included seasons with the Minnesota Wild and Dallas Stars. Willie also played with Team Canada at the 2004 World Championships, where he won a gold medal.
Though his NHL commitments keep him busy, Willie also finds time to volunteer with several philanthropic groups in his home province. His work with the Save Our Salmon Initiative will help ensure that British Columbia's wild salmon population is protected for future generations. His work with the Tyee Builders will help do the same for our journalism.
About the Tyee Builder Program: Want to give independent Canadian journalism a boost? You've come to the right place. The Tyee is trying to become fully sustainable. In order to do so, we've launched the Tyee Builders program to allow readers who love The Tyee's work to help fund more of it.
Every penny you support us with will go directly to pay Tyee writers and editors. And besides the warm, fuzzy feelings you'll get knowing you're helping dial up the volume on an independent voice in Canadian media, we've come up with a few other ways to thank you. Click on "Hammertime" above to learn more and start Building!