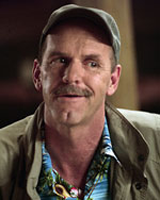 [Editor's note: This is the latest in Leiren-Young's series of podcast conversations with people who have a relationship -- political, economic, spiritual -- with trees. To find the rest, go here. Leiren-Young's feature film about forests and people, The Green Chain, is screening internationally and garnering honours.]
The Beachcombers is so iconic, that even if you never saw CBC's long-running family drama you probably feel like you did.
In 1990 I was lucky enough to interview actor Robert Clothier about the final season of The Beachcombers -- which wasn't just Canada's longest running series, but was challenging Bonanza for the title of longest running drama series ever -- and even though I'd never been a fan of the show, his passion for it was so genuine that I found myself missing it desperately and furious at the Torontonians at CBC head office who'd taken a chainsaw to part of B.C.'s culture.
Jackson Davies (who played RCMP officer Constable Constable on The Beachcombers) has fought to revive the series ever since it left the airwaves and helped produce two highly rated TV movies that reunited the surviving cast members -- and introduced a new generation of stars, and viewers, to the mythic meeting place, Molly's Reach, and the not so mythical land of Gibsons, B.C.
When we launched this podcast, the idea was to get different perspectives on B.C.'s forests. And it hit me that for a lot of people around the world, the image they have of our forests, our loggers and our trees comes from watching Nick, Relic, Jessie and Constable Constable fight their weekly battles over those drifting logs.
These days Jackson is teaching film at Capilano College and starring in The Producers at the Arts Club's Stanley Theatre. I met Jackson at Listel O'Douls in downtown Vancouver to talk about the death of The Beachcombers, the death of real-life beachcombing and how the world saw Molly's Reach.
Related Tyee stories: