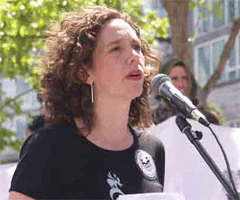 Green is the new black," says ForestEthics founder, Tzeporah Berman, with a laugh as she tells The Tyee about the rest of the world finally starting to catch up to British Columbians on environmental issues.
In 2007, the former Greenpeace organizer talked politics in Hollywood with Paris Hilton and played politics in Bali with Canada's environment minister, John Baird.
Last week's interview covered Berman's role in Leonardo DiCaprio's cinematic plea to save the planet, The 11th Hour, the upcoming battle of Athabasca and her life under the media microscope.
This week, in the conclusion of our special two-part podcast, Berman deals with the founding of ForestEthics and catalogues some of their major victories . . . including their war against environmentally dirty underwear.
The uncompromising activist also talks about the challenges of making compromises, the power of powersuits, staying hopeful and discussing lingerie with Gloria Steinem.
Related Tyee stories: