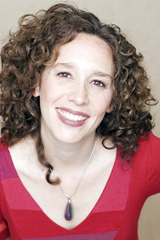 She starred in Leonardo diCaprio's eco-alarm ringing film The 11th Hour and raised the alarm against John Baird, Canada's top government rep in Bali. Last year Tzeporah Berman was everywhere.
At a party in Vancouver a few months ago celebrating Forest Ethics' astonishing victory in convincing the B.C. government to preserve 2.2 million hectares of habitat for the world's only mountain caribou, the key players in the group were introduced to the audience and applauded. Everyone else in the organization was identified by their official title. Berman was introduced as, "our rock star."
A former top strategist and organizer with Greenpeace and one of the founders of Forest Ethics, the woman former B.C. premier Glen Clark once called an enemy of the state has been on the frontlines of the Canadian environmental movement for over a decade. But in 2007 Berman achieved Suzuki-esque status when she was chosen as one of the featured players (along with Dr. David) in Hollywood's cinematic plea to save the planet, The 11th Hour and, weirdly, scored an official audience with that media icon of our age, Paris Hilton.
She ended her amazing year facing off against Canada's minister of the environment, John Baird, at the UN Climate Change Conference in Bali -- a story she chronicled for us at The Tyee.
I met Berman at the Forest Ethics office in downtown Vancouver not long before she left to Bali. Here's part one of a two part podcast in which she talks about spinning celebrity, her biggest battles, sticky fights in the tar sands and how we'll always have Paris. Part one runs today, and part two will run next Friday.
Related Tyee stories:
An Eco-Activist in Bali
Sparring with Minister Baird, and more of Tzeporah Berman's blogging from the climate talks.