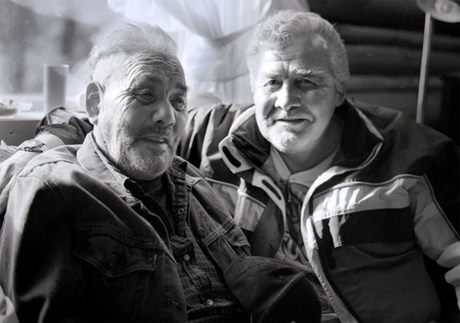 The path to true understanding isn't always what it seems. For photojournalist Claire Martin, it was a rough road between two remote towns in northern British Columbia: Iskut and Telegraph Creek.
Martin traveled to Iskut early this fall intending to document what she thought would be a hot story.
A court injunction was potentially about to force a band of Tahltan protesters off a nearby road blockade they'd been manning all summer, set up to prevent oil company Royal Dutch Shell from rebuilding a road into Klappen Valley.
The area is a sacred place for the Tahltan, from whence the Skeena, Nass and Stikine rivers begin, and is also a possible source of coalbed methane gas.
An injunction never came down, and Martin says the blockaders were somewhat blasé about talking to another journalist from the south anyway.
But rather than turn around and go home, she made a tedious four-hour drive further north to Telegraph Creek. There she was able to spend some time with the Tahltan, and better understand this First Nation's struggle to protect the resources that have sustained them for so long while planning pragmatically for their children's future.
500 souls
"I learned that they're incredibly proud and amazingly hospitable," said Martin of the Tahltan people in Telegraph Creek, which has a population of about 500 (about half the size of Iskut).
Hunting and fishing are a big part of Tahltan life, and with winter approaching many residents were busy canning and drying their own salmon, says Martin. She found that nearly everyone is an artisan of some sort, and music is a part of everyday life.
"I was surprised at how in touch with their traditions they were," remarked Martin. "I honestly didn't expect them to be so connected to their land and their traditions."
She was welcomed into peoples' homes, which allowed for an intimate glimpse of a community closeness that she called "much stronger than I've ever seen in my own city."
It is the elders in the community who have been most vocal about having too much development too soon. They understand the importance of jobs and opportunity for young people, said Martin, but don't see the need for multiple projects at once.
A new purpose
"I spoke to some elders who were incredible," said Martin. "A lot of them spoke openly to me about having been alcoholics and having overcome that. Now they have a new purpose in life and that's to regain touch with their traditions and to pass that on to the young."
"The elders, they're fighting for their traditions and for their land and for their people."
Related Tyee stories: