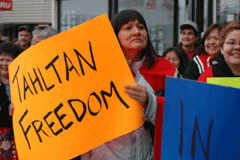 When Royal Dutch Shell's directors took the reins of Shell Canada earlier this month, they inherited a brewing resource conflict in a remote corner of British Columbia that bears a striking resemblance to Royal Dutch's difficulties in other parts of the world.
The setting is a remote alpine basin southeast of Dease Lake, where the shared origin of the Nass, Stikine and Skeena Rivers gives the area its local name: the Sacred Headwaters. A stunning, expansive wilderness, it is the territory of the Tahltan people, who have hunted and trapped there for generations. It also happens to be underlain by one of British Columbia's largest potential coalbed methane deposits, to which Shell Canada -- and now Royal Dutch Shell -- holds drilling rights.
Three years ago, with tenure to drill in hand, Shell Canada didn't waste any time. While most Tahltan were attending a funeral, Shell's contractors unceremoniously bulldozed an access road through a Tahltan trapper's camp and quickly drilled three exploratory wells in the heart of the headwaters. These actions outraged many Tahltan who, when they learned more about the impacts of coalbed methane development, became determined to protect their territory from the threats posed by the invasive drilling.
The next flashpoint in the Tahltan's struggle with Shell occurred in 2005 when four Shell Canada employees in a pick-up pulled up to the band office in the small Tahltan village of Iskut. There, they were greeted by a group of Tahltan wearing regalia and beating drums. It wasn't a welcoming ceremony. The elders had gathered to read the Shell employees a notice evicting Shell from their territory. The Shell representatives quickly got back in their truck and drove away.
Complex internal politics
While the eviction of Shell was a unified demonstration of Tahltan power, there also exists a deep internal struggle within this northern nation. In the face of an unprecedented northern mining and energy boom, the Talhtan are scrambling to balance potential economic development with threats to their lands. They are also working to reconcile internal divisions between those within their communities who favor development and those who see the current scenario as simply too much, too fast. Compounding all this are the all-too-common tensions between the hereditary, family-based system and the elected band system.
The eviction forced Shell to step back and think about how it might more legitimately gain social license to the tenure area. In negotiating this access, they have focused on the Tahltan Central Council, a society set up to serve as the primary body for Tahltan treaty and resource development negotiations. So far Shell has been unsuccessful, choosing to cancel last summer's drilling program rather than risk conflict.
Undisclosed concessions
Shell's latest proposal involves the company conducting a limited exploratory drilling program in exchange for a set of undisclosed concessions. Even if the Central Council accepts this deal, it is unlikely to be approved by the Iskut elders, who are resolute in their opposition to the project moving forward.
So far Shell Canada has proceeded cautiously in Tahltan country, wary of the damage newscasts showing First Nations grandmothers being dragged away by RCMP could do to its already tainted corporate image. The question is whether Royal Dutch Shell, which obtained the drilling tenure as part of the takeover of Shell Canada, will be as cautious.
After all, Royal Dutch is hardly adverse to dealing in -- and even exploiting -- deeply divided indigenous communities. In Nigeria, as in B.C., an aggressive resource development agenda has moved ahead despite unresolved indigenous claims. The result has been a decades-long violent conflict between Shell, the Nigerian government, and the Ogoni people that has severely tarnished Shell's international reputation. When the Nigerian military executed anti-Shell activist Ken Saro-Wiwa in 1995, it sent shockwaves around the globe and sparked outrage that led to broad-based consumer boycotts of the petroleum giant.
Shell admits to a role in the Nigeria crisis. A leaked internal report Shell commissioned in 2003 states, "We sometimes feed conflict by the way we award contracts, gain access to land and deal with community representatives." It's an admission that does not bode well for the Tahltan.
Tahltan protests
Granted, B.C. resource conflicts look tame next to the tumultuous, violent political environment of the Niger delta. Tahltan elders blockaded the main access road into the Sacred Headwaters both in 2005 and 2006, preventing access by Fortune Minerals and bcMetals, respectively. Both protests led to arrests, but they were also marked by cooperation and understanding on the part of the RCMP. Given this, and the peaceful approach of the Talhtan (many of the blockaders are grandmothers), it is highly unlikely that the conflict there will result in physical violence.
It is a violence of another kind the Tahltan fear Royal Dutch Shell will perpetrate. If the company pushes forward with its project before the Tahltan have decided upon a land-use plan for their territory, it will undoubtedly result in more blockades, arrests, and the upheaval of a fragile community. At a time of year when Tahltan families hunt moose and fish for salmon, they will be instead be fighting drilling operations -- camping not in the alpine headwaters but at the blockade site at the junction of Ealue Lake Road and Highway 37.
There are other deeper, more disturbing social consequences, too, for a village that already suffers from high rates of drug and alcohol abuse and suicide. With the social fabric already stretched, the turmoil caused by Shell and various mining companies pushes the community closer to a total social breakdown.
'When gas explodes'
Outside the headwaters, other factors promise to complicate Shell's path forward. For one, there is a real possibility Shell's activities in northern B.C. will draw international attention, especially given the growing interest of environmental organizations. The day Royal Dutch took over Shell Canada, One Sky, the Canadian Institute for Sustainable Living, released a report entitled When Gas Explodes, explicitly drawing the Nigeria-B.C. link. In the same vein, the Dogwood Initiative, a Victoria-based organization that works for community land rights, released a documentary video entitled British Columbia: Nigeria North?, which has received significant attention.
Then there is the growing public disapproval of coalbed methane (CBM) development in general. Just south of the Sacred Headwaters, the residents of the Bulkley Valley, including the Wet'suwet'en First Nation, have waged an effective and populist campaign against a proposed CBM field adjacent to the village of Telkwa. Protests against the project have seen over 600 people take to the street (this in a town of only 5,000). They have received support from the Tahltan elders and are likely to reciprocate should the Tahltan call on them.
Did Shell Canada's board brief Royal Dutch on the difficulties it faces in the Sacred Headwaters? Or did they simply unroll the B.C. Ministry of Energy and Mines' coalbed methane resource map and point to the shaded area indicating 8 trillion cubic feet of coalbed methane?
In the early days of coal mining, coalbed methane -- then known as firedamp -- was much feared by coalminers. This odorless, invisible gas surreptitiously collected in mineshafts, causing fatal explosions with a single spark. To warn them of this threat, miners took canaries underground with them where the birds' death served as a clear sign of danger.
It's the kind of warning Shell Canada's outgoing directors should be giving Royal Dutch Shell: in the Sacred Headwaters, an explosion is imminent.
Related Tyee stories: