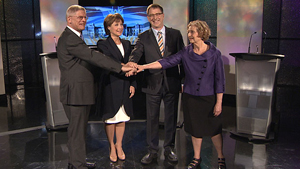 [Editor's note: Some Tyee contributors gave us their impressions of the BC Leaders Debate on Monday night. Here's what they had to say.]
Steve Burgess: With all the references to Peter & Paul at the BC Leaders Debate it sometimes sounded as though everybody was going for the Catholic vote.
But despite some obvious nerves off the top, particularly from Dix and Cummins, the event settled down into a nice battle. Jennifer Burke asked some admirably sharp questions and the main contenders came off well. Clark looked slick but didn't come off as annoyingly glib, which can be her downfall. Her worst moment: attacking Dix for his "priorities" after Dix answered a viewer question on pot legalization.
Dix's priority, unlike Clark's, was answering the question. Worked for me. Dix held his own and managed to avoid skinning a bunch of Dalmatians for their lovely fur, which is what he would have to do to lose the election.
Andrew MacLeod: The televised BC election debate ended at 8:00 p.m. At 8:05 p.m. the BC Conservatives declared victory for John Cummins in a press release: "John Cummins wins TV Leaders' Debate." At 8:10 p.m. the BC Liberals claimed the win for Christy Clark in a "talking points" email: "Premier wins TV debate." And at 8:51 p.m. the NDP released a statement on Adrian Dix's performance: "Dix Demonstrates It's Time for Change for the Better." Despite the double entendre headline, the first sentence made it clear they weren't conceding a loss: "BC NDP Leader Adrian Dix won tonight's televised leaders debate." I haven't seen a press release from the Green Party yet, but it seems safe to assume that once they give it full consideration they'll conclude their leader Jane Sterk won. Congratulations to all!
And what did the B.C. public think? I watched the debate on a jumpy livestream in the Prince George airport. As far as I could tell, I was the only one there making the effort. The lounge's one TV was tuned to hockey. Go, Canucks, go.
Chris Pollon: Neither Christy Clark nor Adrian Dix suffered any mortal blows, although Clark needed to do much better to turn the momentum of the election. Dix started on shaky ground, visibly nervous, his voice trembling, but recovered quickly. It helped that he had so much to snipe at: the HST, the Pacific Carbon Trust, child poverty, past deficits. Christy Clark was composed throughout but detached: her attempts to nail Dix about overspending, inconsistent NDP messages about a fracking moratorium, and the Kinder Morgan flip were not entirely successful.
Clark failed to address head-on the issues why she is unpopular with women -- she was asked point blank -- but defaulted back to talk of a strong economy. Her solution when asked about B.C.'s high child poverty rates was to pursue increased economic growth. John Cummins repeatedly and incorrectly suggested that the carbon tax was not revenue neutral, but conceded at Dix's urging that "climate change is real."
Jane Sterk brought several important issues to the fore, including that Site C will be built to power LNG, and that LNG as currently planned (three LNG plants by 2020) is "a fantasy" -- on the latter point, no truer comment was made this night.
Bob Mackin: No knockout punch was dealt or game changer felt during Monday's televised British Columbia party leaders' debate.
Conservative John Cummins started strong, but faded and fumbled before the finish. NDP's Adrian Dix had the most to lose. While the frontrunner appeared nervous and his voice quivered early, Dix recovered with a strong finish and successfully targeted Premier Christy Clark's credibility on her central fiscal responsibility themes. Clark improved upon her April 25 CKNW debate performance, but did not score the blow she so desperately needed to turn the tide with two weeks to go until voting day.
Green Party leader Jane Sterk was last to arrive and offered the most consistent effort from start to finish.
Robyn Smith: Glad we got to hear those closing statements, as they were telling. John Cummins, who relied heavily on notes during the debate, warned viewers that both the BC Liberals and BC NDP would tax them into oblivion. Judging from his messaging throughout, it's possible the only thing written on those notes was "Taxes = Bad." But his pick-up truck tour sounds fun.
Jane Sterk, who had a few noteworthy one-on-one performances -- particularly when hammering Adrian Dix on welfare -- finished cleverly by warning viewers not to believe in the BC Liberal "pipe dream" of "selling off B.C.", or the NDP's "change for the marginally better" platform.
Christy Clark, not one to deviate from a line, asked viewers for their vote by presenting the choice as one of economic risk or one of stability. Yet running out of time at the end of her remarks, someone cut the mic and her voice faded out before she could finish. It was almost poetic. Adrian Dix took time in his closing remarks to hit Clark where it hurts, saying what B.C. will inherit from the BC Liberals is "big debt, big deficit, and big job losses."
Finally, in a nice little turn of phrase, moderator Jennifer Burke offered her final two cents: "None of this matters if you don't exercise your franchise." Now there's something you can't debate.
Tom Barrett: Tonight would have been a good debate for Premier Christy Clark if she'd been the one with the 15-point lead. It's hard to think that her performance gained her any ground on the NDP, though. Usually a consensus doesn't form about the winner of a debate until a couple of days after the event. But even if Clark is declared the winner, there's a good chance that too many voters have tuned her out for it to do her any good.
Geoff Dembicki: Adrian Dix unequivocally won the debate about pipelines and oil tankers. He did so by framing the issue as a power relationship between the NDP and Prime Minister Stephen Harper's federal government -- one that would be resolved in British Columbia's favour under his leadership. Dix reminded voters that his party had "submitted to the national review" on Gateway; promised to "end the equivalency agreement with the federal government; and resolved to create a situation where Ottawa would not "make our decisions about these pipelines." Premier Christy Clark also framed her "five conditions" about Northern Gateway as a power struggle. Yet by claiming that she'd "stood her ground" against the other premiers in Halifax who opposed the conditions, she effectively ceded power to Harper. The feds, after all, are the ones that will make the final decision on Gateway (notwithstanding potential legal challenges). Green Party leader Jane Sterk, meanwhile, split hairs about just how anti-tanker Dix actually is: "Would you accept a diversion of the [Kinder Morgan] line to the U.S.?" And Conservative Party leader John Cummins merely placed his faith in the oil companies and their world-leading safety technology.
Bill Tieleman: Adrian Dix was the clear winner of last night's leaders' debate from any perspective but the most partisan -- because foremost, he definitely didn't lose. Dix had a shaky start but then went on full attack against Christy Clark, rattling her with facts and figures. And Clark had to not only win but win big to overcome the lead the NDP has built up with just two weeks to go.
Jane Sterk and John Cummins were better than some expected and scored a few points but were mostly relegated to the sidelines compared to the one-on-one confrontations between Dix and Clark.
Aurora Tejeida: If I had to choose a winner for the B.C. Leaders debate, it would most definitely be a tie between Jane Sterk's outfit and Adrian Dix's eyebrows. Wouldn't it be fun if an actual floating head was running for premier? This brings me to five lessons I learned from this debate.
Lesson number one: Always check the colour of the backdrop before choosing your outfit. I bet we all wanted to make a "clothing" statement by the end of the show. I mean debate.
Lesson number two: Answer "yes" or "no" to as few questions as possible. When in doubt just say, "My party has made its position on this matter very clear."
Lesson number three: Remember that India is in Asia... especially if you plan on trading with India and maybe some other Asian countries if you're re-elected.
Lesson number four: Women either hate or love pant suits, but I don't think that's why B.C. women "don't connect" Christy Clark.
Lesson number five: Don't say you're going to lose in your opening statement. Although I'm still thankful for all the comedic relief we got from John Cummins.
Crawford Kilian: The prospect of running B.C. seemed to induce acute anxiety in all candidates. Everyone talked far too fast and thought far too slowly. Everyone dodged questions, though Dix handled the predictable memo question fairly well. Assuming Dix becomes the next premier, skills training programs should include public speaking for both John Cummins and Jane Sterk. Sterk had content, but no style; Elizabeth May in her place would have left everyone else for dead.
Cummins may have been a skookum commercial fisher, but he totally failed to articulate a reasonable environmental vision and insulted the First Nations into the bargain. Clark's childlike faith in LNG reminded me of 1950s articles about flying cars and nuclear energy too cheap to meter. Adrian Dix kept his foot out of his mouth, but the skill he needs training in is relaxation. We at least have the prospect of four more years without boredom.
Kai Nagata: Who won? 
1. The environmental movement. When every candidate in a political debate agrees on the existence and risks of climate change, and even the Conservative leader talks about oil tankers through the lens of his career as a commercial fisherman -- that's a sign the environment has become an issue with real electoral stakes attached. Adrian Dix may have flip-flopped last week on the Kinder Morgan pipeline, but the move brought his party on side with a clear majority of B.C. voters.
2. Christy Clark. If the election were decided on the basis of the debate, Clark's smooth, talk-radio confidence would have carried the day. Unfortunately for Clark, that's not how elections work. Adrian Dix looked like Stephen Harper in the 2011 debates -- robotic, scripted, and staring straight at the camera while his opponents looked at the side of his head. He even adopted Harper's trademark phrase, "that's simply not true". Like Harper, he will win a majority government.
3. Manufacturers of iridescent bubble wrap. Seriously, I kept expecting Jon Pertwee to run through the debate set with the Daleks in hot pursuit.
Tom Sandborn: Clark may have won the debate, but it probably won't win her the election. It is a opinion universally held, at least among most political pundits, that TV debates should be assessed as theatre and blood sport, naming winners and losers and evaluating smoothness of delivery and gracefulness of hand gestures rather than substantive policy differences. On that arguably limited basis, Christy Clark might be said to have won, with the most polished delivery and smallest number "ums" and pauses marring the high gloss surface of her scripted responses.
For most of the evening, Adrian Dix displayed his inner nerd and nervous high school debater persona, but even the stylistic glitches did not hide his command of detail and policy, or do much, in my view, to undermine his commanding lead in the polls. John Cummins and Jane Sterk, meanwhile, demonstrated at least two reasons that their parties are relatively marginalized in B.C. Both were awkward, amateurish performers and Cummins sometimes verged on cranky incoherence. Sterk, while more persuasive that her BC Conservative opposite number, and performing remarkably well when asked for her position on health care reform, was on balance unimpressive as well.
Colleen Kimmett: The one thing that none of the candidates talked about was the need for respectful, constructive debate in the Legislature. Obviously, the leaders want to differentiate themselves from their opponents, but a nod to cooperation for the good of the province would have been refreshing. Dix could have pushed back on the debt question by pointing out that debt is a fact of life. Families take on debt for long-term improvements, so can a government. Sterk did well, especially in her closing statement. I predict at least one Green seat this election.
Chris Rose: No flame-outs occurred in tonight's televised all-party debate and now, with only 15 days to go until Election Day, it seems inevitable that the NDP will form government May 14. Conservative leader John Cummins looked a bit sad but Green leader Jane Sterk fared reasonably well. In the main bout, Liberal leader Christy Clark versus NDP leader Adrian Dix, he appeared to be more believable than she did, despite her continually smiling face. Clark, who had to admit she should not have broken the law and run a red light with her son in the car, stressed her commitment to balancing the budget and eliminating the debt even though her government has doubled provincial debt in the past 11 years. Dix, who actually looked more relaxed as the debate went on, presented himself as a believable Premier. Dix also spoke eloquently a number of times about the need to deal with climate change. Advantage: Dix, who may well be Premier for the next eight years.
Tom Hawthorn: Adrian Dix: Not a warm, likable guy. A little nervous. But at least he's not one of those %$#@&! BC Liberals.
Christy Clark: Smooth. Good television presence. Will likely be her career choice in two weeks.
Sterk: Auntie with loopy ideas, one or two of which make sense.
Cummins: Grandpa Simpson.
Jennifer Burke: Good tough questions.