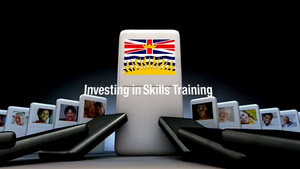 "I call it like the domino theory of reality. If you can go one step at a time and it seems to make sense, you can then take your audience into an area that is relatively outlandish." -- Movie director Ivan Reitman
Unless you live in a cave with no cable, you've seen the BC Liberal government's pervasive $15 million ad campaign on television -- the one your tax dollars are paying for despite its obviously partisan purposes.
The expensive 30-second spot features rows of black dominos collapsing all around the world -- that is, until they run up against Premier Christy Clark's immovable white piece.
There's only one problem. It's not true.
"Unstable government policies have hurt people around the world," the authoritative announcer intones over ominous music guaranteed to scare small children. "Big government, careless spending and quick fixes have caused economies to collapse."
The dominos fall until they reach our fair province, when uplifting music starts and the white domino of B.C. holds firm, thankfully.
"But British Columbia is standing strong. By controlling government spending, low taxes and investing in skills training," it says.
But the facts are far different than the misleading ad.
1. Provincial spending under the B.C. Liberals has gone up astonishingly -- it has not been "controlled."
Moody's Investors Service downgraded B.C.'s credit rating in December from "stable" to "negative" because of concerns about the province's "recent accumulation in debt."
"The negative outlook reflects Moody's assessment of the risks to the province's ability to reverse the recent accumulation in debt with the softened economic outlook, weaker commodity prices and continued expense pressures," according Moody's assistant vice president Jennifer Wong, lead analyst for the province.
And no wonder. When the BC Liberals took office in 2001, accumulated provincial debt was $33.8 billion.
Today it's $57.6 billion and scheduled to jump to $66.3 billion by 2015, almost double.
That's not "controlling spending." It's that "big government" the ad warns about!
2. The ads boast about low taxes -- but B.C. is the only province in Canada where individuals have to pay Medical Services Premiums.
This regressive tax has gone up 85 per cent since 2000 and 24 per cent in just the last three years, an increase of $300 per person.
The MSP costs British Columbians over $2 billion each year in a tax that a Victoria Times-Colonist editorial called a "shell game".
And the same "low tax" government introduced a surprise Harmonized Sales Tax -- that I helped successfully oppose with Fight HST -- which shifted $2 billion in taxes from big business to consumers with new taxes on hundreds of items.
3. The province claims it is "investing in skills training" -- but our six major universities warn that 20,000 jobs could go unfilled by 2020 because the government isn't doing enough training.
"Basically, what we're saying is there's a skills and education deficit coming and, in order to deal with it, we've got to actually start now," University of Victoria president David Turpin said last month. "We can't wait to 2016 to say, 'Wow, we now have this shortfall.'"
Meanwhile, tuition fees have more than doubled under the BC Liberals and students graduate with the highest debt load west of the Maritimes.
And then there's the 70,000 Temporary Foreign Workers currently working in B.C., from coal miners to chefs to farmworkers while construction employers head to Ireland to recruit skilled trades workers.
And Statistics Canada reported Friday that B.C. lost 15,900 jobs in January alone.
When it comes to B.C. government ads, it's the facts that fall like dominos.