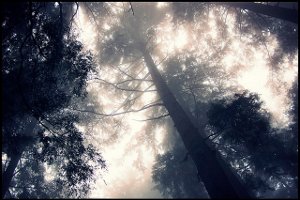 For more than a quarter century, logging companies at the government's blessing have been on a tear through British Columbia's expansive interior forests.
In the name of "salvaging" economic value from forests attacked by mountain pine beetles, beginning with a smaller outbreak centered in the Williams Lake area in the 1980s and followed by the much larger beetle epidemic that erupted a decade ago, millions more trees have been logged than would otherwise have been the case.
Anyone with even a passing familiarity with the issue has known for years that this spelled trouble. A catastrophic "falldown" in future logging rates loomed because the industry was literally cutting out the ground from beneath its own feet. But the illusion of abundance was sustained as the beetle attacks spread and more timber became available on a one-time basis only to salvage log.
Well the day of reckoning is now very close at hand and the government's response leaves a heck of a lot to be desired.
As revealed by Mark Hume in the Globe and Mail a couple of weeks ago, the government is so loathe to acknowledge the obvious -- that what has gone on cannot be sustained -- that it is seriously considering throwing out the last vestiges of responsible forest management in an attempt to buy a few more years of higher employment in an industry that must, inevitably, make the transition to a future in which fewer trees, not more, are harvested.
So-called "reserves" of forest that would otherwise not have been logged -- biologically rich remnant patches of old-growth trees, important forests for wildlife species, forests in visually stunning valleys or slopes near towns, economically more marginal tracts of trees, forests higher up on mountain slopes -- are now all about to be placed on the chopping block. All in the name of buying a few more years of logging, which will in turn place an even higher burden on future generations.
The biggest proponent of this so-called plan turns out not to be the current forests minister, Steve Thomson, but his cabinet colleague Pat Bell, minister of jobs, tourism and innovation, and MLA for Prince George-Mackenzie.
Bell and John Rustad, who is the MLA for the nearby riding of Nechako Lakes, have both publicly declared that they have found a way to free up more trees for logging -- trees that they say will go a long way to providing a basis for a new sawmill to be built in the community of Burns Lake. If built, a new mill would replace one that burned to the ground in January following an explosion that killed two mill workers and put 250 local residents out of work.
Earlier this month in an interview with Prince George Citizen reporter Mark Nielsen, Bell said he believes that opening forest reserves to logging would yield four million cubic metres of wood per year, which would be enough wood to keep "four fairly large sawmills, each employing about 500 people between people that work in the bush and the people in the mill."
This may sound impressive. But the devil's in the details. And it's the details that Bell and Rustad are not talking much about.
For whose eyes only?
The details are contained in a tightly guarded Ministry of Forests document that took a hard look at the so-called "mid-term timber supply" in four of the most heavily impacted forested areas in the province where pine beetles had attacked and where the provincial government had responded by approving big increases in logging rates.
A few days ago, Bob Simpson, the Independent MLA for Cariboo North, publicly called for the release of the report. And yesterday a confidential draft of it was briefly posted on the web, before it was summarily removed a few hours later.
Simpson, like other MLAs in the interior, is keenly interested in what's in the report that was prepared by officials in the provincial chief forester's office. The forests around Simpson's hometown, Quesnel, are more heavily weighed to lodgepole pine trees -- which the pine beetles have fed on and killed -- than are other tracts of interior forest.
When he saw a copy of the briefly posted document he was flabbergasted, as it seemed to undermine so much of what Bell and Rustad have contended.
In the first page of text, the report notes that "under current lumber market conditions" it is "uneconomical" for most logging companies to make money because of the increasingly longer distances that the companies must travel from their sawmills to find trees to log. The growing scarcity of economically viable wood to run through mills is becoming so acute the same report notes, that within 1.5 years in the case of Quesnel and five years in the case of Prince George local mills will be out of wood.
"All of this begs the question," Simpson says. "Why are we beginning this discussion now when we're looking at just one-and-a-half years of cut? In 2002, the growth curve for the mountain pine beetle went from normal background levels to straight up. At that point, everyone knew that we were going to lose the pine forest. And for 10 years, this government has done nothing. Now, they've put lipstick on a pig. They're putting the forest at risk in order to avoid job losses. That's what it looks like."
Waiting for promised 'dialogue'
In questions in the legislature yesterday, Simpson tried to draw Thomson out on what was in the report prepared by his staff. But on each occasion, it was Bell who answered questions. In response to one on what "options" the government was weighing in terms of relaxing the rules on what could and could not be logged, Bell said:
"There is a lot of work going on. It is in the broader mountain pine beetle region. We are likely a month or two away from having a broader public discussion. I think that dialogue is important, and it is a dialogue that we'll be encouraging as we move into the summer months."
If that dialogue does happen, however, it will be interesting to see the public's reactions to the projections in the report. Because as the draft that briefly circulated on the web yesterday makes clear, even by escalating logging activities in forests that ought to be left alone given their great biological value, Bell and Rustad are not likely to succeed in staving off job losses. There is simply too much sawmilling capacity and too little remaining wood to delay what will likely translate into a number of mill closures in the very near future.
The report, which looked at available logs in the Lakes, Prince George, Quesnel and Williams Lake timber supply areas, offers a sobering look at what lies ahead.
Kill old growth, then jobs gone
The Lakes TSA, is particularly interesting in that regard as it would be the major source of logs for any new sawmill in Burns Lake. The report notes that "it is possible" to increase log supplies in the region by basically throwing all constraints out the window. But it buys few jobs while jeopardizing local moose and caribou populations and essentially finishing off the remaining old-growth forest.
"This increase is projected to maintain 87 more direct, indirect and induced person years of employment in Lakes TSA communities" the report claims. But this does not translate into increased jobs over time. In fact all it does is lessen the severity of future job losses and not by very much. As the same report notes relaxing the constraints simply means "potentially limiting the (jobs) decline from 1,572 pre-epidemic total jobs to 521 total jobs instead of 434."
For 10 years of delayed economic pain, the same report notes, the region then must resign itself to 50 years -- half a century -- of logging rates at one quarter of the artificially propped up rates that Bell and Rustad publicly support.
Whoever in government decided to pull yesterday's briefly posted online report had good reason to believe that the public might find a lot to be concerned about with the proposed logging of forest reserves.
Anthony Britneff, who worked in several senior positions within the provincial Forest Service for nearly 40 years before retiring a couple of years ago, has been actively writing and critiquing forest policies since leaving the public service. He said Tuesday that he was alarmed at the report's projections in large part because the numbers being used to estimate the number of trees that remain are highly suspect.
The Lakes TSA in particular, Britneff said, has some of the poorest, most out-of-date inventory data of any forested region in the province. In fact, the last robust inventory or counting of trees in the TSA took place before the pine beetle attack not after.
"As the Forest Practice Board and the auditor general for British Columbia have already pointed out, one has to question the reliability of the information the government is using to mitigate timber supply falldown and to assess the viability of a new Babine Forest Products mill at Burns Lake," Britneff said after reading the briefly posted timber supply report.
If there's a silver lining, he says, it's that mayors and local town councillors are skeptical of what they are hearing from the provincial government.
"Fortunately for forest-dependent communities, some local mayors and councillors are beginning to wake up to why the government in Victoria is preferring not to engage local communities and citizens in discussions about changes to their land-use plans," he said.