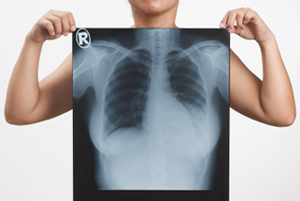 [Editor's note: This completes a Tyee series by University of Victoria health researcher Alan Cassels on medical screening's hidden risks, and how its benefits can be oversold.]
Having spent so much time poring over the evidence on medical screening, learning its politics, its promises and its misrepresentations, I am left a little uneasy with one simple and unavoidable fact: being critical of mammography is like playing with fire.
So at the risk of getting my fingers burnt and my hair singed, let's start from common ground that we all share: knowing a woman who has lost her life to breast cancer. With about 5,000 Canadian women every year -- our sisters, our mothers and our friends -- lost due to breast cancer, it would be a rare person who is not touched by this disease. Most wrenching for me was how it took the life of the twin sister of a good friend of mine, who at 27 had a young life so full of promise and hope. Such things leave one breathless with despair, and sometimes our only way to make sense of the loss is to pledge to stop breast cancer.
Enter mammographic screening. This is screening of the breasts using x-rays to discover masses which could be breast cancer. If detected early, it is believed, small tumours (the ones you can't yet feel) can be found, tested, and removed before they become bigger and spread to other organs. Mammography is recommended for women between 50 and 74 in Canada, though around the world those recommendations have undergone a lot of tumultuous debate and controversy over the years.
Many of us probably know of women who have had a mammogram that found "something suspicious," possibly a cancer. Regardless of what happens next, they are likely to feel like their life has been spared. And those who end up surviving the ordeal which follows, or who have been close to someone who has, often become volunteer foot-soldiers in the war on breast cancer. We run for cures, collect donations and wear pink. And we are quick to attack those who question something as obviously, profoundly, lifesaving as screening mammography.
The belief in the benefits of screening mammography is not unlike a religion. After all, the belief is often born from the fact that many women claim they have witnessed its miracles of spared lives and reduced misery. Unlike other belief systems, mammography does have a basis in research and science, and as evidence accumulates, our beliefs change and mature. Despite its strength, heavy promotion, and financial interests, powerful medical device makers, influential medical professionals (radiologists, pathologists and surgeons) and researchers present one small flaw. It is innumerate.
Which is to say, the true believers can't seem to count.
Innumeracy might not be a worry if your belief system is based on cosmology or myth, but with science-based mammography we can actually quantify the effects of screening. Those numbers are at the core of understanding how much it can or can't help us. According to Dr. Cornelia Baines, a physician-epidemiologist and researcher at the Dalla Lana School of Public Health in Toronto and one of the world's foremost experts on breast cancer screening, the lack of understanding, or perhaps a self-deception around the numbers, makes people believe mammography is much more effective and less harmful than it actually is.
In a recent article in the online medical journal Open Medicine titled "Frank Words About Breast Screening," she wrote: "The troubling thing is women continue to believe in a substantial benefit when it is in fact miniscule, and disregard the huge harms of overdiagnosis and the large increased in risk of mastectomy in screened detected cancers."
There are many things to say about the numbers related to breast cancer screening, but not enough time to discuss all of them. Therefore, let's just discuss one: the number 25.
The first 25: reducing breast cancer death by 25 per cent
Population screening delivers mammograms to women who have no symptoms. When women have symptoms, they need diagnostic mammograms. The difference is that with screening mammograms, the radiologist scans the entire image looking for problems. In a diagnostic mammogram, the radiologist is looking in the area of the symptom, with a special scrutiny. I'm particularly focused on population screening, and listening to what groups who promote and provide breast cancer screening say about it.
Our BC Cancer Agency is probably no different than most. Their website says that the screening mammography program fits the definition of a good population screening test that will "find cancer early." It adds that, "most importantly, finding the cancer early can reduce death rates from the cancer." It stipulates that "with some types of cancer, early detection will not change the course of the disease or reduce the death rate."
The effectiveness of the program is related in stark numbers, saying "The BC Cancer Agency's Screening Mammogram Program has currently reduced mortality from breast cancer by 25 per cent."
Now while that sounds impressive, reducing something by 25 per cent makes no sense, unless you know the number that is being reduced. In this case, we need to know how many 'unscreened' women die from breast cancer before we can determine what screening does to save them. Here it's useful to think of two populations of women who are the same except for the fact one group gets screened annually -- in this case, 1,000 women who are screened annually for 10 years, and 1,000 women who are not.
The research shows that among 1,000 women over 50 who undergo annual mammography screening for 10 years, there will be three women who die from breast cancer. Of the 1,000 women who don't get the screening, there will be four women who die. This is called the absolute benefit: one women in 1,000 over 10 years (4-3=1). Another way to look at this is to see that three is "25 per cent less than" four. So if you have something that reduces your risk of death from four to three, that's a drop of 25 per cent. If you find that statistical trick a little deceptive, you're not alone. Luckily, there are some great tools to help improve your numeracy when it comes to health statistics, including an article I'd highly recommend in the British Medical Journal titled: "Simple tools for understanding risks: from innumeracy to insight."
The BC Cancer Agency is not an outlier. As far as I can tell, most agencies around the world promote their screening programs with variations on the big-sounding numbers, such as a "25 per cent reduction in breast cancer mortality." I won't speculate on why I think those promoting breast screening tend to reinforce the "25 per cent reduction" sound bite and not the absolute "one in a thousand over 10 years", but let's just say 25 is a lucky number, surely designed to improve the uptake of the message.
The second 25 : The level of overdiagnosis in breast cancer screening is about 25 per cent.
One of the key problems both with PSA screening for prostate cancer and breast cancer screening is what is called overdiagnosis. Sometimes with screening, often what looks like a deadly cancer isn't. Slight lesions in milk ducts in a woman's breasts may look like cancer -- and finding them on a mammogram can start the cascade of anxiety, further investigations, biopsies, surgery and drugs -- even if they would never have gone on to hurt the woman.
Dr. Gilbert Welch, author of the book Overdiagnosed: Making People Sick in the Pursuit of Health (Beacon Press, 2011), is a well-known authority on the subject of cancer overdiagnosis. He writes in the Journal of the National Cancer Institute that overdiagnosis occurs when "either nonprogressive cancers or very slow–growing cancers (more precisely, at a slow enough pace that individuals die from something else before the cancer ever causes symptoms) are detected."
Together, he terms these two forms of cancer "pseudodisease," literally, false disease. The big problem is that often physicians will not know whether the mammogram has captured pseudodisease or the real thing that will go on to hurt a woman. And then the investigations and biopsies begin.
While that 25 per cent level of overdiagnosis is Dr. Welch's estimate, a meta-analysis produced by researchers at the Cochrane Collaboration and published in the British Medical Journal pegged it higher, saying that "one in three breast cancers detected in a population offered organised screening is overdiagnosed."
What do the numbers of overdiagnosis look like? (See sidebar.)
Basically, if you give 1,000 50-year-old women a mammogram every year for 10 years, you will prevent one death. At the same time, between two and 10 will be overdiagnosed and treated needlessly, between five and 15 will be told that they have breast cancer earlier than they would otherwise without any effect on their prognosis, and a further 200 to 500 will have at least one "false alarm" and get a biopsy.
While it sounds benign, a "false scare" can put a woman on an emotional roller coaster. She may end up on the medical treadmill that involves, among other things, medical appointments, psychotherapeutic drugs such as antidepressants, as well as the anxiety, worry and stress, and time away from family. She has become a "cancer patient" living under a cloud where the biopsy may be just the beginning of a whole bunch of other problems.
Mary Brown (not her real name), is an educator in Vancouver, who underwent a screening mammogram when she was in her early 50s, on the advice of her doctor. It was an experience she now calls "the biggest mistake of my life." She wasn't at all prepared for what followed. A biopsy after a mammogram showed something unusual. She experienced months of pain that left her unable to work for an extended period.
"All the literature, the invitation letters welcoming you to participate [in the screening program] seemed so benign. There was no hint of possible harm."
What she discovered is that the biopsy used to extract tissue samples often implants a metal marker in the breast, and it is left there permanently.
She is concerned that many women may not be aware that a breast biopsy might involve metal implanted in your breast, and that the biopsy itself can lead to cases of extreme and long-lasting pain as well as internal scarring, not to mention the psychological effects of having a potentially disfigured breast.
She followed up her experience with a complaint to the BC College of Physicians and Surgeons, largely focusing on problems resulting from the lack of information that was provided on the potential downsides of the screening mammogram. Her conclusion is that most women will be unaware, as she was, with the problems of screening: "They are marketing a potentially harmful screening test."
But what if the screening for breast cancer, while harmful for some, is still saving lives? This leads us to another 25.
The last 25: Overall, breast cancer deaths have dropped by 25 per cent over the past 15 years
Between 1995 and 2010, the death rate from breast cancer in the U.S. went from 33.1 per 100,000 to 24.0 per 100,000, where it roughly stands today. There is no doubt that the drop in breast cancer deaths is a sign of progress made in the fight against this particular cancer over the last 15 years.
The difference since 1995, about 9.1 fewer deaths per 100,000 women, represents a significant reduction in the rate of breast cancer deaths, but are those lives saved due to screening?
In almost all the literature you'll read on the reductions in breast cancer deaths, you'll see a reference to screening, and usually a mention that the reductions in those deaths are due to screening programs. We shouldn't be fooled. At the end of July 2011, a study published in the BMJ lead by a team of researchers from Norway, France and the UK found that "breast cancer screening has not played a direct part in the reductions of breast cancer mortality in recent years." The researchers say that improved health systems and better treatments are more likely the cause of reduced numbers of breast cancer deaths.
Dr. Cornelia Baines also argues against the "screening has reduced breast cancer deaths" line in an article in the online medical journal Open Medicine. She writes that "improvements in therapy (such as chemo- and hormone therapy) since the 1980s, when many screening trials were conducted, have undoubtedly contributed to the breast cancer mortality reduction observed in both screened and unscreened women." She points to an overview of breast screening in 30 European countries showing that decreases in breast cancer deaths are not uniform across the age range of women. For example, after the introduction of screening programs, deaths by breast cancer dropped 37 per cent in women under 50 years (these would typically be women who wouldn't be screened anyway) but dropped only 21 per cent in those women between 50 and 69, largely the age group being screened.
At the end of the day, what's a woman to do?
Many people point to screening as a saviour, as something that has prevented massive numbers of breast cancer deaths in our lifetime. Individually, it is hard not to want to do everything I can to avoid an avoidable death by breast cancer, and a mammogram seems a small price to pay. We might hope for the best, believe what the advocates and promoters of breast cancer screening say, but at the end of the day, the numbers may tell a different message.
The bottom line seems to be that women need to be fully informed, both of the possibility of benefit, and the possibility of harm, in the clearest most objective manner possible. This is not an easy task, given the strong "screen early and screen often" message that characterizes public discussion about a lot of medical screening. We should be demanding clearer numbers about the pluses and minuses of mammography, and protesting the lack of quality information about potential harms.
Perhaps Cornelia Baines said it best, referring to the risks of overdiagnosis and harms related to breast screening: "After over 20 years of involvement in the screening controversy, I can only conclude that this is information few want to hear and many want to suppress."