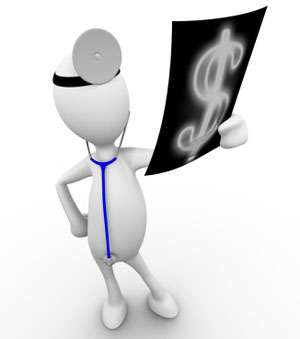 Any day now, the five candidates in pursuit of the B.C. Liberal Party leadership will begin to discuss serious issues. Perhaps.
To date we've heard any number of attention-getting "gimmicks" from the fatuous five -- a proposal to lower the voting age to 16 and another for a voter-lottery (both from Mike De Jong), and a call to extend SkyTrain's operating hours (courtesy of Kevin Falcon, who as transportation minister had numerous opportunities to do just that, but did not) -- along with hackneyed slogans such as "putting families first" and "growing the economy" (from Christy Clark).
But when might we expect to hear solid, substantive proposals on serious issues?
Health care would be a good place to start, especially as three of the five B.C. Liberal leadership candidates boast of considerable familiarity with the province's public health system. Both George Abbott (from 2005 to 2009) and Kevin Falcon (2009 to 2010) served as health minister, while Moira Stilwell is a physician who before entering politics was the head of nuclear medicine at St. Paul's Hospital.
The Tyee, always striving to be helpful, is prepared to assist the five B.C. Liberal leadership candidates in kicking off their health care discussion by posing a simple question to each: Why, under B.C. Liberal stewardship, has British Columbia's funding of public health care fallen so far behind that of the other Canadian provinces?
Additional questions flow from the original. Is it a good thing that B.C. spends considerably less on public health, on a per capita basis, than our next-door neighbours in the prairie provinces? If so, may we expect a B.C. Liberal government under your leadership to continue to under-fund health care vis-à-vis Manitoba, Saskatchewan and Alberta?
Or, alternatively, would a B.C. Liberal government under your guidance enhance the fiscal resources allocated to health in an attempt to bring our province's expenditures to a level comparable to the rest of Canada?
How we fell behind
When the B.C. Liberals first won election to government in 2001, British Columbia's public health expenditures were $2,653 per person.
That was $235 higher than the Canadian per-capita average (which was $2,418), and $119 and $72 greater than was expended in Alberta ($2,534) and Saskatchewan ($2,581), respectively. Manitoba, however, spent $113 more per person ($2,766) than did B.C.
(All per capita public health data is from the Canadian Institute for Health Information's National Health Expenditure Trends, 1975 to 2010, available here.)
But what a difference a decade makes! Between 2001 and 2010, B.C. dropped from having the third-highest per capita public health expenditures in the country, to the second-lowest. (Only Quebec spends less than we do.)
This year, public health spending for each British Columbian is forecast by the CIHI at $3,793. That puts us a whopping $758 behind Saskatchewan ($4,551), a stunning $800 under Alberta ($4,593), and a nearly-unbelievable $925 less than Manitoba ($4,718).
And whereas B.C.'s public health per capita expenditures in 2001 were $235 above the national average, after ten years of BC Liberal government our spending now is $164 below Canada as a whole.
A closer examination of the CIHI data shows that 2004 marked the beginning of B.C.'s dramatic decline relative to Canada's western provinces. In that year, per capita health spending in our province grew by just 1.4 per cent, even though the consumer price index rose by 1.8 per cent.
Put another way, in 2004 B.C.'s public health spending failed even to keep pace with inflation.
From 2001 to 2010 across Canada, public health per capita outlays increased by an annual average of 5.8 per cent.
The comparable yearly average increases in Manitoba, Saskatchewan and Alberta were 6.1 per cent, 6.8 per cent and 7.4 per cent, respectively.
In B.C., under Gordon Campbell and his BC Liberals, we've seen average annual growth of just 4.6 per cent over the last decade. That was the lowest rate in Canada, by far.
No more false hysterics, please
Yet, even as British Columbia fell further and further behind per capita public health spending in the prairie provinces and the rest of Canada, the B.C. Liberal government claimed repeatedly that the province's health expenditures were out of control, and skyrocketing ever higher.
In 2002, the government's speech from the throne asserted that "Health care expenditures have tripled in British Columbia since 1985... "
And, "In that same period, the proportion that health care spending consumes of the annual budget has grown from 31 per cent to nearly 40 per cent... "
The speech even went so far as to blast nurses, community health workers and health support workers for being "the highest paid in their fields in Canada."
The 2005 throne speech reprised the 'sky-is-falling' approach, with the BC Liberals breathlessly claiming that "pressures on our health care system are rapidly outstripping our economy's ability to generate new revenues needed to pay for growing service demands."
It continued: "Health care spending has increased by $2.4 billion since the year 2000. ... Health funding has outpaced the rate of revenue growth in that period. This year, health spending will consume 44 per cent of all government operating expenditures, excluding interest on debt."
Public relations efforts
BC Liberal efforts to foment a health funding crisis went into overdrive in Sept. 2006, when then-finance minister, Carole Taylor, hoodwinked a gullible press gallery with the claim that B.C.'s public health spending could consume three-quarters of the province's annual budget by 2017.
It was a hoax, of course, and quickly demolished by The Tyee (see here and here, among others).
But that didn't stop Premier Gordon Campbell weeks later from launching a $10 million public-relations exercise -- "A Conversation on Health Care" -- intended to rally British Columbians against the allegedly unsustainable increases in public health outlays.
Campbell gave away the game when he likened health spending to a "tsunami," and repeated Taylor's wild assertions that health care soon would drown all other areas of government expenditure.
The alarmist rhetoric was ramped up in the 2007 speech from the throne, when the BC Liberals claimed that "Insatiable demands for more funding in health care have gone past the tipping point."
And, "Left unchecked those demands will see our public health care system reach the breaking point, not in decades, but in a matter of years."
That same year, public health outlays in British Columbia fell behind those in Canada's prairie provinces by an average of $536 per person.
The 2009 throne speech continued the BC Liberals' misinformation campaign with a vow to amend the five principles of the Canada Health Act by adding a "sixth principle of sustainability... to ensure our health care system will be there for our children, our grandchildren and their families."
That over-the-top rhetoric persisted into last spring, as the 2010 speech from the throne declared that public health care had experienced "massive budget increases that swamp all other public goods."
Health care, the government alleged, had become "unaffordable."
Who will be first to admit the truth?
So there it is. For a decade the BC Liberals have claimed that health care costs were exploding heavenward, even as health funding in British Columbia lagged behind the other Canadian provinces.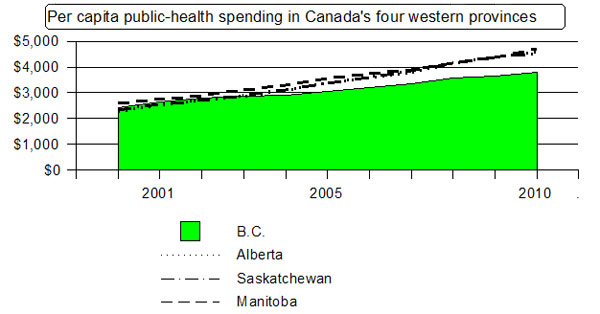 The empirical evidence is incontrovertible. B.C.'s public health expenditures, as a proportion of our economy (that is, as a percentage of gross domestic product) have remained steady over the past decade. In terms of per capita outlays, every Canadian province but one has passed us since the BC Liberals took power in 2001.
Will one of the five BC Liberal leadership hopefuls make 2011 the year that they finally level with the general public? It's not too late for the leadership candidates to abandon their campaign "gimmicks" and begin a dialogue with B.C. voters on serious issues.
Public health care would be a good place to start.