Mid-March swept across British Columbia like a whirlwind as communities tried to adjust to the rapidly changing reality brought on by COVID-19. Kyle Goulet, executive director of Victoria's Moss Street Market, experienced the chaos firsthand — simultaneously trying to keep the market open and anticipate how constantly updated regulations might change the local food landscape.
The long-running market is a staple in the Fairfield Gonzales area, and uses space owned by School District 61, the City of Victoria, and the neighbourhood's community association, giving Goulet three landlords to wrangle. For two weeks, Goulet was nearly shut down by the school district, the city and Island Health. He managed to co-ordinate exemptions and workarounds before the province announced its essential service list, including farmers' markets, on March 26, ensuring Moss Street could continue under new safety protocols.
The BC Centre for Disease Control currently considers farmers' markets low risk for COVID-19 transmission because they are usually held outdoors and can limit the number of people in assigned areas. Additionally, a new public health order bans all non-food and merchandise vendors at the markets. A usual summer Saturday sees 140 vendors in 100 stalls at Moss Street. Goulet estimates this will be down to 55 vendors in 44 stalls with the new measures, and he is working with the city to expand into a nearby park to better permit appropriate spacing.
For those who don't feel safe going in person, the provincial agriculture ministry has announced $55,000 in funding to the BC Association of Farmers' Markets to cover the cost of taking farmers' markets online.
"A virtual shopping trip to a farmers' market is an easy way to get the groceries on your list and to buy B.C. while ensuring physical distancing measures are being followed," said Minister of Agriculture Lana Popham in the March 27 funding press release. "Moving farmers' markets online will help ensure the health and safety of vendors and consumers, while still providing the same fresh and local food that families all over the province count on."
The province's actions to recognize and support farmers' markets "means everything," says Goulet, especially for their vendors that have lost wholesale restaurant contracts. "We always knew it as being self-evident — that local food has to be part of food security and has to be essential."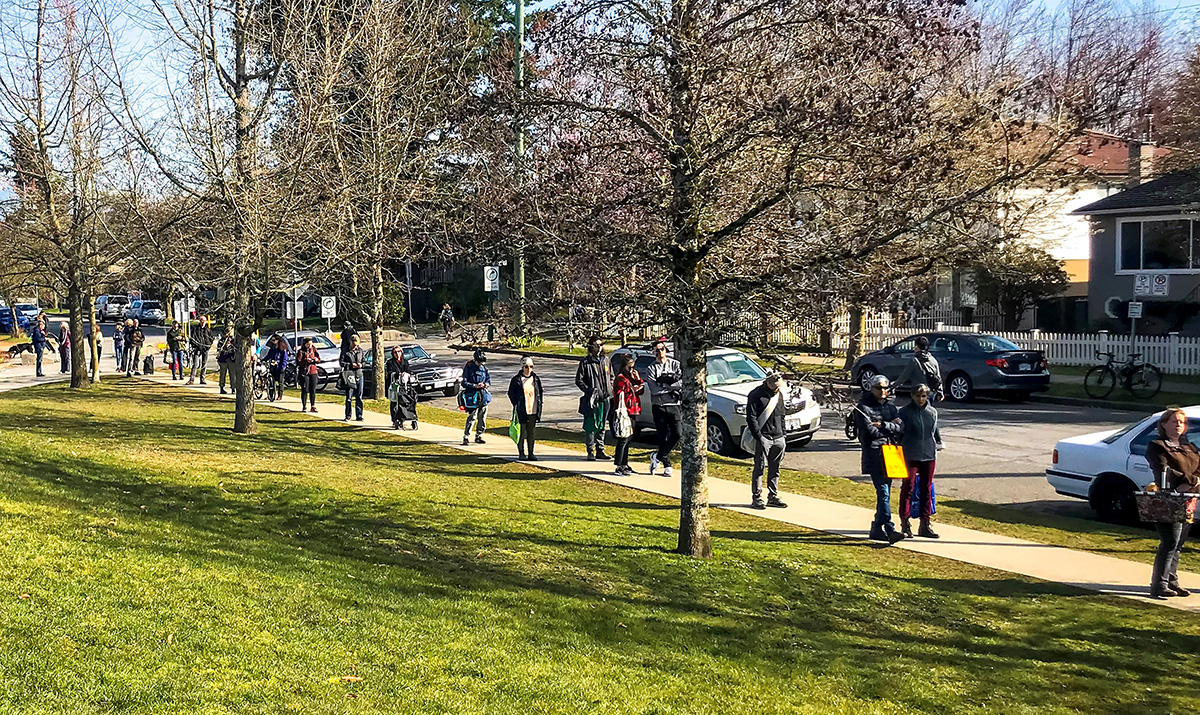 BC Association of Farmers' Markets was already working with Ontario's Local Line to develop an online platform through which BCAFM member markets could sell farm produce. Its rollout was fast-tracked to meet the current crisis. The provincial funding covers 70 markets for this season and BCAFM has secured funding for an additional 30. They don't expect all 145 markets to go online this year.
According to Heather O'Hara, BCAFM's executive director, it's more important than ever to buy local food, as current supply chains may not remain secure. "[Farmers' markets are] a relatively easy and impactful way to support and stimulate the local economy while supporting the people who feed us every day of the year," she says.
Once markets supply their initial data, the website can go live in three days. Vendors choose pickup or delivery options and set their own fees. Moss Street was the first to go online, and Goulet says the "robust yet simple" system comes with active tech support and was easy to set up.
Lily Nichol, market manager for New Westminter's farmers' market, hasn't launched their website yet, but she thinks it's a good idea because there are also vendors who don't feel safe. "They run the exact same risk as a shopper coming to the market."
COVID-19 hit just as New Westminster was transitioning from bi-weekly to weekly markets. It missed the first scheduled opening date and the initial roster of 10 vendors was far fewer than the usual 30 to 44. About 225 people lined up two metres apart to access the market — only 20 are allowed in at a time — compared to a normal 400 for this time of year. Nichol set up extra handwashing stations and vendors are not accepting cash.

Nichol feels lucky to have a strong board of directors and backing from the City of New Westminster, which provides free use of Tipperary Park and helped her locate supplies to follow the health protocols. That's not the case everywhere. She's heard from other market managers who are struggling with cities that aren't willing to let markets open and/or boards that are unprepared or unable to take on the new challenge.
She thinks these municipalities should recognize that markets bring important resources into communities and support small businesses. "I think something that people don't realize is the choices that we make right now really define what's going to survive to the end of this crisis."
There's also a risk of farmers' markets themselves going under. Since they make money off stall fees and vendor numbers are down, many markets could end up losing money or decide it's not worth it to open at all. New West already had to lay off Nichol's assistant. "We're trying to make sure that we can weather the storm too, because if we're not able to keep running markets, not only do all of these small businesses have a super high potential of dying out, [but] we as a market have a really high potential of dying out as well," she says.
If more markets don't open, that could further impact food supply in places like the Lower Mainland, where some vendors travel from Bowen Island and even as far as Salmon Arm and Logan Lake to sell at several markets. If only a couple open, the sales won't offset their travel costs, while staying closer to home limits potential customers.
Beyond the essential service of providing fresh, healthy food, Nichol thinks farmers' markets bring some reassurance for community members and help them maintain connections with those they don't know quite well enough to Zoom with. "[Markets are] still a place where people get to see their neighbours, even if it's from a distance," she says. "It's really nice to be able to be like: 'It's okay. My community is still here.'"
---
For more information and to see which farmers' markets are still going ahead and/or moving online, visit: bcfarmersmarket.org