For Lent, Emily Bulmer is giving up a lot of lunch hours.
At noon, whenever her schedule allows, the Smithers, B.C. resident dons a red robe and a white ice-cream-bucket headpiece and walks the five minutes from her office to where Smithers' Main Street intersects Highway 16. There, a group stands holding signs that say, "pray to end abortion."
Bulmer joins them.
"I introduce myself, say that I hold a different view, but that I'd like to share the sidewalk and hear what is most important to them about the issue," she says. She tells them, "I commend you for being brave and I'm going to stand here and respectfully disagree."
Then, from a wicker basket, Bulmer pulls a sign and unfurls it: "Gilead sucks," a reference to the fictional republic in Margaret Atwood's The Handmaid's Tale where women have few rights and are forced into childbirth.
Bulmer's goal is to provide a counterpoint — and add a bit of humour — to the 40-day anti-abortion protest taking place in her community. It's a civil approach to dialogue in a town that has seen deep division in recent months over the fight against the Coastal GasLink pipeline. It has also, historically, held polarized views over reproductive rights.
"Ultimately, we live in the same tiny little place, we have a lot of shared values and right now there's so much back and forth on social media. It's really easy to de-humanize people and get on your high horse, but especially in our town right now, with all the issues around Indigenous land rights, we have to figure out how to talk to people," she says. "It's a 40-day opportunity."
'It's such a difficult decision'
The protests, which began Feb. 26 and continue until April 5, are part of the U.S.-based 40 Days for Life. Started in 2007, the organization says it has reached over 950 cities in 63 countries. A map on its website shows worldwide vigils centred throughout the U.S. and parts of Europe. In B.C., protests are taking place in Vancouver, Victoria, Terrace and Smithers.
The group says it "aims to end abortion locally through prayer and fasting, community outreach, and a peaceful all-day vigil in front of abortion businesses."
On Friday, the Huffington Post reported "intimidating" and "distressing" protests outside clinics in the U.K. by groups associated with 40 Days for Life.
In B.C., protestors are restricted by the Access to Abortion Services Act, which prevents anyone from protesting, harassing or interfering with those attempting to obtain or assist with abortions by delineating access zones around abortion clinics, doctors' offices and the residences of service providers.
On the highway in Smithers, outside a building that houses the local art gallery and museum, the protestors stand quietly. On her sixth day joining them, Bulmer chats calmly and amicably, sharing her opinions and facts gleaned through recent research. There's polite disagreement. But the conversation is also punctuated with murmurs of assent.
"We've had some really interesting dialogue, which has been productive in that it's at least keeping the humanity in the debate," she says. "Nobody gets anywhere by holding a sign and shouting at each other."
As we stand there, a bus driver honks and gives a thumbs up to the protestors. Another driver blasts her horn and presents the middle finger. Anti-abortion advocate Lydia Vandenberg, just five minutes into her first shift, describes a "mixed reaction."
"It's kind of hard to say, but so far I think there's been people stopping by to talk and say hi," she says, adding that she welcomes the engagement. "That's what we hope for, is to have a peaceful discussion. We're not looking to start any big fights or anything, so it's nice to just have the freedom in this country to say your views and for the other side, as well."
When it comes to things both sides can agree on, the list is long. Topping it are values like human rights, love and compassion. The difference is in where they are applied — where do the rights of the pre-born end and a woman's rights begin?
"Women also have rights and it's impossible to untangle that," Bulmer tells anti-abortion advocate Mark Penninga. "It's such a difficult decision and it's not something that women take lightly."
Penninga acknowledges their shared values.
"It's about trying to stand up for what we should all celebrate, which is each other, celebrate life. We believe life extends also to before we're born, pre-born, but it's not just about that. We want to stand up for all human rights," he says.
"It seems like, often, when people are willing to have a conversation about this, there is actually a lot of learning," he says, adding that people are interested to learn that Canada has no abortion law.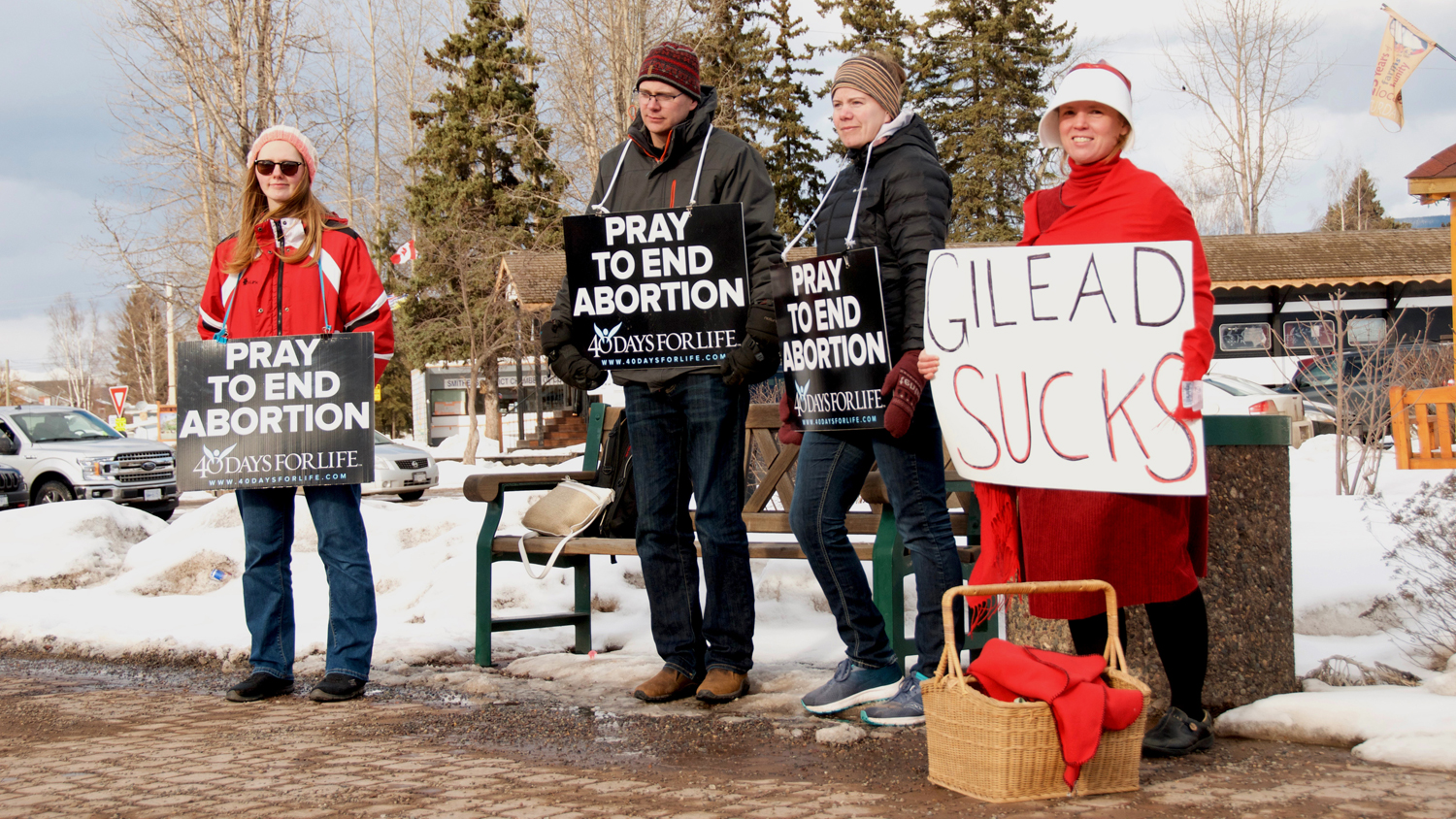 'We don't need a new law'
Bulmer herself was surprised to know that Canada has no abortion law. But Rachael Johnstone, a postdoctoral fellow studying Canadian politics with a focus on reproductive rights at the University of Waterloo, says it's simply not true that the country has no restrictions.
The history of abortion laws in Canada dates back to 1869, two years after confederation, when it adopted Britain's outright prohibition on abortion. That prohibition remained in place for a century, until an omnibus bill in 1969 legalized a woman's right to terminate a pregnancy, but with restrictions. Approval was required from a Therapeutic Abortion Committee, comprised of three or more doctors, and decisions were based on threats to the woman's mental or physical health.
In 1988, Henry Morgentaler, a physician and pro-choice advocate who had been running an illegal abortion clinic in Montreal, successfully had the law struck down on the grounds that it violated the Charter of Rights and Freedoms by applying unevenly to women across Canada.
"What the Supreme Court decided to do was to get rid of Section 251 [of the Criminal Code] and they left room for Parliament to replace the law," Johnstone says.
That never happened.
The Mulroney government attempted to replace it with a new law, which faced opposition from both sides — it was too lenient for anti-abortion critics and too restrictive for those advocating for access to safe abortion.
The law, which criminalized abortion under the Criminal Code but made exceptions in the case of the woman's mental or physical health, narrowly made it through the House of Commons only to die in a tied vote in the Senate. It was the last time a Canadian government attempted to legislate access abortion.
So, do we need a law?
"We don't need a new law," Johnstone says. "Just because we don't have criminal restrictions on abortion, it doesn't mean that abortion isn't regulated. Abortion in Canada is regulated. It's regulated as a medical issue. When there are criminal restrictions on abortion, women face many more barriers to actually accessing services, so it makes terminating unwanted pregnancy much more dangerous. It also makes doctors very wary to offer care to women who need it."
She adds that the "vast majority" of abortions happen in the first trimester, thanks to relatively easy access and universal health care, and says late-term abortions are "exceptionally rare."
According to recent statistics from pro-choice group Abortion Rights Coalition of Canada, annual abortion rates are declining in Canada, from almost 100,000 in 2007 to about 85,000 in 2018. About one per cent of those happen after 21 weeks.
What was learned following the Morgentaler decision, Johnstone says, was that when women are offered access to information and health care, they are less likely to face an unwanted pregnancy and, if they do, they terminate early.
"The implication is that there are no regulations, there are no guidelines, and that women are somehow abusing access to health care. None of that is true. In fact, we have ample evidence that when there are restrictions, situations for women become much worse. In fact, very often the rates of abortion increase," she says.
"When we talk about abortion, we are fundamentally talking about women in society and whether or not we see them as equals."
In remote areas like Smithers, women seeking to terminate a pregnancy can use medication prescribed through a physician up to about nine weeks gestation. In larger northern communities like Prince Rupert, Terrace and Prince George, the window for surgical abortions varies, but can be accessed until about the end of the first trimester.
Beyond 14 weeks, women looking to access safe abortions need to travel to Victoria or Vancouver. In B.C., abortions can only be performed up to 24 weeks, except in the case of "lethal anomalies." Women seeking to end a pregnancy by choice beyond that time often travel to the U.S.
In an emailed statement, B.C.'s Northern Health Authority says it's up to individual physicians to decide if and what abortion services they provide.
"Women may call the Pregnancy Options Line for referral to a doctor in their area. Abortion services are covered by the Medical Services Plan; they can be performed in a clinic (there are no dedicated clinics in northern B.C.) or hospital setting," it says.
Compounding pain
At the protest, Bulmer shares what she's learning about alternatives to criminalizing abortion.
She advocates instead for free birth control, universal childcare and higher minimum wage, things that would reduce the number of unwanted pregnancies and better support those faced with them. She expresses concern for the safety of women unable to access abortions and points to places like El Salvador, which outlawed abortion in 1998 and has seen women imprisoned for up to 50 years for accessing abortion or, in some cases, simply having a miscarriage.
She worries about victimizing those who are already hurting.
"It's that lack of understanding of other people's circumstances that triggers me. It also really triggers me because I know women who have had abortions who have to drive by those protests and see all of those signs and basically the wound is opened up again," she says.
In addition to some people having a good laugh at her counter-protest as they drive past, women have parked their cars and come over to shake her hand and say thank you.
"I am quite sure I'm not going to change anyone's mind, but at least for an hour there's something else for women driving by to look at," she says.