Last fall The Tyee received an email about a Greater Vancouver Food Bank member who was receiving "expired" food.
The email was from the member's friend who accompanies them to the food bank but didn't want to speak out publicly. Despite efforts by the Greater Vancouver Food Bank (GVFB) to change the system from a food line to a more grocery store-like atmosphere, it's still a stigmatized service for many who use it.
So last November, I signed up for the food bank and in a total of five trips over six weeks I received food past its best before date every single time.
None of the food was expired, and it's important to note that best before dates are not expiry dates. The Canadian Food Inspection Agency defines best before dates as indicators of the "durable life" of packaged food, the date until which the food's freshness, nutritional content, taste, or "any other qualities claimed by the manufacturer" are guaranteed.
But almost no one shopping at a grocery store would choose to buy food past the date on its label. Yet food past those dates is a large portion of the donations food banks receive, leaving them with a tough problem: hand out the food, which is still edible, or throw it out, adding to the great problem of food waste.
Paul Taylor, the former executive director of Gordon Neighbourhood House, says no food past its date should be handed out.
"I think it reinforces a multi-tiered food system. We're telling people that they're less deserving," said Taylor, who despite being a vocal critic of food banks, helped set up the Greater Vancouver Food Bank's Community Food Hub after starting there in 2013.
Taylor also hears the argument that best before dates don't mean food isn't safe, just possibly less nutritious.
"But that's what food is supposed to provide us: nutrients. And it becomes really dangerous when we're giving people food-like substances or food that has little to no nutrients, just so they're feeling like they're full, but they're not getting the fuel they need," he said.
One of the conditions Taylor said he placed on the Greater Vancouver Food Bank in return for hosting a food hub at Gordon was that they didn't want snacks high in sugar or food past its best before or expiry dates. "Because we didn't want to be sending the message to our friends and neighbours that we valued them less, or that they were less deserving."
The Greater Vancouver Food Bank says that wording is not included in the memorandum of understanding it signed with Gordon Neighbourhood House.
But that doesn't mean it doesn't understand members' concerns. Chief executive officer Aart Schuurman Hess says the food bank is trying to keep the balance between providing good quality, nutritious food in a dignified atmosphere, and helping reduce food waste — two often diametrically opposed ideas.
"Food banks have always received [food] I would call the leftovers that people didn't buy," he said, adding any food the GVFB purchases is well within best before dates.
"I think we are the closest [food bank] to saying, no more [food] beyond the best before date. But then I have the whole zero waste stream coming in. So we're somewhere in the middle."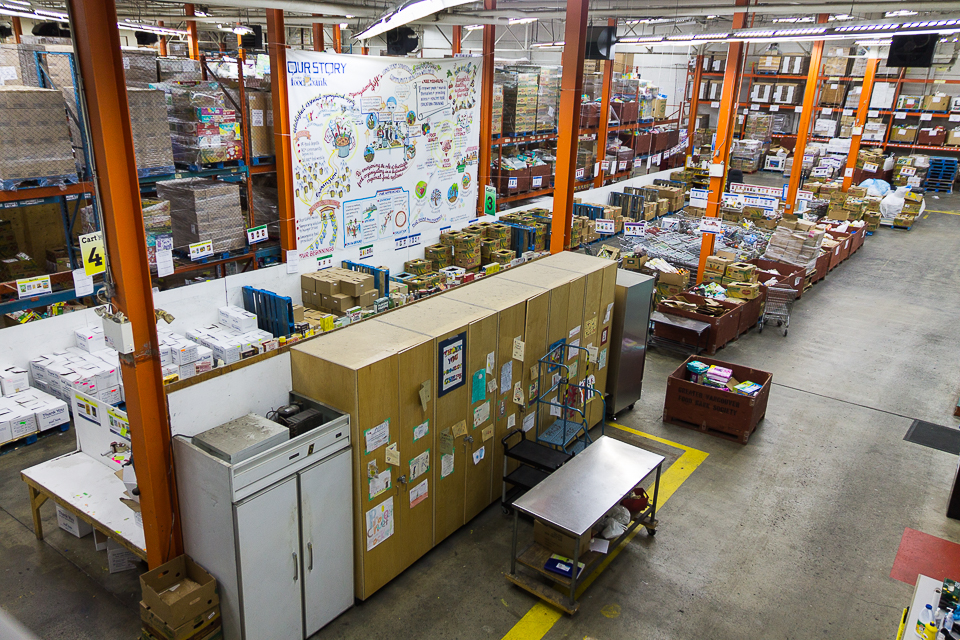 Five trips to the food bank
When I signed up as a food bank member, I didn't lie about having an income from journalism. There is no means test to use the food bank, and for good reason: 40 per cent of British Columbians responding to a recent survey said they were $200 away from not being able to pay their bills. That's one vet bill, car repair, or dental emergency away from having to choose between buying food and paying rent. Food banks are there to make that decision a little easier on us all.
But since I didn't need the food, it all went to my neighbour, a single father supporting his disabled son and girlfriend with partial employment insurance payments after he lost his job in September.
From Nov. 10 to Dec. 15 either my neighbour and I went to together and picked up enough food for a family of three, or I went alone and received a single person's portion.
While the majority of the food we received was fine, including the fresh produce, every visit had some food item that had passed its best before date:
On Nov. 10 at Gordon Neighbourhood House in Vancouver's West End, I picked up a 540-ml can of stewed tomatoes with a best before date of Aug. 27, 2017.
On Nov. 17 at Mount Pleasant Community Centre my neighbour received four 500-ml bottles of iced tea with a best before date of Sept. 6, 2017
On Nov. 27 at Christ Church Cathedral in downtown Vancouver, I received two 500-ml bottles of iced tea with best before dates of Sept. 6, 2017
On Dec. 5 at St. Margaret's in the Cedar Cottage neighbourhood my neighbour received a loaf of white bread just one day past its Dec. 4, 2017 best before date.
On Dec. 15 at Gordon Neighbourhood House my neighbour received six 500-ml bottles of iced tea with best before dates ranging from Oct. 6-7, 2017.
Food Banks Canada has its own best before dates guideline for member organizations to follow. Canned fruits and vegetables can be given out up to one year past their best before dates, and the same applies to canned or jarred juices (the closest item to bottles of iced tea). Fresh bread can go up to one week past the best before date.
The GVFB restricts its canned goods to seven months past the best before date.
Schuurman Hess says GVFB pushed back on the Metro Vancouver-approved National Zero Waste Council's 2015 proposal that the federal government provide tax incentives to businesses who divert unused food, which they would normally toss out, to the food bank.
"We were the only food bank in Canada to say, hold on. First of all, you need to define old foods," said Schuurman Hess. "We're not a dumping place. So they've made a change now to that proposal."
Last March the council released the National Food Waste Reduction Strategy, a joint proposal with the Canadian Federation of Municipalities that again suggested a tax incentive for businesses but "only for the donation of safe and nutritious food."
How we balance between keeping food out of landfills and ensuring good quality food from food banks is a "dialogue in society" we need to have, says Hess.
'Let us do the shopping'
Businesses can receive tax receipts for donating food, or insurance write-offs for situations where food delivery trucks get into accidents and the food on board is donated. Individuals who purchase food and take it to the food bank with a purchase receipt can also receive a tax receipt.
But the majority of the food GVFB distributes comes from donations: in 2017 it received $7 million worth of food, while spending just over $1 million on the purchase and distribution of that food. The food it buys can be controlled for quality. The food received by donation, not so much. Some people donate food considered "sometimes choice" like Kraft Dinner that the food bank will give out sparingly, or "other choice" like soda pop the GFVB will not distribute. Or sometimes the food is not even edible.
"Two years ago — I've never seen it and I am a food guy — there was pasta donated that was 60 years old," said Schuurman Hess. Without a date on the box, GVFB figured out the pasta is at least 50 years old from the five-digit postal code in the manufacturer's address on the box — Canada Post moved to the six-digit code in 1969.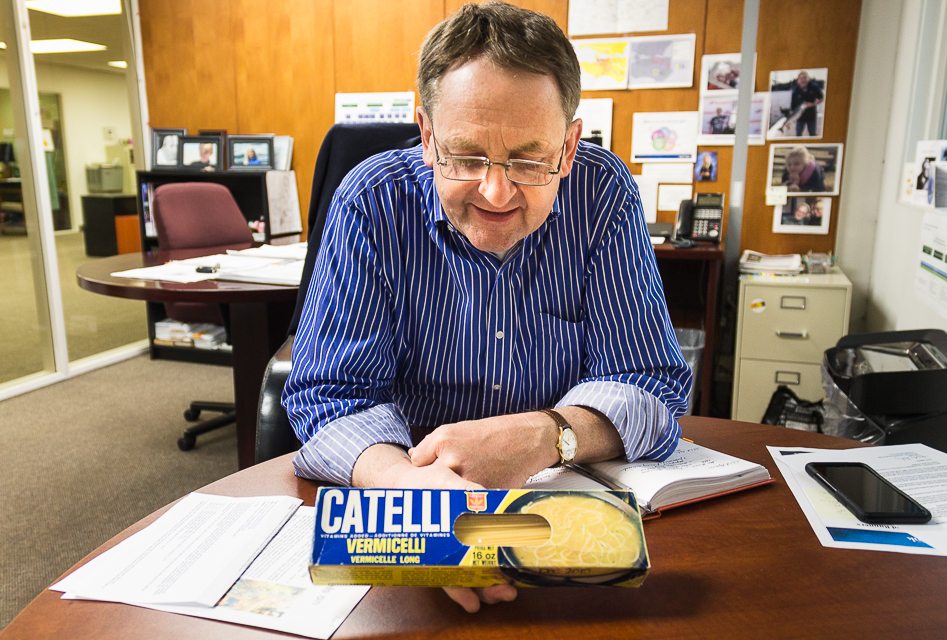 The GVFB is in the fifth and final year of its strategic plan, which calls for 70 per cent of the food it distributes to fall into what it calls its "top ranks" of first and second choice food, like fresh fruits and vegetables (first choice) or whole grain pastas with minimal ingredients (second choice). Those food categories make up 59 per cent of its distributions.
My neighbour and his son are both diabetic, so there were foods we had to turn down like white rice. Yet most of the food we received was of good quality, including fresh produce like apples, squash, potatoes and onions. Every trip we received some form of protein like tuna (the expensive hook and line caught variety), natural peanut butter, eggs, beans and Greek yogurt with honey. On the last food bank day before Christmas we received both a large frozen salmon fillet and a cooked ham.
But while the majority of food it receives from both its own purchases and industry donations falls under the first category (85 and 75 per cent, respectively), only 13 per cent of foods donated from individuals and food drives are considered first choice. Instead it's a 31 per cent tie between "sometimes choice" foods like Kraft Dinner, and "other" choice foods like potato chips and marshmallows the food bank won't distribute.
"I've put a lot of effort into educating donors [that they should] let us do the shopping," said Schuurman Hess, adding the GVFB hopes to receive three new refrigerated trucks by next month, which will have the "let us do the shopping" message painted on the sides.
GFVB is also working with the University of British Columbia's Faculty of Land and Food Systems to measure how food donations would be impacted if it set stricter regulations on best before dates.
"We put an incredible amount of effort into improving the quality of food," said Schuurman Hess, adding the GVFB introduced comments cards for members last May and collected 900 in return.
"I think a member voice is super critical, we take that very serious. And we do hear that members want better quality food."
Poverty reduction is the solution
Raise the Rates Campaign, a grassroots poverty reduction group seeking an increase in B.C.'s income assistance and disability rates, views the food bank model as a band-aid solution to food insecurity and poverty.
But it also has a very good relationship with the Greater Vancouver Food Bank, said community organizer Kell Gerlings.
"They're very aligned [with us] in that they want to do more advocacy with the outreach stuff that they do," she said. But Raise the Rates is frustrated with people who participate in a once-a-year food bank donation and believe "that single act of charity is enough."
Especially if they're giving food that has passed its best before date.
"It's upsetting because you hope that the food that [food banks] get is good for people," said Gerlings, particularly as the number of people relying on food banks in the province has increased by 32.5 per cent since 2008 to over 104,000 people.
Schuurman Hess agrees food banks are not a long-term solution to food insecurity and poverty. The GVFB advocates for a provincial poverty reduction strategy, which the NDP provincial government has promised to introduce.
GVFB is also the only food bank in the province that's a member of the BC Poverty Reduction Coalition. Coalition community organizer Trish Garner acknowledges the hard work and advocacy of the GVFB, but shares many of the concerns others have about the food bank.
"It's left-over food for left behind people, left behind by government policy that allows for a system of charity that desperately tries to fill the gap but simply cannot," she told The Tyee via email.
"People are hungry because they don't have enough income to support themselves and what they do have is eaten up by skyrocketing housing costs. The food bank is a downstream, band-aid solution to an upstream problem. It's the role of government to take the necessary upstream measures and I hope to see those in the poverty reduction plan being developed."