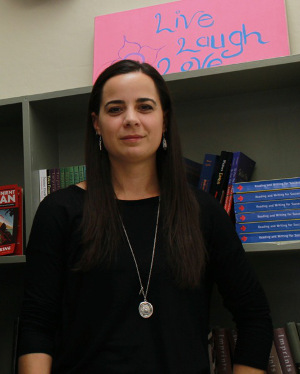 Before travelling to Kamloops to report on the availability there of access to support services for vulnerable youth (see my first two reports here and here), I reached out to several schools to help connect me with young people to interview. One was the Four Directions Storefront School.
An alternative program for Indigenous youth from Grades 9 to 12, Four Directions offers culturally infused instruction, curriculum, and programming at students' individual pace.
The program is not new, but its goal of filtering the provincial curriculum through an Indigenous lens was recently integrated into British Columbia's Kindergarten to Grade 9 curriculum.
Two students from Four Directions agreed to speak to me. That was important, not only because I wanted to represent the views of the region's longest standing residents — Kamloops is Tk'emlúps te Secwe̓pemc territory — but also because Indigenous people are statistically the most vulnerable to poverty, homelessness, addiction and a host of other social ills resulting from colonization.
But that's not how Four Directions coordinator and teacher Jordan Smith sees her students.
"I am always really just amazed and overwhelmed by their incredible resilience and ability to persevere, be successful, and engage in education despite all of the things that face all young people right now," Smith told me.
I sat down with Smith during a mid-November lunch break to talk about how Four Directions integrates Indigenous knowledge into the classroom, why students like the program, and what Smith believes the future holds for them.
The Tyee: Who are the students at Four Directions?
Jordan Smith: By definition it's a multicultural program. Kids are self-identifying as Aboriginal. That could be First Nations, Metis, or Inuit. We have students who are local, actually that's a very small percentage. We have many who are from communities like Anahim Lake, Canim Lake, Williams Lake Area, and as far as Manitoba and Saskatchewan.
So we try to find that middle place of honouring that we are in Secwe̓pemc territory, and also recognizing our students come from all different areas and backgrounds.
Why do students enrol in this program?
The biggest piece is flexibility. The program is self-paced, students are all working on individual projects.
Most students have struggled with attendance. It's definitely one of the major barriers to success in larger schools that operate at a different pace. So while [Four Directions] allows a student who, for example, misses a chunk of school to pick up where they left off, it also allows students to complete work more quickly.
How do you integrate Aboriginal content into the classroom?
We have a drum group that runs weekly and has participated in community events all over Kamloops, such as the district aboriginal graduation ceremony. We have an elders group that supports our students with traditional teachings and activities such as cultural fine arts. We use talking circles regularly and include Aboriginal content whenever possible. Most importantly, the incredible depth of knowledge that the students already have is acknowledged and honoured.
Starting this year there has been a complete overhaul of the B.C. curriculum. A huge piece of the [new] curriculum is Aboriginal content. Information that would have been limited to a course such as BC First Nations 12 is now being integrated, starting from kindergarten.
The students are working in a lot more project-based learning starting with the new curriculum. It gives a lot more flexibility for students to engage in topics that they are passionate about.
Our students here are enrolled in the English First Peoples courses, that are equivalent to standard English 10 to 12. They include mostly Aboriginal authors and themes, opportunities for journaling and reflection, as well as involving elders and outside supports in a more consistent way. The First Peoples curriculum is very specific in that regard.
What about subjects like math and science?
There is First Peoples math and science. At this time our students are not fully participating in those courses as they are designed. But certainly there's always space being made for following whatever their interests are. For example, in science we would be looking at traditional plants, [by] accessing elders [who] can provide teachings, show how to find them, what the [plant's] uses are.
How many students do you have?
Forty. We cap at 40 students.
What kind of trips does Four Directions go on?
We engage in various trips throughout the year. Camping is an annual event, but we also go traditional fishing [trips], canoeing, hiking, skiing/snowboarding, and on smaller local trips to access local resources.
We go camping every year. And the focus of those trips are always culturally based. For example, this year we had an elder that did some traditional storytelling; a flint knapping project with an artist from Tk'emlúps, Ed Jensen. Buzz Manuel from Aboriginal Sports BC come in to do some archery. The trips are always tied to curriculum and the overall goals of the program. So we're very busy.
What are some of the issues facing your students here in Kamloops?
I struggle a bit with the continual media focus on the barriers and the challenges. So my preference is to focus on the successes and the resilience.
And I think that when you consider reconciliation, and the place where Canada is currently in terms of figuring out where we're going and where we've been, we have to be cautious not to focus so heavily all the time on those negative pieces. I think that the media is doing youth a disservice.
So I don't have an answer for that, just an observation.
Are community services designed to support youth doing enough?
Kamloops has many really significant and creative approaches to working with youth. My students have been invited to sit on an advisory panel with the RCMP. The Friendship Centre we engage with quite regularly. The Project Venture program is a huge asset to the students' social and emotional support, as well as [an] academic support, because it's an incentive to be at school and to participate.
But the biggest thing is the relationships that are built between the students and those adults that are consistent and available. One of the really significant differences between the alternate system and our regular system is that level of support. For example, we have a health nurse that's attached to our building, we have counsellors available, we have an Aboriginal family counsellor that works with both our students and with the [Twin Rivers Education Centre] students three days a week.
I would say the Aboriginal education worker, Sandra Steele myself, and Justin Young, who runs the Project Venture program, are that first line of support in terms of recognizing or hearing from the youth what the needs are, and finding supports that they need in the community.
If one of your students were going through a period of homelessness or problems with drugs, what advice would you give them?
We do have drug and alcohol counsellors that come into the school. Certainly we would put those supports in as soon as possible. And of course we know addiction has less to do with substances, and more to do with attachment and relationship. We recognize all of those things are connected.
Kamloops also has incredible resources in terms of homelessness. Like the rent bank, an available pool of money for someone who is needing support to get a damage deposit — those logistical things that get in the way of finding housing. They [provide] support with transitional pieces, like having cups to put in your cupboards, and sheets to put on your beds. They also have transitional housing for youth that can live in semi-supported housing situations where they're not fully independent, but also aren't answering to an adult.
Is there anything the community could do to support your students better?
Funding shouldn't be coming from grants or unreliable sources. We had one after-school program that was attached to one set of funding, and then we had a gap of a year and a half, and then the funding became available for the Project Venture program, and again that will be a five-year cycle. So you're looking at these periods of time, potentially, where there's a gap in services. And certainly we do see a difference when those other supports aren't in place.
How did you notice a difference?
Just the social-emotional support that staff provide for the students, the modelling, the overall sense of community that you can achieve when you're combining your daily academic activities with the outside-of-school activities, to be able to bring families in and have them engaging as much as possible with the school and the program. It's just more of a wrap-around system when you have all of those pieces working together.
What's your optimistic vision for the future of your students?
The students that are graduating this year, many of them I have worked with for three and four years, and they can do anything that they want to do. My goal is to provide them with opportunities that provide some inspiration or not necessarily open the doors but just even [open] the possibility of things that they might not have previously considered.
Ultimately, to be successful, we all just need someone to believe in us and believe that we can. They are incredible young men and women.