[Editor's note: Tyee education and youth reporter Katie Hyslop recently spent two weeks in British Columbia's ruggedly beautiful, resource-rich and jobs-poor northwest, exploring both the promise of gas, oil and other mega-developments and their perils with dozens of teenagers and young adults. Find her series of reports here.]
Wyatt Chandler makes his living teaching young people how to jump, run and tumble over obstacles, bounce off walls and back flip from great heights. Looks scary, but for Chandler, 21, teaching kids parkour — moving as fast as possible through an obstacle course — is all about control, creativity and self-empowerment.
Since the tender age of 11, the Hazelton native has been providing opportunities for other young people to learn breakdancing, extreme running and now parkour, which he coaches at a gym in Smithers alongside teaching one-off classes across the northwest.
On my last day in Smithers I got Chandler to sit still long enough to talk about his progression from a kid walking laps on top of fences at the family farm, to a forest parkour pioneer. The following is a condensed, edited-for-length version of our conversation.
The Tyee: How did you get started in parkour?
Wyatt Chandler: All my life I've been motivated by movement. I took dance classes here in Smithers growing up because it wasn't offered in Hazelton. I started [at age eight] with breakdancing. Breakdancing was really full-body.
At the farm I would jump off things and balance down fences just for fun. I would go along the fence line and try to go all the way around, and if I fell off I'd have to start back at the beginning. It took me a while to get a full lap, and then I started doing the laps.
It's just something I did for fun.
I found the extreme running class at the gym. It had a description of vaulting over tables, flipping off walls, stuff like that. So I signed up and did it for two years.
That's where I started learning what parkour was, which was just coming up.
How did you start teaching kids?
When the [breakdancing] instructor left, I talked to the place he was renting from, and my parents helped me run the classes. It wasn't really teaching, it was just continuing what [the instructor] was doing.
Then in Hazelton my parents again helped me. We did classes down in the church basement. It was like a $2 drop-in and there was like 15 people at the high point that showed up.
From that, the Moricetown Band asked me if I would run a little seven-week breakdancing program at their school over the summer. [Then] the gym asked me to coach the [extreme running] class and they'd pay for my [level 1 artistic gymnastics] certification.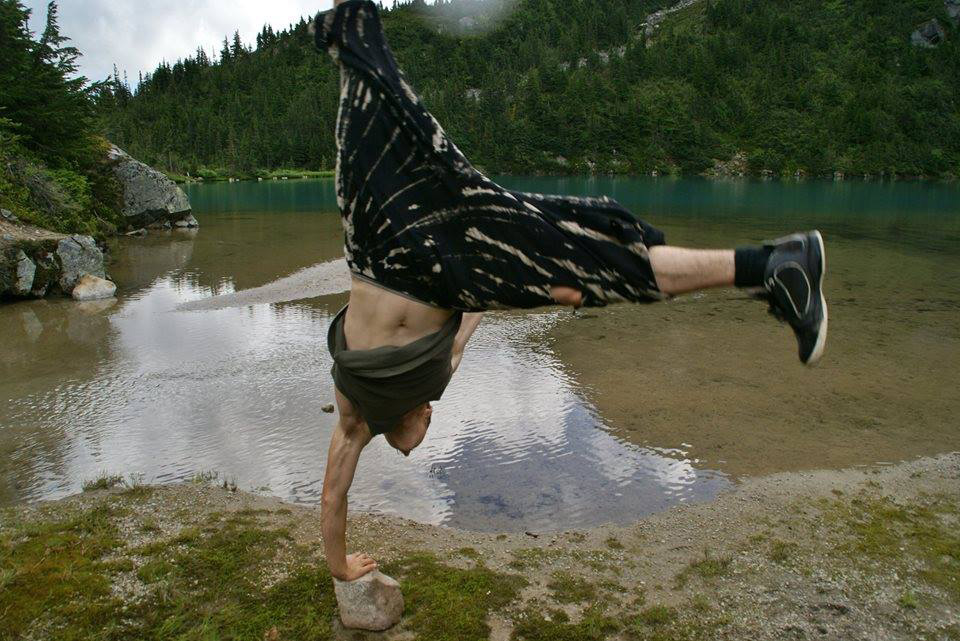 When did you move outdoors?
It's just this year. It was supposed to be indoors, but the gym I had set up didn't work out, so I had to teach it out in a park.
I've been kind of holding back from teaching outdoors, because I'd like to get a more firm base of skills before I bring [youth] into a harder surface place.
But I created Forest Parkour BC because I wanted to represent the environment here in B.C.
Why is it important to do something on the land?
I feel like the essence of what parkour is started in the forest when we were in villages, being hunters and gatherers, we needed to be efficient. We needed to know our environment and to move quickly through it. We needed to know how to run, jump, climb, swim.
If we didn't have those people in the villages, we wouldn't have successful groups. They would fall apart.
And it's a better learning space because there's no straight edges — you don't know what's going to come in front of you. And a lot of the mental power for connecting what you see through your eyes into moving your body to that spot comes from spontaneous movement. So you train into things that you don't know what's in front, and your body just reacts.
It's working on self-preservation, your body does not want to crash and fall.
Who are the kids who take these classes?
Their parents are really into mountain biking, really into skiing, own the local supply shop. And their kids are super active too, doing rock climbing, doing all these different things.
And a lot of high-energy kids who have trouble focusing. They're not doing good in school, and if they were to take a gymnastics class they wouldn't be able to follow that, because there's a track that you need to get onto to fit that routine.
How much do classes cost?
For a 16-week session it's $160, plus another $20 for insurance.
The thing about teaching in other towns is to make it affordable and to bring it to them, so that they don't need to travel so far. It's why I've moved towards a teaching program as opposed to having [my own] gym.
How many do kids you think you've taught?
Coming to the end of this year, somewhere between 400 and 500.
What's standing in the way of you expanding this?
Organization of myself. Focus. A personal assistant. A partner. And nothing [laughs].
What's your optimistic vision of the future?
I see a lot of awesome young people from the city showing up and deciding to live here because it's a beautiful space.
I see this area as being a hub for the creative arts, for an alternate way of life. That is going to be a really big draw for people in the city who feel like they can't express themselves, can't move their ideas the way they want to. I feel like Smithers has the space for that, this whole area has the space for that.
What would it take to get there?
You'd need to explain to parents and the older generation that [they] need to stop holding on so tight to the direction that the youth head in.
There are people who do things without looking for a big paycheque at the end, and I feel like a lot of the people here who work with youth have that drive. They're not looking for personal profit, they're looking to raise the community up as a whole so that we can be stronger, instead of having to be weak within our personal selves.
I feel like the moulding, and the trying to push youth into where [parents] think they should be, is a major hindrance, because [parents' minds have] been built to handle the world that they grew up in, which was 30 to 50 years ago. They're still trying to mould people for that idea, where we're moving into something that's changing every day.
How do your parents feel about this?
They've been supportive the whole way. There was a time towards the end of school when my dad was pushing me to trades. I guess he was looking out for me. He has a lot of trades under his belt. So he was thinking that would be a really good thing for me to go to school for.
As of late he's apologized for trying to usher me into school.
What's your biggest concern about the future for the kids you work with?
Those adults who maybe see a threat that, "They're going to build a group of people who don't know how to work," who don't know how to "get a proper job."
That's not really a big concern once someone's out of their [parents'] home. They're free to do what they want. It's mostly that nurturing of the young is so important, to get them at their early stage.
I feel like there's so many things that teach us to lean away from other people. And if you feel empowered yourself, then you can empower other people. And parkour is a connection to that because you feel empowered when you create things internally. [Parkour] is something that you created and you decided to do, this is how far you decided to push yourself. This is not anyone else saying, "Go big or go home."