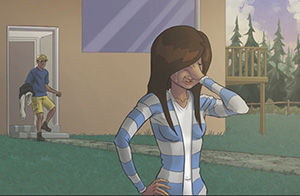 Supporting youth in care after they turn 19 could dramatically improve their lives and save the government more than $200 million a year, according to a three-part report from the Vancouver Foundation's Fostering Change initiative released today.
Studies have established that youth who now "age out" of government care and lose program and financial support on their 19th birthday typically face a bleak future. They have a low chance of completing high school or finding work and increased likelihood of poverty, pregnancy, crime and early death.
The foundation's report — Opportunities in Transition: An Economic Analysis of Investing in Youth Aging out of Foster Care — is the first to quantify the costs of the current approach.
The report's lead investigators, Simon Fraser University economist Marvin Shaffer and public policy researcher Lynell Anderson, found that ending support at 19 results in future costs of $222,000 to $268,000 for each of the 1,000 youth who age out of foster care or independent living arrangements each year. About 7,000 children are in care in B.C.
That's an annual cost of $222 million to $268 million, reflecting higher health-care costs, greater likelihood of involvement in crime and lost tax revenue from unemployment and underemployment.
The cost is understated, the report says, as it doesn't include the costs of homelessness, experienced by 45 per cent of youth who age out of care, early parenthood and drug abuse.
On the other hand, extending funding and supports until age 24 to improve outcomes and reduce those expenses would cost only $57 million a year, the report found.
The cost would be up to $99,000 per young person per year, but the report estimated only 80 per cent of youth would participate and the number would drop by about five per cent a year as more young people become self-sustaining.
Public backs extended support
"From a financial standpoint, we know that this is what young people are asking for, we know that it's something that young people from across British Columbia generally get from their own families, and are critical investments to their own success," said Mark Gifford, Vancouver Foundation's director of grants and community initiatives.
"And we know through our public research that British Columbians are ready for this: more than 70 per cent of British Columbians are already in agreement that financial support until age 25 is the way to go for young people who've been in foster care. It just makes sense."
The report lays out a proposed model for extended support, including funding supplements for basic living expenses like food, shelter and clothing and more resources for organizations already preparing youth for independence. It also calls for more support for universities and colleges already waiving tuition fees for kids with government care experience.
The report also suggests extending existing government programs like Agreements with Young Adults, which lets youth who have aged out apply for up to two years of financial support while attending school or a rehab program.
The report's proposed model is based on the expectation that young people will have income from part or full-time work, allowing financial support to be reduced as they get older.
The result would be a gentle push toward independence, rather than cutting almost all services and supports when they turn 19. Financial support would start at $15,600 at 19, decreasing gradually to $8,000 by the time they're 24.
Investing in the future
Research has established that investing in vulnerable groups before bad things happen saves money in the long run, whether the issue is poverty, homelessness, mental and physical health or substance abuse issues.
Gifford knows this. "If evidence was the only thing that guided public policy or public investments, we'd be in a different place."
But he believes the timing of the report, nine months before the provincial election, provides government and opposition parties more incentive to act on these recommendations.
Gifford says Ministry of Children and Family Development staff, who provided data and support in completing the report, are working with Stephanie Cadieux, the minister, to explore opportunities for extending care and preventing kids from entering government care in the first place.
The government has pointed to budget issues in the past in rejecting calls for extended support.
But last week Finance Minister Mike de Jong announced a seven-fold increase in the forecast budget surplus from $264 million to $1.94 billion.
De Jong said the surplus could fund affordable housing and welfare rate increases, which would benefit the 500 youth per year applying for welfare within six months of aging out.
But Gifford hopes this report, as well as the overwhelming public support for extending care, will mean more money will be promised to help the beleaguered children's ministry extend the aging-out process.
"We know there's public will for this, we know there's government will, and community will," he said. "One of the missing pieces is the political will to step up and make a commitment around young people."