When 18-year-old Saeed Habib visits the neighbourhood where he grew up—tucked behind Burnaby's bustling Metrotown—he can't believe the changes.
"Some people can go back to where they grew up," Habib remarked, walking in the shadows of construction cranes and residential towers. "They can go, 'Remember where this or that happened?' Well, there goes my childhood. Turned into buildings."
His childhood home is gone; it and two others turned into an apartment building. The video store where he once borrowed anime, gone. So are many of the neighbours he grew up with. The building where he would eat Afghani pulao in his grandmother's apartment after school is fenced off for demolition. She was forced to move out this spring.
In increasingly expensive Metro Vancouver, the Maywood neighbourhood's low-rise rental apartments have for decades been an affordable housing option close to transit and amenities. But decisions to increase property density zonings have unleashed a rush by developers to buy up the older buildings and replace them with towers and newer low-rises.
Residents are pushing back. Habib's grandmother's building was occupied by protestors for 11 days in July, before the RCMP removed them.
Raising the stakes is a community plan that would see Metrotown designated as Burnaby's official new downtown. But as the former suburb grows up, it's far from clear that it will save a place for affordable housing.
A 'stepping stone'
The affordability and convenience of the area's rentals have been a blessing to generations of lower-income individuals and families, immigrants, and refugees.
The one-bedroom that Lenise Rouse moved into near Metrotown in 2005 was just the home she needed for herself and her teenage daughter after her divorce.
"I didn't have a car and I was working full time, so I needed to be close to public transit so I could run home and look after things before I had to run to school," recalls Rouse. "I'd be at school very late, but I never felt threatened or unsafe coming home at night."
Today, Rouse is remarried, works as a paralegal, and owns a condo. But she won't forget her two years in Metrotown. "It's one of those stepping stones. People there are actually saving to have a better life."
Of five families Rouse befriended while living in the neighbourhood, she says, every one later moved into their first purchased home.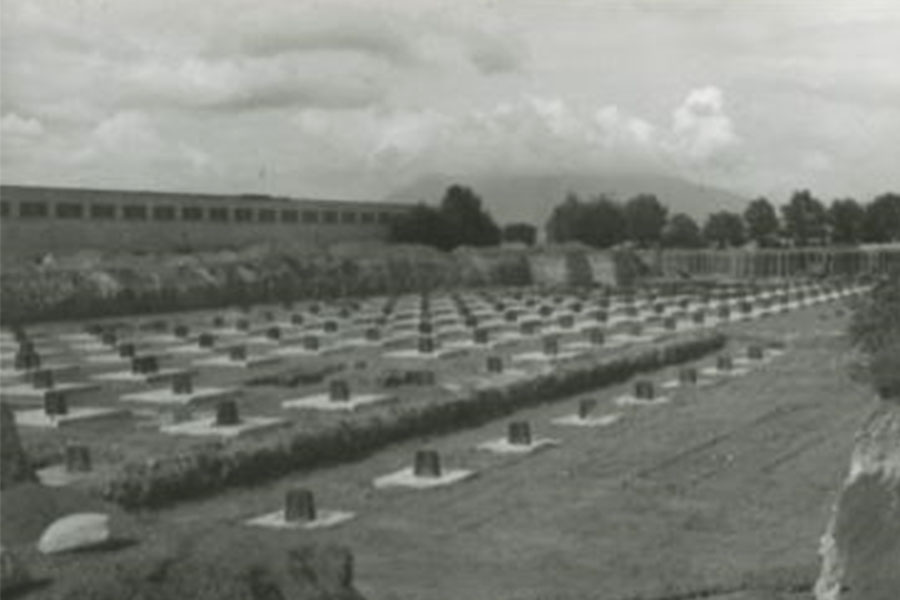 Wrecking balls and super malls
Metrotown wasn't always the office hub, shopping destination, and development hotspot that it is today. None of that even existed 40 years ago.
In the post-war years, that part of south Burnaby was home to three industrial and commercial sites: an electrical parts facility, a food processing plant, and a Sears. Locals knew it as the Kingsway-Sussex neighbourhood.
But then came the 1970s, and a new concept advanced by American urban planners: the "metrotown." Imagined as cities within a city, metrotowns were to host a mix of uses—such as offices, homes, parks—and acquire their own identity while remaining interdependent with their urban settings.
Kingsway-Sussex seemed like a good candidate. Burnaby's Central Park was nearby, and the location had good transit potential. A community plan was drawn up, and in 1977, Metrotown was born.
The name wasn't an instant hit. A contest was even held in 1982 to rename the area. Orchard Park won the most votes, but the city's mayor at the time called it off, saying a late name change would be too expensive.
But Metrotown took off when the region's preparations for the 1986 World's Fair brought a SkyTrain stop to its doorstep. Office towers went up. New traffic enflamed a commercial war among the three adjoining shopping centres operated by different companies on the same block. (Older Metrotown shoppers may remember the sad, confusing hallway that connected a Superstore to the Bay and Sears.)
In 2002, a commercial real-estate investment company called Cambridge (Ivanhoe Cambridge today) bought two of the three sites and turned them into the massive Metropolis at Metrotown mall. The third site, Station Square, is in the process of being redeveloped into five residential towers.
Flat only 40 years ago, this area of south Burnaby now has a growing skyline as more towers go up. A library, schools, parks, transit, and recreation centres make Metrotown a desirable, walkable community to live in.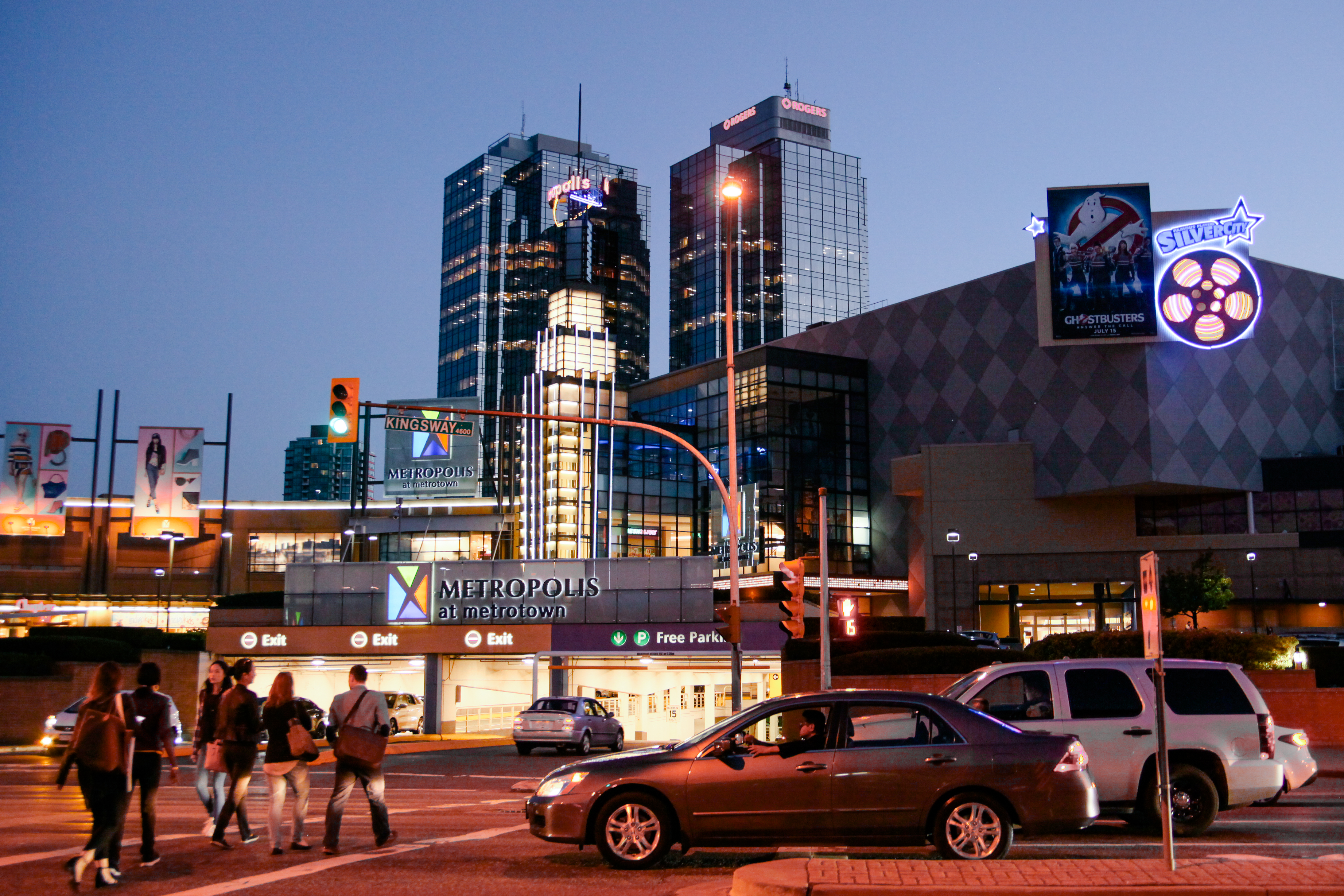 The lifespan of a rental
But the building boom leaves Metrotown's affordable low-rise apartments and their residents at risk, sitting on valuable land that could house Burnaby's many newcomers.
Some of the buildings, mainly built between the 1960s and '80s under federal rental subsidy programs, are well maintained, while others are in disrepair.
But the wrecking ball doesn't care about their condition. The land they're on is zoned for higher density: an open invitation for demolition of the existing structures and redevelopment into residential towers.
In an old Metrotown low-rise rental, rent can be as low as $750 a month for a one-bedroom. For a new one-bedroom, rent is approximately double that. There are units for sale in new low-rise buildings, but at prices many who are now renting cannot afford.
Burnaby Mayor Derek Corrigan says the expectation of higher-density zoning has ironically kept some of the area's low-rises around.
Corrigan lived in a Metrotown rental himself, when he first moved to Burnaby with his wife, Kathy in the 1970s. "It was an old apartment in 1977," he recalls. "You can imagine what it's like now."
And it's only "the possibility of a higher zoning that has kept [many buildings] in the marketplace" this long, he insists. "[Owners] said, 'Well, we're not going to redevelop at this point. We might be able to get higher density on this land, and if we do, the land's going to be worth more.'"
"Buildings, like people, have a lifespan," said Corrigan, arguing that many in Metrotown have been prolonged beyond their lifespans by owners who wanted the best buck for their buildings.
That time may now have come.
Burnaby expects to welcome 125,000 more people by 2040, with residential density being concentrated along transit lines and town centres like Metrotown. Trading old, low-rise buildings for new and taller ones is "inevitable," Corrigan says.
But that leaves unanswered "the fundamental question with transit-oriented development," said Craig E. Jones, a geography PhD candidate at the University of British Columbia: "How do you improve these areas without displacing the lower-income people already in them?"
Many have also been confused why this displacement is happening in a majority-NDP city.
Jones says the challenge is not only Burnaby's, but one that other cities in the region and across Canada will have to face as public funds fail to maintain their aging social housing stock.
In Vancouver, the famed Marine Gardens rentals were recently destroyed to increase residential density in the Marine Gateway hub of homes, offices, and transit. In Coquitlam, rentals similar to Metrotown's near the future Evergreen SkyTrain are also being rezoned for higher density.
A threatened corridor
While redevelopment may eventually house more families and add amenities, said Jones, it also threatens a vital residential resource for lower-income renters for whom transit plays an especially big role in deciding where to live.
Jones recently co-authored a study that identified a low-income corridor along the SkyTrain in Vancouver, Burnaby, and north Surrey, including Metrotown.
The threat to Metrotown's affordable rentals has brought fire down on Corrigan for failing to protect them. He rejects the charge.
"Somehow this is the local government's fault?" Corrigan objects. "You can't magically manufacture social housing out of nothing. If the federal or provincial governments, who have all of the assets, aren't paying... [that's] the public making choices."
Geographer Jones admits that as much as keeping affordable housing near transit is a planning puzzle, it's also a political one. "Keeping affordable housing does require government intervention," he said. "The question then is: which government?"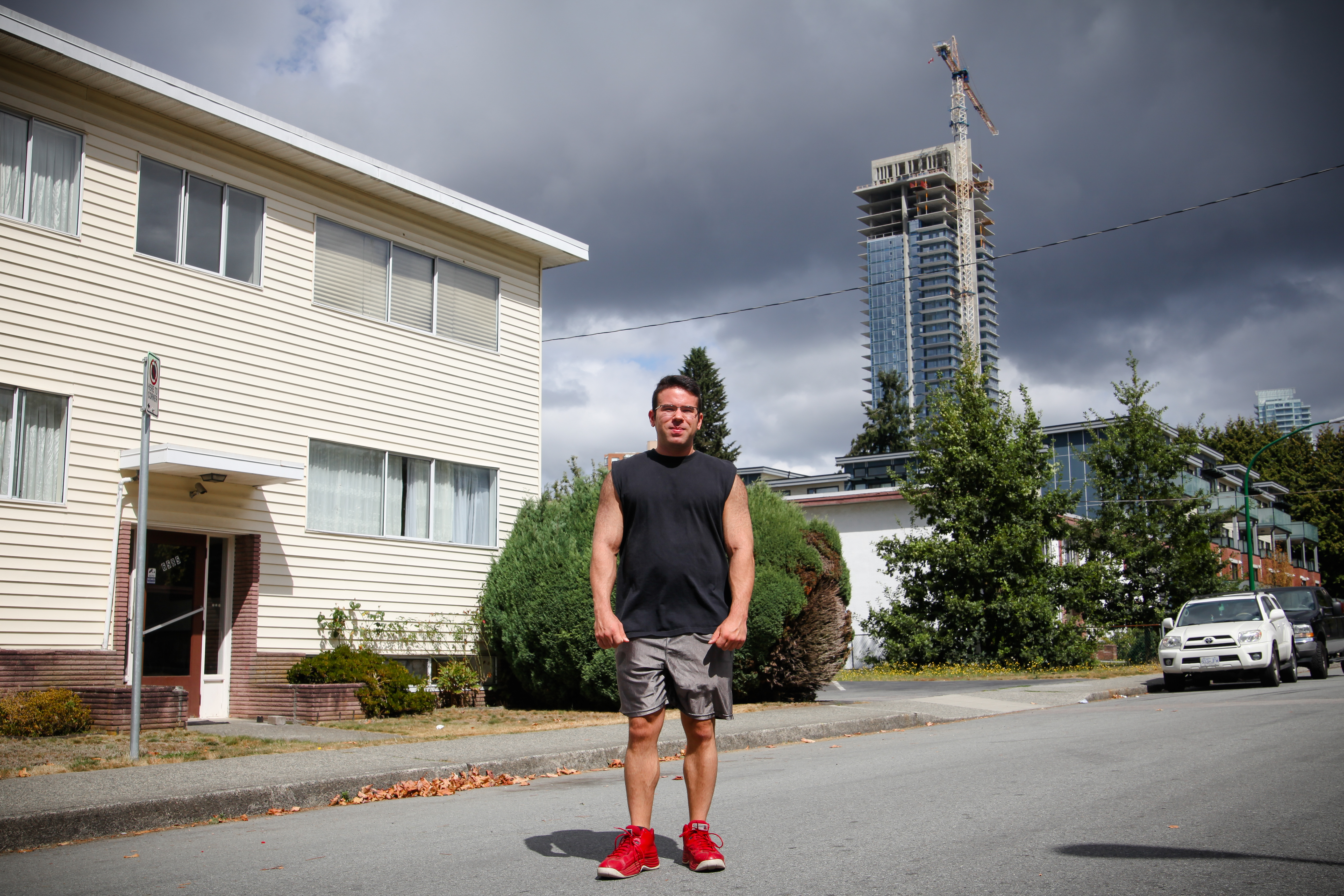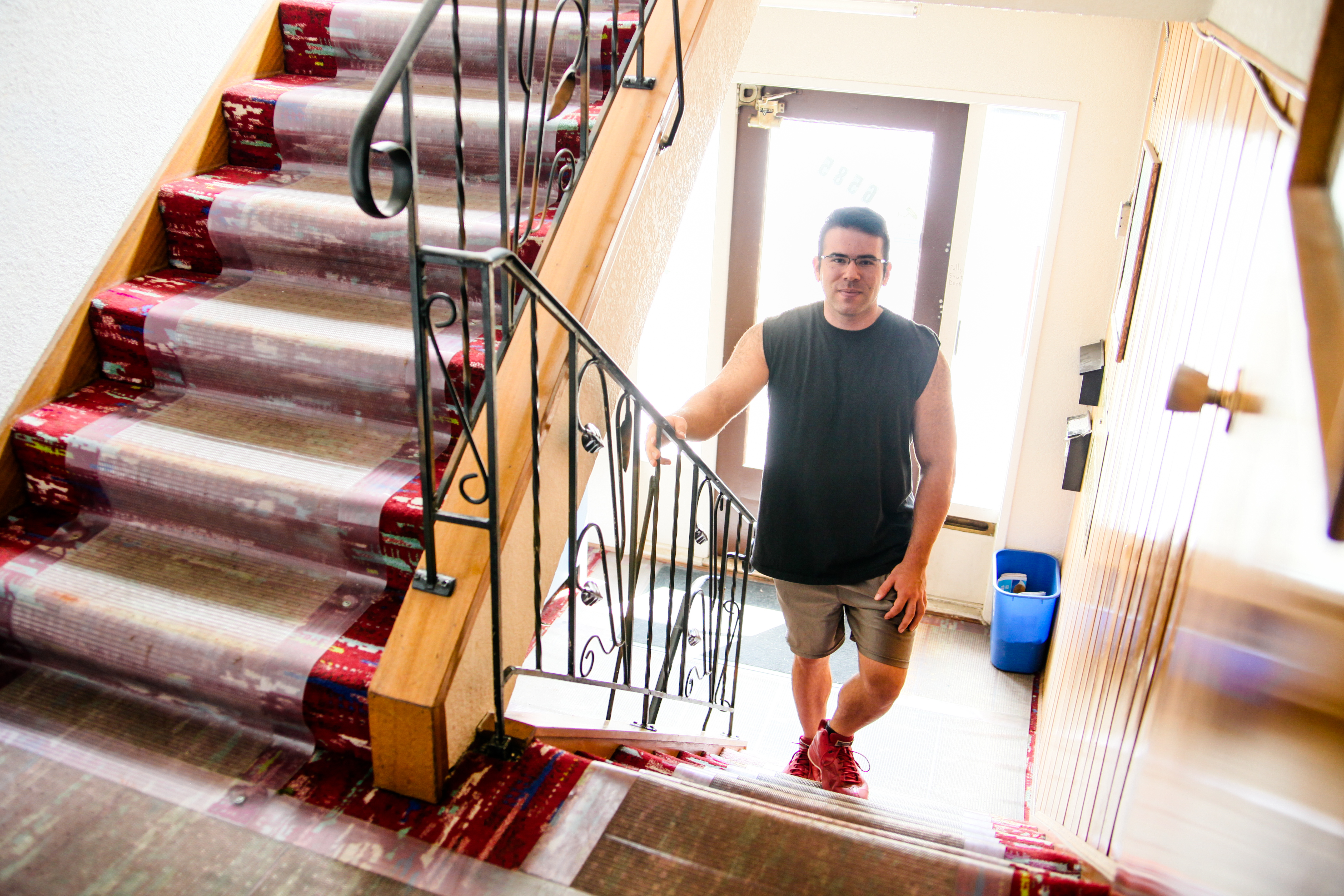 Left 'insecure'
Matthew Hunter, 29, has been fighting to stay in his affordable Maywood rental, but he too feels change is inevitable.
"There's development all around me," Hunter said. "There are construction noises all the time, people being evicted, apartments bought and fenced off."
He managed two-and-a-half years in his first rental in the neighbourhood, a $750-a-month one-bedroom, before the owner told tenants they had to leave. Hunter occupied the building with other protestors before RCMP removed them after an injunction.
He was lucky to find another rental in the area, a well maintained and spacious one-bedroom at $820 a month.
"My landlord says he's never going to sell," Hunter said. "But I'm skeptical. It seems like everyone is selling to developers. It makes me feel insecure."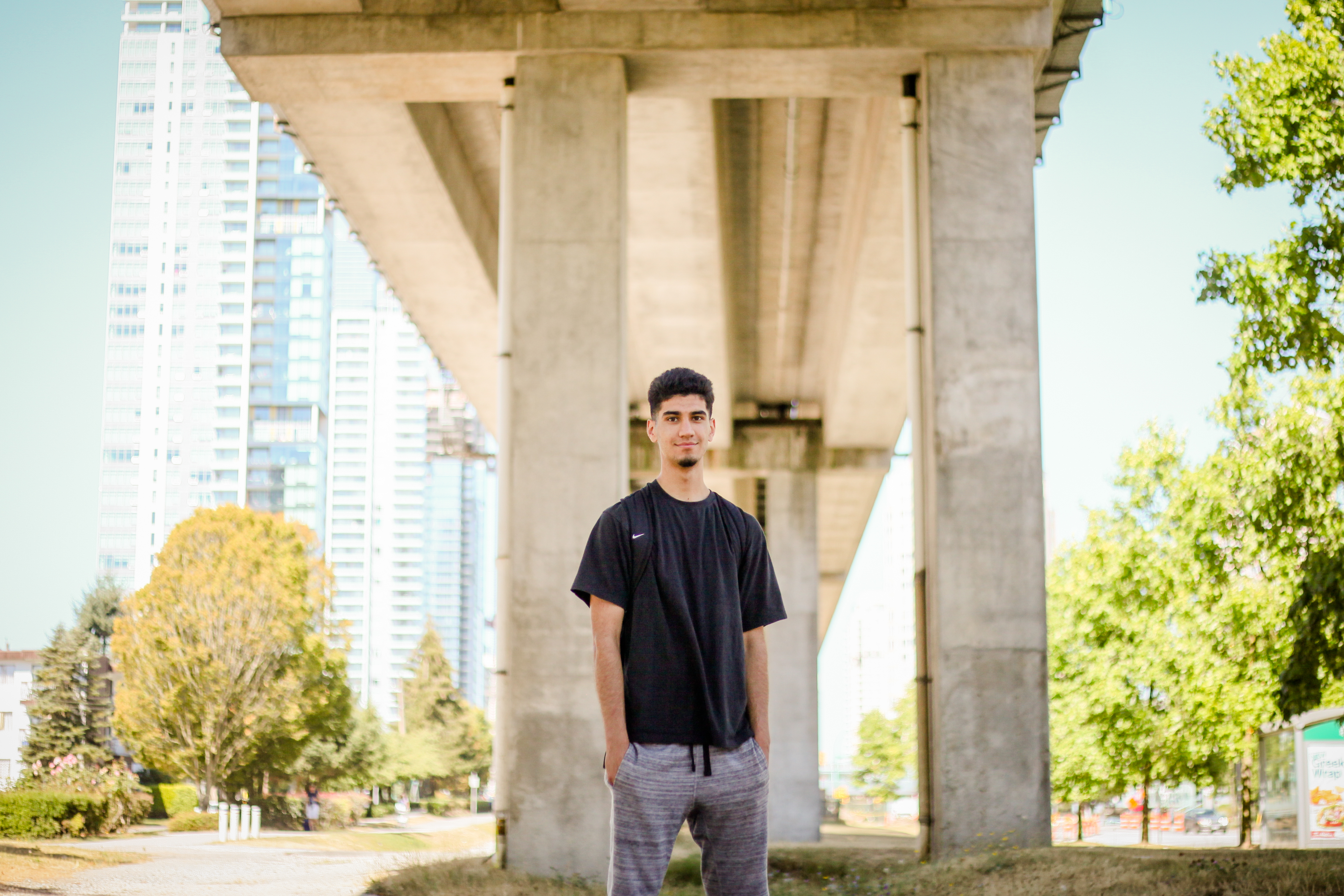 For Saeed Habib, who grew up here, change isn't all bad. The neighbourhood is cleaner, he notices. The parks have been renovated. There's even a new seniors' centre. Metrotown remains walkable, bikeable, and transitable. Seventeen per cent of the city works here, with more jobs on the way.
But relocating can also be hard on residents like his 91-year-old grandmother. Suite 308 of 5025 Imperial St. had been her first home in a long time, after surviving two wars and displacement from Afghanistan. Habib's family could visit frequently to help with her care.
When she had to leave after 15 years, "It was very traumatizing for everyone in our family," Habib said.
For many sheltering in Metrotown's low-rises—as much as redevelopment seems "inevitable"—that trauma is likely to spread.
The city has been an overshadowed sibling of Metro Vancouver municipalities for many years. It was the middle stop on an electric rail between the growing downtowns of Vancouver and New Westminster. It was a bedroom community known as Vancouver's village. So how did this suburb involve into a city where young buyers were willing to line up in the rain overnight to buy their first apartments?
Read part two of our report on Burnaby here.