Derek Corrigan recalls that moving from Vancouver to the city he would years later serve as mayor was a "big change." It was 1977, and he had just finished law school and married his wife, Kathy, the previous December.
"In those days, being an East Van boy, you believed that the world ended at the Joyce loop," said Corrigan. "Once the trollies stopped, you figured, well, that was the end of the world!"
Burnaby then seemed to be Vancouver's overshadowed sibling. Today it's B.C.'s third-largest city, with a growing hi-tech industry, a rising skyline, a new downtown being planned, and condos that young buyers line up overnight—in the rain—to buy.
Over 223,200 people live in the city. Another 122,000 are expected by 2040, according to Metro Vancouver projections. And while many Canadian cities are diverse, Burnaby has been called "super-diverse": it's where you're most likely to bump into someone of a different ethnicity, the Vancouver Sun found.
Yet as dense as some areas are, many quieter neighbourhoods of single-family homes remain. A quarter of Burnaby's land has also been dedicated to green space.
A century ago, Burnaby was farmland. How did it evolve? Two key factors both created Burnaby, and are pushing its growth today: transit and development.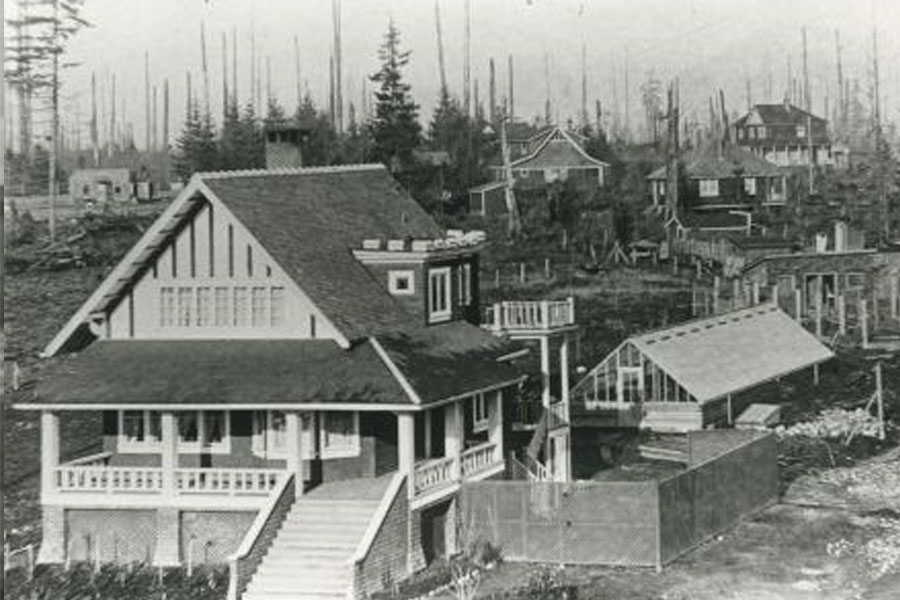 Rural, suburban, urban
In 1891, an electric rail system was completed connecting the downtowns of Vancouver and New Westminster. In between were farms. A group of realtors conceived the idea of establishing a municipal government in the unincorporated space, and in 1892 Burnaby was born.
Its identity quickly became tied to its surrounding municipalities. Even its location gave it little breathing room: to the west was Vancouver, south were Richmond and New Westminster, east were Port Moody and Port Coquitlam, and across the inlet was the North Shore. It was, geographically, Metro Vancouver's middle-child.
Then in the 1960s Burnaby planners planted the idea that would guide the city's future growth. Town centres would cluster residential and commercial density near community amenities. That would keep intense development away from single-family homes and green spaces.
Subsequent community plans maintained the town centre strategy, further supported when the SkyTrain line built in 1985 encouraged development along its route.
Burnaby boom town
Fast forward to today.
Forests of condo towers have erupted from Burnaby's four town centres: Brentwood in the northwest, Lougheed in the northeast, Metrotown in the southwest, Edmonds in the southeast. And they continue to sprout: some 100 new residential towers are under construction or proposed, eventually to add more than 30,000 households to the city.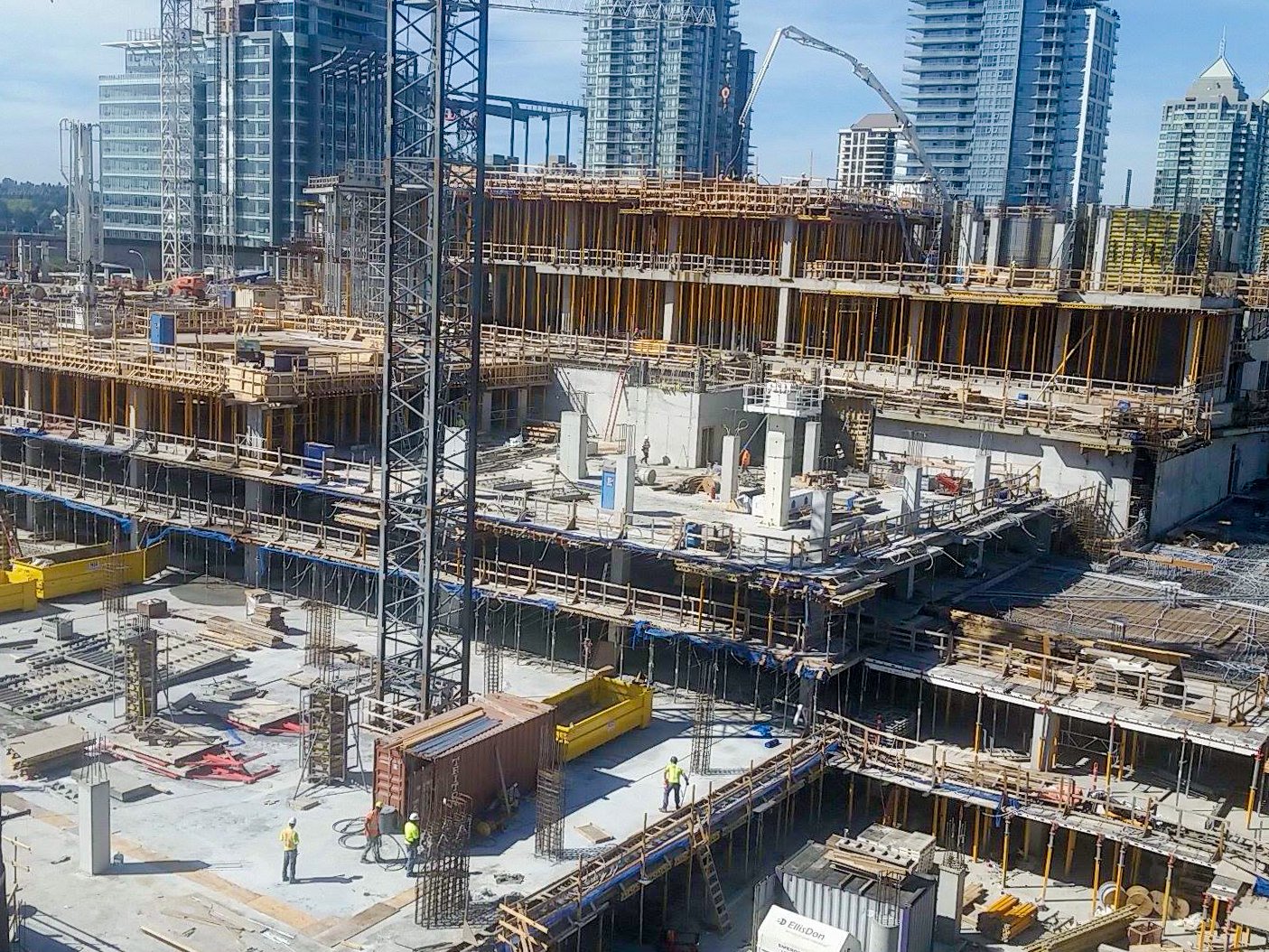 There are currently 29 developments outside Canon Wong's apartment, most of them residential high-rises. With family help, Vancouver-born Wong, 24, paid $450,000 for the two-bedroom in a Brentwood tower completed just last year. He moved in this April.
"It has a little bit of a community feel, but community might be too strong a word; Brentwood's still developing," said Wong. "But there lots of new residents. Lots of young people."
Indeed, the attraction of Wong's new neighbourhood brought dozens out in the rain earlier this year for a chance to buy developer Concord Pacific's Brentwood condos at a discount. Once complete, the Concord complex will feature no fewer than 10 towers, most between 40 and 45 storeys tall, with a huge indoor-outdoor shopping centre. Mock-ups resemble a B.C. Beverly Hills.
Thanks to height allowances, Burnaby's towers are catching up to those in downtown Vancouver in scale. One even has the potential to become the tallest building in the province, with up to 70 storeys permitted.
"It's really important to increase density in self-contained little communities where you don't have to travel much," said Sav Dhaliwal, vice-chair of the city's transportation committee. "The less dependent we are on automobiles, the better we are on the long run."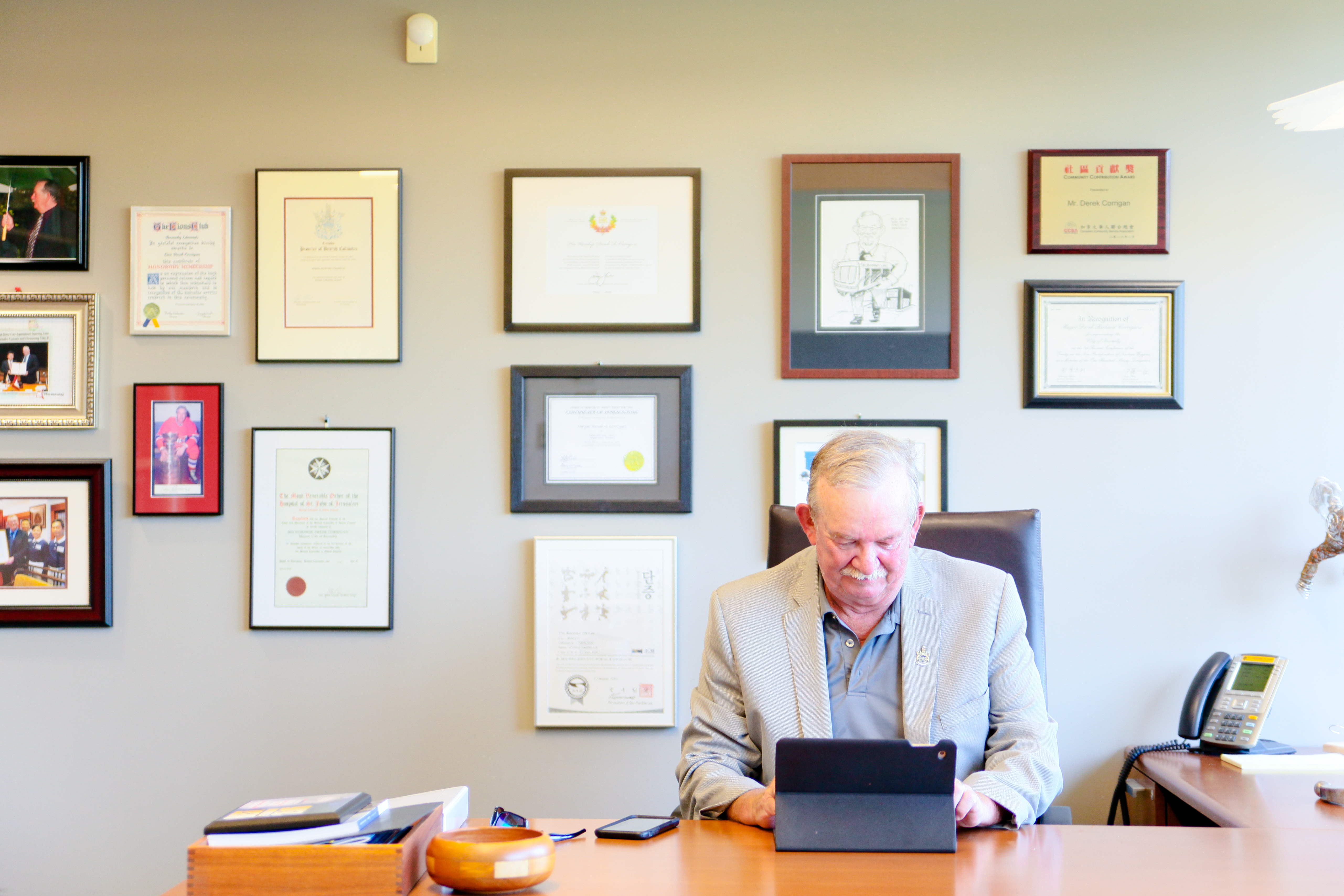 Now Mayor of the city he moved to in 1977, Derek Corrigan says Burnaby has to make do with what land it's got.
"I model a lot of what we do on cities like London and New York," said Corrigan. "That may sound like a little bit of hubris, but geographically, we are so constrained with the ocean and the mountains and agricultural land.
"Our situation is unlike places like Calgary. We can't keep building ring roads that take people further out into the suburbs. We don't have that option. All our [regional] growth is on the end of a peninsula, and we're in a situation where we're forced to make big city choices in a city that isn't that big."
If population isn't concentrated in Burnaby's towers?
"Growth will go into the valley, into the agricultural zones, and commuter traffic will be coming through our city," said Corrigan.
A 'wrong road'?
The transit-focused town-centre model isn't without its critics.
"I personally think Burnaby and the region took a wrong road when we chose to intensify development at station areas at the expense of every other part of the city," said Patrick Condon, chair of the urban design program at UBC's School of Architecture, in an email.
Burnaby streets like Canada Way, Boundary, Willingdon, and Lougheed all had the potential to become vibrant, walkable, mixed-use areas, he said. Instead, they're mostly home to car-traffic.
As for Metrotown, which has been designated to become Burnaby's new "downtown," Condon calls it the "old man" of Burnaby's town centres. "Metrotown, to be fair, is never likely to be a tourist destination," he said. "Built around enclosed malls on a great 'superblock,' it is the opposite of urban."
"And yet," Condon added, "we have to admire the fact that its shops are affordable, and that unlike other North American malls, more than half of its customers arrive on transit." The streets around the "superblock," meanwhile, are considered desirably walkable by many of their residents.
What Condon doesn't dispute is Burnaby's growth trajectory. "As the region grows to the east," he wrote, "the population and jobs midpoint moves east too, out of Vancouver and into Burnaby."
A place with everything
For some, Burnaby may still be the affordable second choice to Vancouver.
Sogol Arami, 30, rents a one-bedroom in Burnaby's Brentwood for $1,600 a month while managing a cosmetics store on Vancouver's west side. She likes to spend her evenings out in Yaletown and Gastown. Nothing in Burnaby yet compares, she says.
"But to live in the kind of home you want," Arami says, "Vancouver's just too expensive."
It's the same for born-and-raised Vancouverite Wong, who accepted the daily commute back to his former city in exchange for his more reasonably priced two-bedroom in Brentwood.
"That's what you get for living in a nice city like Vancouver," he added. "As much as I hate it, I recognize that's the nature of it." Wong says he may have to move again, further away from Vancouver and even Burnaby, to find something both more spacious and affordable.
Anthony Derrick understands why his city is an attractive alternative for Vancouverites. The 22-year-old business student has lived here his whole life.
"Burnaby pretty much has everything, from small mom-and-pop stores to malls to park space," he said. "Burnaby Lake is a great place to go to, you can get your shopping done at Metrotown, and there are a ton of ice rinks. It just brings a great diversity between residential and urban, and lots of opportunities for people to get involved in the community."
One spot Derrick likes is Burnaby Heights, a length of Hastings Street that's one of those lively pedestrian strips Condon would like to see more of. Bakeries, bookstores, groceries, and restaurants give it some of the ambience of Vancouver's West 4th and Main Street communities. Derrick was here with his father last week, visiting a funky ice cream and soda fountain shop that's a throwback to the old days of malt shakes and sundaes.
Burnaby may have grown up into a true city, but it's kept elements of its rural and suburban past alive.
Metrotown is being considered for designation as Burnaby's downtown. Density has its benefits, but many affordable low-rise rental buildings are being destroyed, and their residents displaced. Planning puzzle or political problem? Read part one of our report on Burnaby here.