There have been a lot of evaluations of British Columbia's child welfare services in the Ministry of Children and Family Development's short history.
Some were government commissioned, like the 1995 Gove Inquiry and 2006 Hughes Report, written by provincial court judges, and career bureaucrat Robert Plecas' report released last winter.
Dozens more have come from the Representative for Children and Youth's office, not to mention those compiled by non-governmental organizations. Every report has come with recommendations for change that have been implemented, to varying degrees, by the ministry.
Most, however, have relied on adult experts, overlooking opinions expressed by youth who've been on the receiving end of child welfare services.
We here at The Tyee thought they might have something to say. So we conducted a small (OK, tiny; nowhere near scientifically representative) survey of three young people who recently "aged out" of the ministry's care, as the law mandates, on their 19th birthday, to find out what they would change about that experience.
Their ideas for improving the chances that someone aging out of the ministry's care will land on their feet start with delaying the mandatory withdrawal of public support beyond 19. (It's worth remembering that in B.C., about one-third of non-foster kids are still living at home well into their twenties.)
They'd also like to see kids approaching aging out receive workshops on important life skills like budgeting, shopping, and doing their taxes. As important: stronger relationships with social workers, and with adults who aren't being paid to care for them and who won't disappear when they leave the ministry's roster.
A minimum income for everyone, they told us, would help prevent the poverty that leads the ministry to intervene in some families to begin with, as well as the high rates of homelessness among former foster kids.
The good news is that aside from a minimum income, which falls outside the ministry's purview, almost everything they suggest is happening somewhere within the ministry already, says Doug Magnuson, an associate professor at the School of Child & Youth Care at the University of Victoria.
The bad news is, they're not happening everywhere. "Current standard [practice] would actually work just fine," said Magnuson, "if everyone followed it."
Standards not always met
Take, for example, closer relationships between kids in care and their assigned social worker.
"Their connection with their social worker should be just as strong, if not stronger, than their connection with their foster parents," said Shae-Lynn Noskye, 20, who went into care at age 14.
In the five years before she aged out, Noskye had six different social workers. Such turnaround can make it hard to establish the trust that kids in care need to build with their social workers, she said.
"Sometimes kids get abused in foster homes, and if they had a better connection with their social worker, they'd be more likely to report it and feel safe doing so," she pointed out.
The ministry's policy mandates a "needs-based assessment" for every young person as soon as they enter government care. It's supposed to identify any services and supports they need. "We know from all kinds of reports in the last 20 years that not everyone gets that," said Magnuson. But without the information an assessment is meant to gather, it's next to impossible to offer the particular services a young person needs.
Similarly, Magnuson added, "If you look at the policy documents, there are standards about how often caseworkers are supposed to visit with youth."
The ministry mandates an in-person visit at least annually, and private conversations every three months. Young people have the right to voice their opinion about their placement, and to ask their social worker for help at any time.
But it's not clear whether those conversations have to happen in person. Noskye recalls once going almost a year without seeing her social worker.
Failures to meet the mandated standards are partly a matter of caseload. The fewer files a social worker is juggling, the easier it is to form a strong bond with the young person behind the case number.
But B.C. is a large province with a small population outside the Lower Mainland, and caseloads vary widely from region to region, Magnuson points out. Some already allow for the kind of better relationships Noskye advocates.
Solutions, for some
Some ministry employees have been able to get creative and try out new ideas.
The North Fraser region's Youth Transition Conferencing (YTC) program, for example, responds to foster alumni's suggestion that kids leaving care need relationships with adults who aren't being paid to care for them.
In addition to providing life skills essential to living on their own, a YTC facilitator works with the young person, their caseworker and service providers, and other caring adults in their lives like teachers, friends and extended family, to establish a support network that will last at least into the first few years of independence.
"This process works pretty well to seal a relationship and a contract between young people and adults, and they hang in there for a couple of years," said Magnuson, whose grad student did a small evaluation of the program in Burnaby a few years ago. "And in the process the youth often develop additional support and do just fine."
But that degree of help isn't given to every young person aging out of care even in the North Fraser region, let alone province-wide.
A more gradual launch
Both Noskye and Jaye Simpson, 21, want aging out to be a more extended, "softer" transition, much like it is for young people who aren't in government care.
"I would also increase the age of aging out to either 24 or 26," said Simpson. "What I would like to see is the aging out process begin a little bit later, more like [age] 19 or 20, when there's more adult interactions and you're doing more adult stuff like paying your taxes. I didn't get a job until I was 18, so it was something that was super unique to me."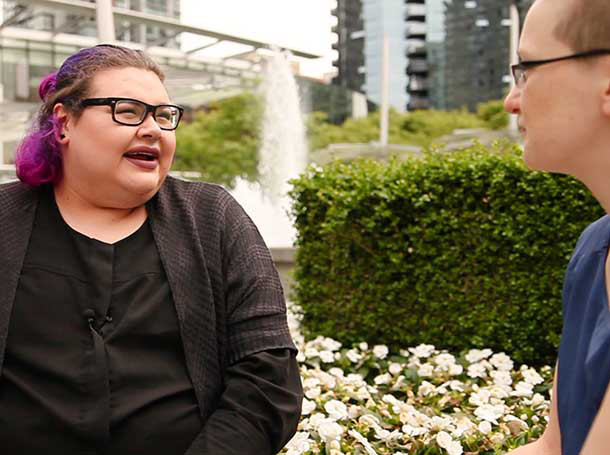 According to its policy, the ministry is supposed to start preparing young people for aging out at 15, but it doesn't always happen. Noskye suggested the ministry and foster parents start preparing young people in their care for aging out no later than 16, but also give them the option of remaining in care until at least age 21 -- maybe 24 if necessary.
That would require amending B.C.'s Child, Family and Community Services Act, Magnuson said.
He noted that it's also important to remember that some young people do want to exit care as soon as possible -- if only because of the impatience most 18 year-olds feel for independence.
Many youth are ready to be done with [the ministry], and they will be very disappointed if the legislation changes, he said, even if they might like to have access to more resources. "And there are youth who need something between full guardianship and full independence."
Simpson doesn't disagree, saying it's important to give youth the autonomy to age out at 19 if they wish.
"They could voluntarily leave at any time after the age of 19," Simpson suggested, while remaining eligible until 26 for life-skills training, financial support, housing, and other help provided in care. And then those supports should be eased out, not suddenly cut off.
In fact, the ministry does offer extended help to some of its former charges. We'll discuss that more in the second instalment of this series.
But Magnuson said that from his discussions with ministry staff, few young people exiting care apply, at least immediately, for programs like the Youth Education Assistance Fund, which supports 19-24 year-olds in approved post-secondary programs.
More money, and power to use it: Magnuson
Many of the numerous evaluations of the Ministry of Children and Family Development have blamed a lack of resources, both financial and staff, for the repeated tragedies of young people falling through cracks in its services.
Magnuson thinks that's fair -- noting successive provincial governments' dislike of taxes, and aversion to funding children in general. Its per-pupil funding of education, he said, rivals that of Mississippi. He'd like to see a comparison of provincial child-welfare spending against other provinces and U.S. states.
But Magnuson said local ministry managers also bear some of the blame.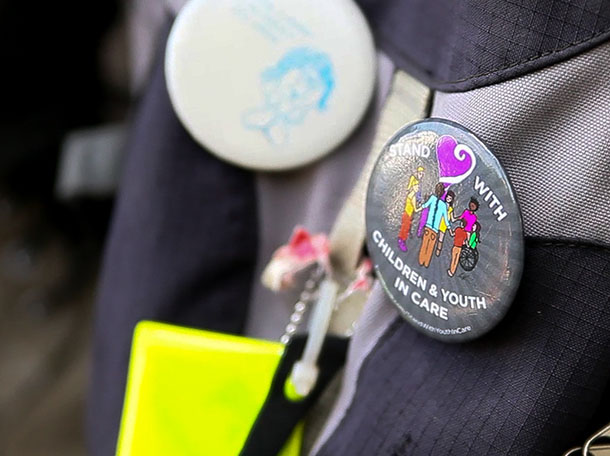 "It is in fact the case that in the field, when workers ask for support, management is not always responsive," he said, conceding that most of his evidence for this is anecdotal. "So when someone in Prince George says, 'I had a child with a disability who needs a certain kind of service,' and they run the need up the flag pole, the complaint I've heard for years is they don't get a response and kids don't get the service."
The ministry can cite funding for limited resources, Magnuson said, but local ministry management nonetheless has a moral imperative to find appropriate services for that child.
"Every office has great ideas about what they could do to better serve their client," he said, "and I'd like them to have a little more autonomy over how the money in their [region] is spent."
The kids in our public care, and the people we pay to care for them, it turns out, are pretty much on the same page. What's mostly missing has been our readiness to give social workers and the young people in their care both the resources and the freedom to make sure every youth is well-equipped to step out on the adult stage.