When do you become an adult? And what do you need to know?
Markers of adulthood -- school graduation, first full-time job, first rent payment -- are in flux. Where once children were expected to leave the nest in their early 20s, today one in three B.C. adults still lives with their parents to the age of 30.
So why does the B.C. government expect youth in its care to fully "adult," as the kids say, at the age of 19? And how does the Ministry of Children and Family Development know those fledgling adults are ready to fly when they're pushed out of its nest?
The Tyee asked someone from the ministry to sit down with us and explain. The ministry refused to make anyone available for an interview in which we could ask followup questions for clarification. But it did send an email.
In it, a ministry spokesperson said that its "policy" for ministry staff is to start making a long-term care plan for a child or young person in care at their first meeting. Planning for the transition to adulthood begins around 15.
"This transition process can either support youth to develop skills to help them live independently or may focus on transitioning to adult services such as [Community Living British Columbia] and/or mental health supports," the ministry statement read.
The statement didn't say whether any measures exist to make sure youth do in fact have those skills before they "age out" of care.
And whatever the policy, the reality is often rather different.
Shae-Lynn Noskye went into Crown care when she was 14. Now 20, she said she heard that support was available past the age of 19 if she enrolled in a post-secondary program. But a meeting that was supposed to give her more information never happened.
Neither did the meeting Noskye was told she would have with her social worker, mental health worker and caregiver before her 19th birthday to discuss her aging-out process.
"There was a lot of inconsistencies," Noskye said, between what ministry staff said would happen and what did. She did receive almost $600 to spend on kitchenware in her new place, she mentions, but that was it.
She has been on a waiting list for adult mental health support ever since leaving government care a year and a half ago, she adds. Her former youth mental health worker still keeps in touch, informally. "She sends me texts once and a while, just making sure I'm doing okay."
A birthday 'fraught with anxiety'
Noskye, happily, is thriving despite the ministry's lapses. She holds down two jobs -- one of them with Aunt Leah's Place, a non-profit support organization for people with foster care experience -- and makes enough to support herself. She has at least one helpful adult in her life to lean on if she needs it.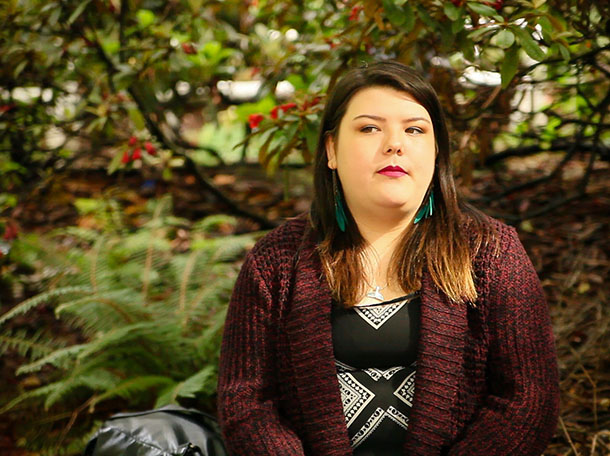 But according to B.C. Representative of Children and Youth Mary Ellen Turpel-Lafond, Noskye's experience with aging out is far from unusual. Turpel-Lafond said she frequently receives complaints from young people who have had to go it alone at 19, aging out with minimal help or training for life on their own.
For many kids in Crown care, she's concluded, preparation for "adulting" amounts to little more than being told their discharge date is coming up. Understandably, that can be a frightening prospect.
"They really express concern about how the message comes across," she said. "It's a process that's fraught with anxiety for a lot of young people. For many, anxiety builds as the day approaches."
And far fewer share Noskye's post-care success. According to research gathered by the Vancouver Foundation, more than two-thirds won't have a high school diploma. Almost half will be on income assistance within a year of aging out.
A variety of ministry supports are available to youth ages 19 to 24. One, called Agreements with Young Adults, can cover living expenses for six months at a time for someone enrolled in school or rehab, for up to two years. The ministry's email said that it is "looking to expand the program to offer life-skills programming, extend the duration of agreements and raise the age limit."
Another program, the Youth Educational Assistance Fund, provides full-time students ages 19 to 24 at accredited post-secondaries with up to $5,500 a year for four years. Provided young people meet the criteria, they can access money from Agreements with Young Adults at the same time.
Seven B.C. post-secondary institutions independently offer bursaries to those with government care experience that cover tuition and other mandatory fees.
The province funds other organizations to offer help as well. Covenant House Vancouver, for example, has a mentorship program supported by $315,000 in government funding. It matches young people 16 to 24 with mentors to help connect them to education and employment opportunities.
The province also supports the YWCA-run Strive program that helps youths 17 to 24 in North Vancouver and Vancouver learn the skills required for independent living.
But none of that support is guaranteed, leaving many kids in care to age out into limbo. Small wonder a disproportionate number end up on income assistance -- or the sidewalk.
Turpel-Lafond called two years ago for automatic foster care support to be extended to at least age 21 in B.C., and even to 24 in some cases.
The important things, she said, are "having real social workers with a strong youth focus available, continuing to connect [young adults in care] to a family setting, and making sure that their needs for shelter, mental health, education and other supports are being actually addressed."
"Because as prudent parents know," she adds, "just because someone's 20 doesn't mean they're capable of navigating their health needs, their financial needs, and so forth. They need sometimes an intensive period of support during the transition to adulthood."
Youth get longer to launch in other places
British Columbia wouldn't be breaking new ground by extending youth support beyond age 19.
Scotland introduced its "staying put" model, supporting youth in care until age 21, in 2013. Those who leave care at that age, or earlier, can also return to receive support as former "looked after" kids until they turn 26. Scottish children enjoyed broader support than Canadians in B.C. even before "staying put" however.
The United Kingdom's 2002 Children (Leaving Care) Act deterred early exits from care by eliminating welfare eligibility for anyone under 18. It also legislated into existence a system of personal advisors, in addition to social workers.
All youth in care ages 13 and older got a "connections advisor" to help plan their education and career paths. Those advising youth 16 to 21 must meet twice annually for check-ins and exit planning. The U.K.'s Homelessness Act, passed the same year, gives young people who've left care priority for public housing.
Ontario recently amended its child welfare legislation to extend financial support for foster families caring for young people taking extra time to graduate from high school until they reach 21. Its government also invested $4.95 million in adoption recruitment, with a focus on finding permanent families for older youth.
Many experts see that as the holy grail of extending support for youth in care. Whether it's reconnecting youth with family members who can step up for them, or introducing them to new families who want to include a young person in their lives, caring adults who aren't paid to be there for you offer a permanence and safety net that living on your own at 18 simply can't.
The proof is in the pilot programs. New York City's You Gotta Believe adoption agency ran a state and federal aging-out pilot program from 2004 to 2008 that aimed to build youth's "social capital" with the assumption that the best permanency for youth preparing to age out of care is a supportive family, blood or otherwise.
The project tried either to cement young people's relationships with trusted adults already in their lives, or to get relative strangers to adopt them. Prospective adopters faced a mandatory 30 hours of training to prepare them for parenting adolescents with more than the average teen challenges.
When the trial ended in 2008, half the 199 youth involved had permanent placements -- an accomplishment You Gotta Believe and its government funders considered a success. Most of the adults who adopted a teenager had known them before the process began.
Foster care stuck in the 1950s
Since Turpel-Lafond called on the province two years ago to ramp up adoption approvals and oversight, the Ministry of Children and Family Development has also focused on increasing adoptions.
The ministry set itself a goal of approving 600 adoptions in two years. By the time two years was out, it had approved 644.
Only 93 of those 644 adopted kids were older than 12, however, according to the Adoptive Families Association of BC. Meanwhile, about 700 youth in care will turn 19 this year, aging themselves out of the public's support into an uncertain independence.
"A lot of our concepts in foster care are like 1950s concepts of the family," Turpel-Lafond reflected. "It's mom-and-pop foster care, and at 16 you leave home."
But the job market for untrained 16 year olds -- or 19 year olds -- isn't what it was in the Beaver Cleaver years. Nor is food and shelter as affordable for anyone in B.C., let alone the young, as it was then. And securing support as an adult takes a certain level of skill at red tape, and a lot of time spent on waitlists.
"We need to model what good families do," said Turpel-Lafond, "which is [that] one child might need a lot of support at 19, one child might not. But you don't take the lowest common denominator and push people out the door."
Turpel-Lafond hasn't costed out what it would cost to extend foster care support for all youth past 19; no doubt it would take millions more dollars invested into B.C.'s child welfare system.
But she believes government should weigh that against the costs of homelessness, of mental health issues, drug addictions, poverty and involvement with the criminal justice system, that too often follow when an unprepared youth sets out into the adult world alone on their 19th birthday.