Canada's largest oil sands producer, Suncor, appeared to take a sharp turn on climate change when it announced to an annual meeting of its investors in Calgary on Thursday that it will dramatically boost oil production, despite facing the lowest oil prices in a generation.
Those historic lows have hollowed out Canada's oil-sands industry with layoffs and losses -- but sent Suncor on a buying spree.
"We expect to be the last oil company standing," Suncor's CEO Steve Williams said in a response to a question put to him at the Calgary meeting by The Tyee. "That's part of our business goal."
Williams said its expansion will spike Suncor's oil output up by 40 per cent this year, with a target of achieving 800,000 barrels per day by 2019, in what will be its largest oil output ever.
The oil executive, who agrees that global warming is real, said the company's plans are "completely consistent" with its claim to leadership on climate change.
"Our carbon footprint, for each barrel we produce, has decreased maybe 35 per cent over the last 10 years," Williams said, "and that's something we want to continue to improve on. The plants that are being put in now are comparable with other sources of crude in the world.
"We're very proud of that."
Williams argued that despite climate commitments made in Paris last year, the world is demanding ever-more oil, especially in China and India. He said Suncor is making investments in wind, ethanol and solar -- but stressed that there is no replacement in sight for petroleum.
"We will see a transition to a low carbon world," the executive conceded, but he added that "the ability to decarbonize the world instantaneously doesn't exist."
Suncor chasing 'a shrinking pie'
Leading Vancouver enviro-thinker Tzeporah Berman said Thursday that she disagrees with Suncor's assessment that oil demand will continue to grow, "especially given the breakthroughs in battery storage and the uptake of electric cars in the last year."
Berman is on the record as urging that Alberta "keep oil in the ground," and has called on governments to legislate to that end or "dramatically increase the carbon price to well over $100 a tonne," which could have the same effect.
She and other environmentalists dined regularly with Suncor's CEO last year, helping find a breakthrough climate policy compromise for Alberta Premier Rachel Notley last November. It included both carbon pricing and a hard cap on oilsands emissions.
Berman says Suncor's oil growth strategy now might appear to contradict the energy giant's pro-climate aspirations, "but that depends on how much the rest of the world produces and what Canada's emissions targets are."
"Suncor seems to be focusing on trying to be the greenest and the leanest so they can have a piece of a shrinking pie," Berman said. 
Global oil prices have been at levels not seen in a generation for much of the last year, before recovering slightly in the last month. That's resulted in thousands of job losses, record unemployment in the Fort McMurray area, and the worst drop in oilsands investment since records began in 1947, according to the Canadian Association of Petroleum Producers.
Suncor itself lost half a billion dollars on its operations in the first three months of 2016 alone, the company disclosed. It said it had used its substantial war chest of $14 billion in cash or cash-equivalents to deliver a net accounting profit of $682 million.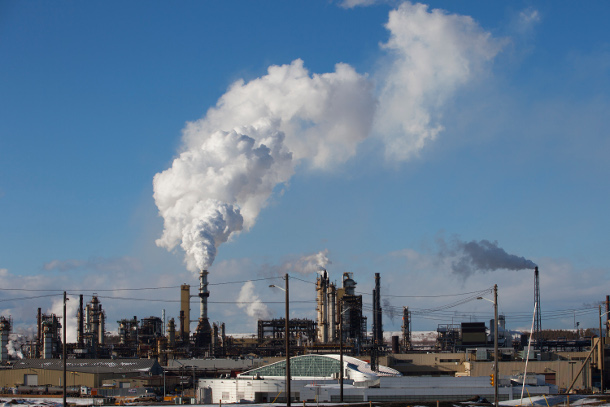 Suncor is also using that war chest to go on a buying spree, snapping up other oil companies and betting heavily that oil prices will recover. Last month it picked up Canadian Oil Sands Limited -- and with it that company's one-third stake in the venerable Syncrude oil-sands production company. This week, Suncor picked up another minority interest, a five per cent share owned by Houston-based Murphy Oil, which gave it voting control of 52-year-old Syncrude.
One win, one loss, for activist shareholders
Meanwhile Suncor's AGM split over two climate-related shareholder proposals.
Vancouver's Emma Pullman, a climate campaigner with the environmental group SumOfUs.org, put a motion that Suncor disclose "payments it makes to lobbyists, trade associations, and grassroots campaigns to influence public policy."  
Pullman, who said she represented 600,000 of her organization's members across Canada, and was backed by two influential shareholder proxy groups, said she made the proposal after hearing from "whistleblowers... that Suncor was one of the biggest impediments of the passage of two pieces of pivotal legislation on tailings management and water use in the oil sands."
She told the meeting to consider the case of ExxonMobil. The multinational parent of Canada's Imperial Oil, which also has a large stake in Syncrude, is being investigated by 17 U.S. attorneys general for allegedly suppressing the risks of climate change for decades from shareholders and the American public.
Suncor management urged shareholders to vote Pullman's motion down, and they did -- but not without 40 per cent of votes being cast in its support, which the Vancouver activist said was "a strong call for reform."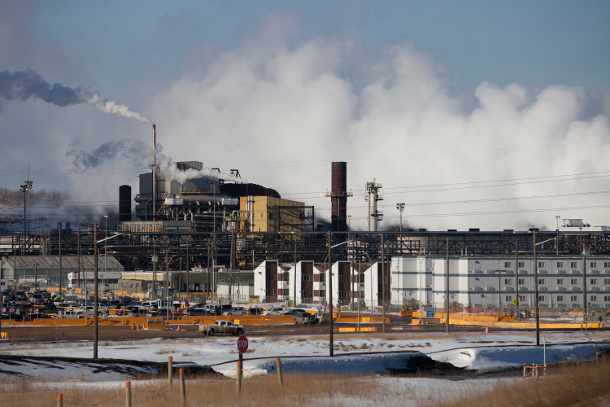 But shareholders easily passed another motion, put by Vancouver's Jamie Bonham with NEI Investments. He asked Suncor to report regularly on the corporation's "resilience in a future low-carbon economy," especially scenarios in which the world warms by a projected two degrees. 
Williams, whose $12 million annual salary caught criticism from one shareholder, closed the meeting by saying his company was making great progress on the environment.
"When I came to Suncor 14 years ago, we used to talk about four problems: tailings, water withdrawal from the [Athabasca] river, land disturbance, and the CO2-methane greenhouse gas problem," Williams recalled.
"Three of the four are on their way to resolution."  
The last one, global warming pollution, is proving tougher and, he said, remains the biggest challenge to Suncor's future sustainability.