The oil sands are downsizing. Alberta's Big Oil CEOs are talking to environmentalists. And proposed oil pipelines are in serious trouble.
Those were the takeaways from a trio of experts who spoke in Vancouver Wednesday at a "Carbon Talks" event hosted by Simon Fraser University with the David Suzuki Foundation and the Centre for International Governance.
And the reasons for them have a lot less to do with vocal activist opposition or the Trudeau government's climate commitments than they do with the brute forces of the global marketplace for oil.
It was Jeff Rubin -- former CIBC World Markets chief economist and now energy futurist -- who declared some of Canada's largest oil sands operations doomed to be shuttered.
"Hanging over the oil sands industry like the Sword of Damocles," Rubin said, "is the fact that they are hemorrhaging red ink. At today's prices, the oil sands are not commercially viable."
The problem, he said, isn't that the industry "has been targeted by sanctions or by environmental groups. The problem has been that oil imports in the United States have been halved over the last five years."  
The world is awash in oil. The so-called "shale gas revolution," using fracking technology in the U.S., has brought cheap shale oil to the surface in abundance in North Dakota and Texas. That, plus the actions of Saudi Arabia and its OPEC partners to flood the market with low-cost oil, has crashed benchmark global oil prices from highs above $100 a barrel two years ago, to prices today in the high $30 range.
Worse, the discounted price that Alberta oil producers get -- the so-called "western Canadian select" price -- is now around $15 per barrel.
"At those prices, not only does the planned expansion of the oil sands, from 2.5 to four or five million barrels per day, have no economic context," Rubin asserted, it "could not be funded by any financial institution in Canada."  
Instead, he said, "the question becomes: how long can this sector [survive] when it's losing $15 to $25 a barrel?"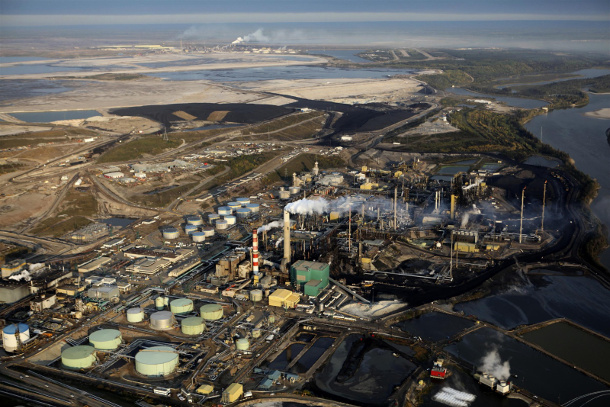 As a result, investors are dumping Canadian oil sands stocks, he said. "Invest in the oil sands?" he mocked. "They are going bankrupt." 
"We've been hearing CEOs of the major banks emphasizing to shareholders their limited exposure to the [oil sands] sector," Rubin said.
The valuation of Canadian Natural Resources and Canadian Oil Sands has shrunk 60 to 80 per cent, he said. Imperial and Suncor are down 30 to 40 per cent. And once giant oil companies -- Encana and Cenovus -- have been downgraded to junk bond status. 
The industry is also shedding jobs: more than 100,000 in Alberta alone in 2015, according to the Canadian Association of Petroleum Producers (CAPP).
The companies promoting the Energy East (TransCanada Pipelines), Trans Mountain expansion (Kinder Morgan) and Northern Gateway (Enbridge) pipelines will feel the pain too, Rubin predicted, since "there's no economic context for any of the pipelines being proposed."
Rubin, the author of Why Your World Is About To Get A Whole Lot Smaller and The End of Growth, correctly predicted the $100 price of oil, and then got it spectacularly wrong when he forecast $200.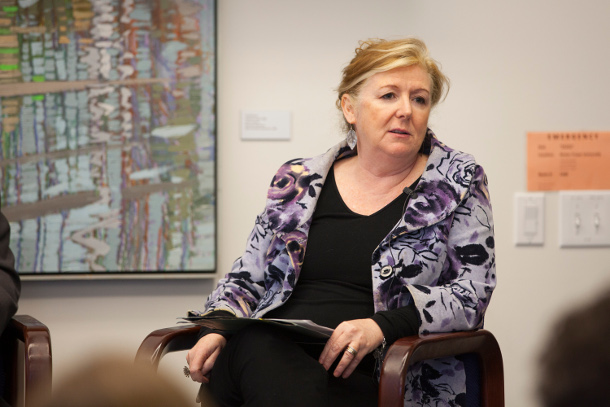 Truce in a 'full-out civil war'
Rubin's panel companion was anti-oil-sands-expansion campaigner Karen Mahon. She stood shoulder to shoulder in November with Alberta Premier Rachel Notley and several oil sands CEOs when the province announced its Climate Leadership Plan. But getting there wasn't easy, she said. 
"If you think back about a year and a half ago, before the Notley government was elected and in the Harper days," recalled the Canadian director of ForestEthics, an environmental advocacy group soon to be renamed 'Stand.' "We were having a full-out civil war. There were only two sides: [the] 'we must do something' side, and the Harper and industry denial side."
Alberta's new NDP government scolded both sides. "The government said, 'You environmental groups with all your opinions and you companies with your big PR budgets, you go into that corner over there and fight it out amongst yourselves. Stop taking up all the public air space.'"
Ultimately, Alberta's 100 megatonne per year cap on oil sands emissions, on which both sides agreed, was crucial to the "progressive" positions that Canada late took at December's Paris climate summit, Mahon said, including the push to restrain temperature increases to 1.5 degrees globally.
Even so, she says that the cap could still allow for another pipeline. "Which will it be? My great fear is it will be Kinder Morgan," Mahon said. Enbridge has conceded that its Northern Gateway project across central B.C. is unlikely to be built soon. Energy East would carry more oil than the cap allows.
Instead, she said, "We have many signs from Ottawa that they will approve the Kinder Morgan pipeline when it goes to cabinet in December."
A national poll by Forum Research released Thursday showed Canadians are evenly divided on the whether the nation should approve the three major Alberta bitumen pipeline proposals.
Mahon said she was wary after hearing Prime Minister Trudeau suggest two weeks ago that Canada needs oil development to fund a clean energy revolution.  
"You're like, 'Whaah?' That would be like saying we need more coal, to phase out coal," she laughed. "No we don't. That's a dangerous narrative."
She'd like to see Canadians embrace a national conversation about a "managed decline" of the sector, with a "just transition" for workers.
A third panelist, Vancity's manager of socially responsible investment funds, Dermot Foley, pointed out that Canada's climate pledges in Paris will put even more pressure on the oil industry -- and soon.
To stay "within that 1.5 to 2 degree limit," Foley said, "means that over the next five years we're going to see emission reduction targets, regulations, and carbon taxes becoming common throughout the global economy."
"We believe climate risk is manifesting as a business risk," he added. "It's time for government to come up with a transition plan for a low-carbon economy."