Despite being limited by data gaps, the United States Environmental Protection Agency has concluded that hydraulic fracturing technology has polluted ground and surface water in cases ranging from Alberta to Pennsylvania.
The 500-page draft report reverses the findings of a 2004 EPA study that concluded that the technology, which involves the high-pressure injection of fluids, gases, chemicals, water and sand into rock formations that hold oil and gas, posed no risk to groundwater.
While the report found that fracking has not led to "widespread" water pollution across the U.S., it does debunk claims that the technology has never contaminated groundwater or that industry never fracks directly into drinking water aquifers.
"Some hydraulic fracturing operations are conducted within formations that contain drinking water resources," the report found.
"In one field in Alberta, Canada, there is evidence that fracturing in the same formation as a drinking water resource (in combination with well integrity problems... led to gas migration into water wells."
The previous Tory government of Alberta long maintained that "there has not been a single documented case of hydraulic fracturing fluids contaminating a domestic water well in Alberta." 
The government of British Columbia has made a similar claim: "In the five decades that hydraulic fracturing has been used in British Columbia, no case of drinking water contamination has occurred from the hydraulic fracturing process."
John Cherry, a leading expert on groundwater contamination, last year warned that no Canadian jurisdiction had set up proper monitoring to protect groundwater in areas of intense oil and gas activity.
"The EPA did no substantial groundwater monitoring using modern methods in fracking areas and so they, as an organization, are not in a strong position to draw conclusions about the longer-term cumulative impacts" Cherry told the Tyee.
Hampered by data gaps
The extensive EPA study, which had been delayed for years, reported that fracking operations, which also generate vast volumes of wastewater including radioactive particles, can contaminate groundwater and surface water in a number of ways.
Operations above ground can typically spill hydraulic fracturing fluids, chemicals and salty wastewater into ground and surface waters.
Underground fracking operations have propelled fluids and gases out of the targeted fracture areas "into underground drinking water resources," often through pre-existing fractures and pathways such as nearby abandoned or leaky wells, the report found.
The EPA reported that fracking had contaminated 25 per cent of 36 water wells in northeastern Pennsylvania, though the agency "did not find mechanisms have led to widespread, systemic impacts on drinking water resources in the United States."
In contrast, state agencies in Ohio, Pennsylvania, Texas and West Virginia have reported myriad problems, including hundreds of complaints about groundwater contamination due to fracking.
Between 2011 and 2014, industry fracked between 25,000 and 30,000 wells in both deep and shallow formations for oil and gas in the U.S.
The EPA qualified its central finding -- that water contamination is real but not severe -- by explaining that its investigation was hampered by significant scientific gaps, including insufficient baseline data on quality of drinking water resources prior to fracking; poor or non-existent groundwater monitoring; and in some cases inaccessible data on well locations, as well as chemicals used by industry.
A number of cases couldn't be included in the report due to the signing of confidentiality agreements, it said: "Data limitations in most of those cases (including the unavailability of information in litigation settlements resulting in sealed documents) make it impossible to definitively assess whether or not hydraulic fracturing was a cause of the contamination in these cases."
Information on the thousand-plus chemicals used for hydraulic fracturing, for example, "is not complete and limits the understanding of potential impacts on drinking water resources," the report said.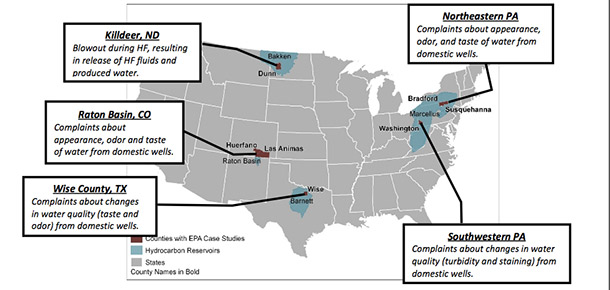 The report reviewed five specific contamination cases that showed how "construction issues, sustained casing pressure, and the presence of natural faults and fractures can work together to create pathways for fluids to migrate toward drinking water resources."
In North Dakota, a rupture at one fracking site allowed fluids to escape to the surface. In short order, brine and tert-butyl alcohol "were detected in two nearby water wells."
In Colorado, the EPA found that bad cement jobs "allowed methane and benzene to migrate along the production well and through natural faults and fractures to drinking water in the Mamm Creek Field."
And in Bainbridge, Ohio, "inadequately cemented casing in a hydraulically fractured well contributed to the buildup of natural gas and high pressures along the outside of a production well. This ultimately resulted in the movement of natural gas into local drinking water aquifers."    
Contamination spreads, expert warns
Proponents of hydraulic fracturing, which allows industry to crack into previously low-grade and uneconomic oil and gas formations, immediately seized on the report's findings that fracking incidents were not widespread.
U.S. Oklahoma Senator Jim Inhofe, for example, told the Tulsa World that the EPA report vindicates the technology from claims that it contaminates water wells and contributes to water shortages.
"This is the latest in a series of failed attempts by the (Obama) administration to link hydraulic fracturing to systematic drinking water contamination," Inhofe said in a statement to the paper.
Yet the report details several cases where the EPA investigated contamination reports directly after fracking operations and found big problems.
Anthony Ingraffea, a Cornell fracking expert and a member of PSE Healthy Energy, a group that favours severely limiting fracking for health and economic reasons, found the report's confirmation of groundwater contamination "deeply alarming."
"Headlines to the effect that this contamination appears not yet 'widespread' are hardly reassuring," added Ingraffea.  "Contamination of a single drinking water well today can become contamination of an entire aquifer tomorrow."
One of the weaknesses of the new EPA study, Ingraffea said, is that it doesn't include state enforcement data as well as "studies and agency data that are highly relevant to the impacts of hydraulic fracturing activities on drinking water resources."