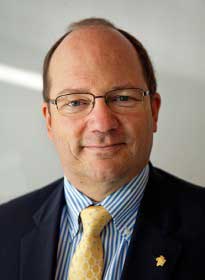 [Editor's note: The Tyee's sustainability reporter Geoff Dembicki is on a months-long journalistic quest to answer the big question of his millennial generation: Are We Screwed? Find a complete list of his dispatches as they appear here.]
Fight climate change or grow the economy. That's the message we've all been hearing for the past two decades. It's what us Canadians continue to hear from our elected officials. "It's not that we don't seek to deal with climate change," Prime Minister Stephen Harper said last month in Ottawa. "But we seek to deal with it in a way that will protect and enhance our ability to create jobs and growth, not destroy jobs and growth.... And frankly, every single country in the world, this is their position."
Harper is right in a sense. No country would deliberatively slow down its economy to fix the environment.
But such proposed tradeoffs -- between economic pain and ecological gain -- are in many parts of the world now ceasing to exist.
Nowhere is this truer than in West Africa, where solar power these days is cheaper than the diesel burned there for electricity, and where Quebec's Windiga Energy has for the past five years quietly become the region's biggest developer of clean energy.
The company just signed an agreement with the government of Burkina Faso to build the largest solar power plant in Sub-Saharan Africa.
I reached Windiga's president and CEO, Benoit La Salle, by phone to discuss that project, and what it reveals of the latest thinking about climate change and the global economy. Read on to learn why La Salle believes clean energy is now driven by economics instead of altruism, and how Canada can help make the world both greener and wealthier.
On why Sub-Saharan Africa's largest clean energy firm is Canadian:
"I created a gold mining company in 1995 called Semafo.... In 2008, 2009 we were sitting down in West Africa with governments talking about mining... but every discussion was coming back to, 'We don't have energy'.... So at that time I decided to create a company to accompany governments in their strategic energy thinking."
"Canada is at the forefront of clean energy.... We lead in run-of-river, that is a big market in Africa... Canada is a leader in solar.... In waste-to-energy we are well recognized, and biomass [energy] with agricultural residue or wood chips... [Africa] is a very large market that's opening up for Canadians, and [Windiga] is a part of it."
On the $50M solar plant Windiga is building in Burkina Faso:
"We're in the process now of executing a 20 megawatt solar power plant, which will be the largest in West Africa and likely the largest in Africa if we exclude what's [being built] in Morocco right now. And it's the first of many we intend to build."
"Currently in Burkina Faso the total installed energy capacity is 200 megawatts. By coming in with 20 MW -- you do the math -- we're 10 percent of the installed capacity.... So it is very important.... The government has a plan for rural electrification, which is great, but you need to have power to complete the plan."
On how clean energy in West Africa is cheaper than fossil fuels:
"In many West African countries -- in Chad, Mali, Burkina Faso, Niger -- the baseload [power] comes from diesel energy.... The cost of [diesel] has been increasing every year and has been increasing steadily for the past 20 years.... Buying the fuel, storing it, transporting it and of course the actual cost of fuel is expensive enough that diesel power per kilowatt hour runs at about 35 to 38 cents, whereas solar is 21 cents."
On why economics, not altruism, drive interest in renewables:
"When you are a developing country and you have very little carbon emissions, because you have very little industry... you don't have any pressure from the international community.... So that's not a driver like you see in the United States and China and Canada.... The fact that renewables are less expensive is a real driver."
"Plus, oil companies only get paid in strong currencies. So countries have to find the foreign exchange to pay for [diesel] fuel, which is very, very difficult for them, because most of their currencies aren't exchangeable against dollars. So by using renewables they don't need to look for foreign currency to pay for [energy] inputs."
On how Africa is skipping fossil fuels to go straight to renewables:
"Africa went straight to cellphones because [landline] infrastructure didn't exist, but then it was cheaper to not build it anyway.... On the energy front, you don't see coal power plants like you see in the U.S. and China. Africa is going to go straight to solar.... It will become the source of energy for all of Africa... in the next 50 years."
On how Canadian firms can help lead that transition:
"Windiga is exporting a few things. We're exporting our entrepreneurship.... We're exporting, of course, our technology.... And we're also exporting capital... because in Africa you have tons of projects that need capital and tons of people that can buy the energy. But you need the entrepreneurs in between to provide a bridge for all this."
On why Windiga is 'very, very busy' in Africa these days:
"We have the one solar project going up in Burkina Faso. We have one project that's in advanced phase of development in Ghana.... We have an agreement in Mali for 20 megawatts. We have an agreement in Chad for 20 megawatts. We are in discussions in many other countries of West Africa for similar projects.... We're very, very busy."
"There's a direct correlation between development and energy.... Africa is probably the only continent that will see its demography explode in the next 50 to 100 years. Right now Africa has 1.4 billion people, and could have 2.4 billion.... If they want development to come along with this change they need to have energy."