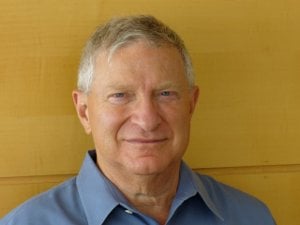 We're proud to announce Christopher Phelps is the winner of the first annual Michael Fellman Award, a writing prize of $1,000 co-established by the SFU History department and The Tyee to honour a piece of publicly accessible writing that demonstrates bold thought, clear analysis, and rests on well researched historical understanding.
You can and should read Phelps' piece, How Diversity Can Hide Racism, published here today on our website.
It's an insightful analysis of how 50 years of progress in civil rights was hijacked by regressive forces that emphasize the appearance of diversity while hiding subtle and crippling economic inequalities. Economic equality and opportunity, Phelps reminds us, were key but less-remembered parts of Martin Luther King's fight more than 50 years ago, underlying most racial conflict to the present day, including the killing of Trayvon Martin in Florida.
Christopher Phelps is now a senior lecturer in American Studies at the University of Nottingham in the U.K.
"I first met Michael Fellman," Phelps wrote when informed he'd won the prize, "when he asked me to join Simon Fraser University's History department for a year in 1995-96 after plucking my resume from a stack, sight unseen. He had a fighting spirit, wore his heart on his sleeve, and wrote with panache and brio, so winning an award in his name is a great honour that seems to complete a circle."
Why should Canadians care about the progress of civil rights in the U.S.?
As Phelps says, First Nations wrestle with the issue in Canada today. We, as a country, embrace the appearance of diversity while often shying away from the more uncomfortable, less visible, structural and economic problems that keep many First Nations people incarcerated, isolated, addicted and poor.
Wrote Phelps: "North of the border, the same applies to First Nations, who may walk beside Martin Luther King's daughter in a Reconciliation Walk but still find themselves blamed for destitution and addiction. Colonialism and residential schools are in the past: don't be a victim."
The judging
The prize was judged by Michael Fellman's partner, Santa Aloi, his colleague at Simon Fraser University and fellow Tyee contributor, Prof. Mark Leier, and myself, incidentally a former student of Michael's.
There were a number of excellent submissions. We struggled with the final decision but we kept returning to this: "The Michael Fellman Award was created to reflect [a] spirit of public engagement, awarded to a piece of accessible writing that demonstrates bold thought, clear analysis, and rests on well researched historical understanding."
This broke down into three broader criteria:
Spirit of public engagement. The piece must be about an issue of broad and current public interest.
Accessible writing. What good is historical analysis couched in the passive, inscrutable voice of the academy? Or, as Tyee founding editor David Beers put it at the time, "This prize is as likely to be won by a scholar or history buff as by a journalist."
Bold thought, clear analysis, historical understanding. The piece had to connect the dots of history to the events of today to create a picture that helps us better see our world and the problems we face.
Despite how well Phelps' piece fit those criteria, we were concerned about one thing. As you read in Phelps' gracious response, it turns out he and Michael were friends and former colleagues. We debated whether this would give the appearance of favouritism. But in the end, decided to risk the appearance of impropriety rather than punish for it.
Who was Michael Fellman?
Michael was the author of many critically acclaimed books on American history, a much-loved history professor at SFU and a regular Tyee contributor. He passed away suddenly in June 2012.
At the time, Tyee's editor Beers, wrote: "The world has lost a renowned scholar, Canada has lost a committed citizen, and this publication has lost an irreplaceable source of wisdom, insight and support..."
"Michael was a clear-eyed optimist whose years spent unearthing the grim record of America's internecine guerrilla war did not undermine his fundamental faith in reason and humanity. He said that he chose the Civil War as his recurring focus because its archival sources were so rich -- the last uncensored war, he called it -- and because the racial and economic inequalities so powerfully at work then so evidently had not been resolved by that terrible conflict. The wounds linger even today, and so their origins, believed Michael, were in constant need of honest scrutiny."
Michael Fellman's writing for The Tyee ranged from U.S. election coverage to unfolding Canadian politics to deconstruction of Clint Eastwood's films. His Tyee work can be found here.