For at least 30 years tax cuts have dominated North American politics from Ronald Reagan to Gordon Campbell and have accelerated growing inequality. Public support for those policies, championed by well-funded think tanks and academics, have made them difficult for politicians to criticize.
As Linda McQuaig and Neil Brooks observed in The Trouble With Billionaires, even left-wing political forces have been reluctant to call for taking money from the rich.
"By declining to protest the concentration of wealth, progressives have conceded important ground," they wrote. "At the centre of their case should be a strong moral argument about the illegitimacy of a small number of people gaining control over too large a share of society's resources, and with it, undue control over society."
McQuaig has since run a losing campaign for the federal NDP in the recent Toronto-Centre by-election, one where inequality was an issue but her party declined to take a strong tax-the-rich position. The NDP's position, though in line with other mainstream Canadian political parties, was far removed from the conclusions McQuaig and Brooks reached in their 2010 book.
"We ... believe that the key to any solution involves making our tax system considerably more progressive," they wrote. "While reforms in education, child care, housing, and other areas would all contribute to the overall quest for a more equal society, their impact is likely to be gradual and slow-moving at best.
"The tax system, with its huge and comprehensive reach, has the capacity to reduce inequality much more quickly and decisively," they said.
With that in mind, here are a few ways to constrain incomes and wealth at the top and keep the rich from getting richer so much quicker than everyone else:
1. Maximum wage: In Switzerland people voted on a proposal that would have capped the pay of the top earner in a place of employment at 12 times what the lowest-paid person receives. The idea, rejected by 65 per cent of voters, was that nobody should make more in a month than someone else working in the same place makes in a year.
2. Make the tax system more fair: Progressive taxes that take more from the wealthy fight inequality while flatter taxes like Medical Services Premiums do not. In The Trouble With Billionaires Linda McQuaig and Neil Brooks advocate taxes of 60 per cent on earnings over $500,000 and 70 per cent on earnings over $2.5 million.
3. Tax 100 per cent of capital gains: Under a change made more than a decade ago under Prime Minister Jean Chretien, only half the money people make when their shares in publicly traded companies grow in value is taxed as income. This of course benefits people who own stocks, generally the better off among us. Returning to a policy where all money made by selling stocks is counted as income would reduce the unfairness.
4. Introduce an inheritance tax: If the idea is that merit should be rewarded with money, why not take some from people who made no greater contribution than to be born to wealthy parents? The United States taxes inheritances and McQuaig and Brooks argue for introducing a small levy on large estates in Canada as well.
5. Adopt a Tobin tax: Named for the American economist and Nobel memorial economics prize winner who first suggested them, the idea is to tax financial transactions. If it were small enough, wrote McQuaig and Brooks, "It would have no impact on serious investors making long-term investments, but would amount to a million pinpricks in the flesh of those engaging in high-volume, quick-turnover, speculative activities." It could also raise billions on a global scale.
6. Raise taxes on consumption and carbon: People who consume more, generally the wealthy, pay more. The revenues can be redistributed to people in need, either through programs or directly like with the GST credit.
7. Raise corporate taxes, restore bank taxes: After years of cutting corporate taxes, the B.C. government took a page from the NDP's platform and in February 2013 announced a small increase. There has also been pressure to reinstate a tax on financial institutions that the government axed five years ago when Carole Taylor was finance minister.
Building political will
Making many of these changes will at least require building public support for a more fair distribution of wealth.
In The Price of Inequality, Nobel prize winner Joseph Stiglitz put it this way: "Inequality is, to a very large extent, the result of government policies that shape and direct the forces of technology and markets and broader societal forces.
"There is in this a note of both hope and despair: hope because it means that this inequality is not inevitable, and that by changing policies we can achieve a more efficient and a more egalitarian society; despair because the political processes that shape these policies are so hard to change."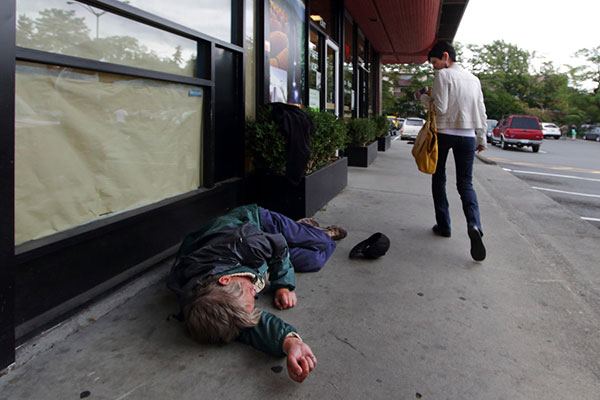 But as Stiglitz and others point out, as the rich get richer they have more money to spend influencing politics, either directly through political donations or indirectly by funding advocacy groups that promote their interests.
"People with the income get to change the rules of the game so they can keep it," said Iglika Ivanova, an economist with the B.C. office of the Canadian Centre for Policy Alternatives. "You see it in the funding for non-governmental organizations", she said. "Someone pays for this stuff. It's not a coincidence that the people who defend the rights of poor people work on shoestring budgets and those who defend the wealthy have huge budgets."
To address the crisis in democracy, following are a few suggestions to make politics more responsive to average people:
1. Get big money out of politics: "You get as much democracy as you can buy these days," said Mathew Kagis, 45, who was a medic in the protest camp during Occupy Vancouver and who has run for office for the Work Less Party. "I mind them buying my government." The federal government has put caps on donations in recent years, but no such restrictions exist at the provincial or municipal levels in British Columbia. The perception, and quite likely the reality, is politicians are bought and owned by big donors. Kagis argues for getting money out of politics completely.
2. Publicly fund campaigns: One way to get donors' money out of politics is to provide public funding for campaigns, said Kagis. He suggests raising the bar beyond the relatively small number of signatures now required so that a much stronger show of community support is needed to get on the ballot, and once that bar is achieved providing enough money for a campaign. Such a system would encourage more independents to run and would result in more minority governments, he said. "To me that's one way you get democracy."
3. Proportional representation: Moving to a system that better reflects the electorate would help, several sources argued. It would mean people could vote for politicians that better matched their beliefs and that parties could no longer form the government with 40 per cent of the votes, a figure that gets even worse when eligible voters who choose not to cast a ballot are considered. Others suggested the current winner-takes-all system forces politicians who want longevity to adopt more moderate positions than they otherwise would.
4. Pay politicians the median income: In B.C. the median income is $44,000. Half of British Columbians make less than that, half make more. MLAs make more than twice that much, putting them securely in the top half. Cabinet ministers, the premier, the opposition leader, committee heads, party whips and caucus chairs make even more. "If politicians represented B.C. demographically, quite a few of them would be on welfare at any given time," observed Bill Hopwood at Raise the Rates. And as an official working with one of the parties observed to me, it is very hard for people doing so much better than most to identify with the needs of average people. This could be fixed by tying pay for politicians to the median, giving them an incentive to encourage higher wages for all.
This article is part of a series for Tyee Solutions Society looking at the causes, costs and potential solutions for wealth inequality in British Columbia, Canada's most unequal province by some measures.
Tomorrow, the Tyee Solutions Society series Super Unequal BC wraps up by examining The Problem of Politics: avoiding collapse requires planned positive change.