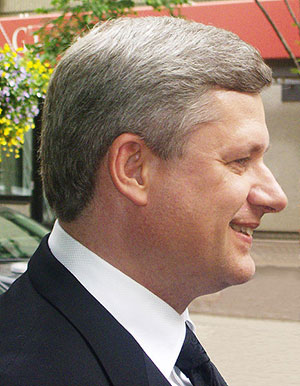 The idea of moving across the country to work at a big box store is something many Canadians wouldn't dream of doing.
But for Filipino immigrant Raymond, leaving Taiwan, where he already worked, to come to Canada was an experience for which he was willing to pay $8,000 to a recruiting company -- even though he knew the firm was breaking the law by charging him the fee.
"I wanted to go to Canada, it's my dream," Raymond said. "So I paid."
Raymond, who requested his last name be withheld, said he had heard it was illegal for job recruiters to charge money to recruits for the service in Canada but there was no other choice if he wanted to come.
Upon stepping off the bus into the prairie winds of Alberta, Raymond was taken to his new living quarters -- a one-bedroom apartment shared by four people.
The owner of the store at which he was working said Raymond owed him $250 each payday for rent at the apartment -- including months when three paycheques were issued.
Eventually he and the other workers discovered the one-bedroom apartment they were paying a combined $2,000-a-month in rent was being leased by their employer for only $900.
Meanwhile he spent his days being yelled at by managers and his employer while stocking shelves and unloading trucks.
"He would say 'tonight we must finish' but there are only four of us and so much to do," he said.
"I told my employer, 'I know there's other things to do, but I'm so weak, I'm so tired."
The meek protest resulted in an angry outburst and termination of Raymond's employment. He said, looking back to when he paid his fees in Taiwan, coming to Canada wasn't worth the money.
"For $8,000 dollars I would say no," he said.
Almost 10,000 people from the Philippines immigrate to British Columbia each year and the province hosts more than 70,000 workers from around the world through the Temporary Foreign Worker Program (TFWP).
According to experts stories such as Raymond's are not uncommon, and recent tweaks to the rules are not likely to put an end to them.
One person who recently offered a scathing analysis of how the program has been unfair and ripe for abuse is the prime minister who presided over the TFWP's rapid expansion, Stephen Harper.
Taped comments by PM leaked
In early January Harper admitted to a press conference of ethnic media held in secret that the program was being misused by some companies and needed reining in. (Listen to a leaked audio file of Harper's remarks by clicking here.)
"I may give you a surprising answer," Harper began in his answer to a reporter from the Philippine Asian News Today who asked if the program would continue to grow. "We've been limiting it somewhat. We think, quite frankly, that while there is a need for it some businesses have been abusing it and misusing it."
"I actually believe that what we need is not more temporary foreign workers, in fact I believe we need less," Harper said. "I believe what we need is more permanent foreign workers and we are doing a couple of things to try to encourage that."
He said the government is shifting to an "expression of interest" system, which would cause more skilled people to immigrate to Canada permanently.
Later in the same press conference Harper said companies had been using the program for the "sole purpose" to pay smaller wages, facilitate the moving of jobs in Canada offshore or bringing in a workforce only to move it back offshore once a job was finished.
"We have seen very blatant examples of companies using this in ways that were not in the interest of Canadians," Harper said. "Government was assisting these companies to work around the market place in a way that disadvantaged Canadian workers only for the sake of the bottom line profit. That kind of abuse cannot go on."
In response to the Filipino newspaper reporter's question, Harper then explained how bringing in foreign workers on a permanent rather than temporary basis would better protect their rights and give them the ability to "bargain with their employer."
Educating temporary workers of their rights
Jane Ordinario and Leo Alejandria are not strangers to the struggles of the thousands of Filipino workers who come to B.C. lured by the promise of steady work at better pay than they can make at home.
Immigrants from the country themselves, both now work at Migrante-B.C., an organization working to help immigrants know their rights and deal with employment disputes.
The group hosts workshops about workplace rights in Canada and discovered how much the TFWP was being used when more people attached to it began showing up at the events.
"They're here on temporary visas and they want to stay here permanently and maybe bring their family over," explained Alejandria. "They don't want to make waves and create attention for themselves so when there's violations like safety or employment violations they'd rather suffer silently."
He said employers know they can push the workers around and not worry about any retribution.
Ordinario said one client she had was working as a meat cutter and had his fingers turned black from frostbite because he was too afraid to tell his employer his hands were cold.
Others talk of being asked to do dangerous work and receive unequal pay.
The pair started going to farms and passing out business cards in areas Filipino workers congregate and eventually wrote a manual for them to reference so they know their rights.
According to Ordinario many workers live in small accommodations as a group and don't qualify for things such as vouchers for public facilities despite being low-income earners and will likely never claim employment insurance or use the medical care to which they contribute.
It's not only surplus funds for Canadian tax coffers from the hundreds of thousands of temporary foreign workers, sometimes employers make money directly from the employees.
They have had workers asking them question after their employer insisted they agree to have insurance policies taken out on their lives and said asking for cash kickbacks from salaries is not uncommon.
Alejandria and Ordinario said they think the welfare of not just foreign workers, but also Canadian workers has taken a back seat to those of business who have more influence over government than voters.
"Chamber of commences, big business, and corporations ... they help one another," Alejandra said. "And sometimes the corporations control the government."
Migrante is calling for a moratorium on the TFW program as the bugs are being worked out.
Alejandria doesn't have much faith the system will change unless a way can be found to protect workers.
Prime Minister Harper, when he was speaking to select ethnic media, seemed to appear to feel the same as Migrante-BC about the need to lessen the control businesses exert over the rules Canada sets to allow foreign workers to fills jobs in Canada on a temporary basis. Harper explained that the federal "bureaucracy worked to really adapt to the needs of companies and what did we see? We saw numerous examples of abuse of this program."
'Ultimately, employer controls everything': lawyer
Vancouver immigration lawyer Tim Bailey agrees the immigration system has effectively been handed over to business and said their power over it results in the exploitation of immigrant workers -- some of the abuses Harper alluded to.
Bailey said TFWP recruits leave their home countries not knowing what to expect and nobody tells them basics when they arrive; for instance that they are covered by the Employment Standards Act.
"Ultimately the employer controls everything," Bailey said. "That is the problem ... the system is design specifically to meet the needs of employers, employers get to decide what those are."
And because the temporary worker visas depend so much on what an employer wants or needs, if a worker complains to authorities they were lied to about the nature of their job they could be ruining their own life.
Bailey said that's because as far as the government is concerned if the specific job the person was allowed into Canada to perform doesn't actually exist, they don't have a right to be in the country.
If an employee finds out upon arrival they won't be doing the job they were lead to believe and complain their employer can easily make the job non-existent.
"Even if they go to the employment standards branch and make a complaint, they are still going to be removed from Canada," he said. "It's not like you have the right to stay because you were lied to."
That's if a complaint is ever filed even if a person wants to do so.
Applicants have six months from the date of application to file a complaint and usually they arrive in Canada after that deadline has passed, making it impossible.
Bailey said as long as the system is run based on employers and what they want the only way for temporary workers to fight back is to prove criminal action on the part of their employers, which is a high bar.
He too has heard of worker abuse and said the salary kickback scam is quite common so employers, on paper, show they are paying the workers the agreed upon wage but are paying a lower wage in reality.
In the meantime it's not easy for workers to advocate for themselves collectively due to the underlying fear.
"It's very hard to organize a group of people who are constantly on the verge of disappearing," Bailey said. "Canada is allergic to them and will reject them and send them back home as soon as they no longer have a useful purpose to play, which is defined by their employers."
The TFWP has expanded at such a rapid rate many employment agencies advertise the ability to find foreign workers online, potentially encouraging more use of the program.
Employers to be inspected, but notified first
"Every single time I have raised these exact concerns with the Conservative government, the prime minister denied there were any problems with this program," Thomas Mulcair, NDP Opposition Leader, told the Vancouver Sun. "And now, during a secret meeting, we see him attempt to adopt NDP positions? If Stephen Harper is going to steal our ideas, he should at least do it in public.
"And, if he has truly changed his mind on temporary foreign workers, he should apologize to all those who have been hurt by this program."
During a stop in Vancouver last December Liberal Leader Justin Trudeau said the program has been used too much, blaming lack of oversight.
"The response around temporary foreign workers getting out of control to a certain degree is something I think is a lack of leadership and vision by this Conservative government that has allowed it to get out of hand," Trudeau said.
Conservatives announced new regulations to protect workers at the end of 2013, promising spot inspections would be introduced after a review of the TFWP.
But employers will mostly be notified of upcoming inspections ahead of time.
As well, plans announced during the summer to eliminate employers with criminal records from hiring temporary workers were quietly axed at the end of the 2013.
"As a result of the Government's final review of the proposed amendments, it was determined that the condition that employers must not be convicted or discharged of certain offences under the Criminal Code was too rigid and cumbersome in the proposed form," reads a Jan. 1 communique. "These provisions have been removed from the final regulatory text."
A blacklist of employers who have been found to abuse the program and are therefore ineligible for future use exists, but so far not a single employer has been placed on it.