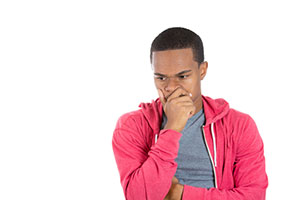 David is a young Jamaican heavy-duty mechanic who wanted to work in Canada through the federally sponsored Temporary Foreign Workers Program (TFWP). His first step into that process landed him in the middle of an illegal scam.
Several years ago, David was recruited into the program, fast expanding at the time, by a B.C.-based firm that charged him fees illegal under British Columbia law. It's an all too common story, as interviews with Chinese, Filipino and many other temporary workers for this Tyee reader-funded series demonstrate.
Most who find themselves in such a position just accept it for fear of retaliation or being sent home.
Not David. He couldn't let it go.
"I wasn't going to allow hard-earned cash to disappear," he said. "I work hard. I'd rather go to Vegas and blow it."
David, who doesn't want his real name used, ended up using the legal system in an attempt to get back money he paid to arrange for his job and life in his adopted home.
Due to his settlement agreement, David is unable to divulge the amount of money he paid or the name of the recruiter he used, but said the company preys on Jamaicans interested in moving to B.C. by charging them large amounts for the service.
"They said it (fees) was for training and medical and other stuff," he said. "It was more in a sense playing on the desperations of people. Because people are desperate, they ask for some money first."
Getting the money back took almost a year, but he knows of many who can't even hope to be reimbursed after getting burned paying recruiters.
"I've heard about guys who wanted to come up as truck drivers; they actually paid money but were denied work permits," said David. "They still haven't been able to get back their money. They've paid this guy lots of money and are still in Jamaica."
Beware of Canada scams: Jamaican government
The problem of fraudulent recruiters and consultants claiming to help people get to Canada has become so bad Jamaica's government has a warning on its national labour website urging citizens to check the legitimacy of their representatives.
But that piece of advice came too late for Karen Chuck, who thought her dreams would come true when she registered in a program to supposedly get training to become a nurse in Canada.
Early last year, news hit that B.C. and Alberta were investigating a firm called Marmicmon which was linked to a nursing program in Jamaica run by Pre-University School.
Students alleged they paid money and had not been reimbursed or brought to Canada to complete their studies through Pre-University School.
The case recently became a class-action suit in Jamaica and Chuck signed on to it.
"What was advertised is that it was a combination between the Jamaican government and the Canadian government to recruit nurses for work in Canada," said Chuck in a phone interview. "It would be a licensed practical nursing program that should have run for 18 months; that was what was advertised in the newspaper."
She was told she'd get her practical nursing degree and be able to live in Canada under the Temporary Foreign Worker Program until she could file to become a permanent resident herself.
Chuck said Marmicmon, based out of Penticton, told her that after she paid a $1,500 fee, employers would come and select participants to sponsor and train at Okanagan College.
"We went ahead and deposited the money into Marmicmon's account and the employers never came," said Chuck, adding training then began at Pre-University School in the meantime.
After about three months, Chuck said, no employers had arrived for visits and the nurses were told they would not be getting their training in Canada from B.C.'s Okanagan College but instead from Norquest College in Alberta.
"About a year into the program we started hearing rumours about the program falling apart," said Chuck. "Nobody from the first batch had left, even after we (second batch) were a year into our program."
Chuck said the nurses never got a direct response, and people allegedly from Norquest College had even visited the students, but left without giving any answers.
One day, as the nurses quietly revolted, the man who was claiming to be the head of the entire program visited.
"He told us the $1,500 we were paying him couldn't buy one of his suits," Chuck said. "He was really rude."
A phone call from The Tyee to a number linked to Marmicmon was answered as being "Pro Hire Solutions" and Michael Patterson of the company said he did send employers to Jamaica to interview potential students.
"None of these students ever paid Marmicmon any money," said Patterson. "They paid their fees to the university and as part of their fees the university asked us to help with their job fairs."
But he said the company is refunding the money because it couldn't place the students because they were never certified.
Patterson said those demanding money back have been receiving cheques and said even those who couldn't prove they'd paid were given money as a precaution.
"We have copies of all the cheques that were sent to every single person on a monthly basis," said Patterson.
The lawyer for the students said Marmicmon has not been included in the legal action.
Patterson said he cannot comment on the lawsuit between former students and Pre-University due to legal reasons even though he is not involved in the case.
Though Marmicmon is a registered employment agency it has an F rating from the Better Business Bureau.
Canada's bad press in Jamaica
Canada's Temporary Foreign Worker Program has drawn negative press in Jamaica. Jamaica Gleaner reporter Tyrone Reid has reported extensively on Jamaicans going to work in Canada, uncovering not only rip-offs, but abuse once they are in the country.
He's spoken to many Jamaicans who've been misled by recruiters of the program and ended up disappointed or scammed after arriving in Canada -- and not just by phony promises of work.
"They just work you," said Reid, describing the experience one of his interview subjects had. "It's like slavery, that's how she described it."
He said some of the money workers make during their stay in Canada is actually repaid to the Jamaican government for training and medical exams, even though paying for such services violates laws in most Canadian provinces.
"The money goes back to the government for what they pay up front," said Reid.
The Jamaican government did not reply to questions about its involvement and charges to workers in the Canadian Temporary Foreign Worker Program.
Upping flow of workers from Caribbean
Last year the Jamaican government said it intended to increase the numbers of Jamaicans working in Canada, focussing on areas of hospitality, health care and trades.
In 2012 more than 11,500 worked in Canada.
Reid said Jamaicans are still willing to go to Canada despite the risks.
"I'm not sure that the bad things about the program are getting out there," said Reid. "Even if they are being robbed they are going to be making more than the minimum wage here in Jamaica."
Charging fees for recruitment and training is illegal in B.C., but the provincial government has said numerous times it cannot investigate or charge companies abroad.
The federal government takes the same approach.
"Canada cannot directly investigate matters in other countries, since the investigation and prosecution of third parties residing abroad is challenging," said a spokesman for the federal Ministry of Citizenship and Immigration in an email.
No Canadian drivers to fill jobs?
But for some Canadians the main issue is whether or not the workers are needed.
In Trail, B.C. Cassandra Robillard said her husband has been out of work for more than a year after taking time off due to an injury sustained at his job as a truck driver.
For a year he's been looking for work without success and though Robillard thinks part of the reason is a dispute with a former employer, but she also thinks temporary foreign workers may be another factor.
"He's been applying, he's never gotten an interview," said Robillard, who did the interview because her husband, Wesley, becomes too stressed talking about their situation. "Then a couple months later they're hiring again and nothing."
In order to get a Labour Market Opinion allowing for a temporary foreign worker, a company needs to show it has made efforts to hire Canadians, but she wonders why there are so many ads and no jobs coming.
"We're on the verge of losing our home," she said.
Robillard said she doesn't know of any locals getting the jobs, but soon found out Jamaican drivers were being brought in and was surprised to learn B.C.-based schools were recruiting and training drivers in Jamaica.
Two companies offering such recruitment and training are Hire Pro Drivers, another Michael Patterson endeavour, working with Kootenay-based Mountain Transport Institute.
'They've got families to feed, too'
Robillard said she doesn't harbour ill will towards the Jamaican workers, but doesn't understand why workers in her husband's industry are being brought in when he can't get an interview.
"They've got families to feed too, I understand that," Robillard said. "But our government is not doing the right thing, we have young children. What are we going to do when the bank says, 'We want our house -- get out'?"
What about David, the Jamaican heavy-duty mechanic who fought back rather than become one of many silent victims of fraudsters promising a fast path into Canada's Temporary Foreign Workers Program? He made it in on a second try, without paying an illegal recruiter.
As he's twisting wrenches in southern British Columbia, David considers himself lucky to work in a mine where he says he gets paid the same wage as his Canadian co-workers and has been treated well by his employer.
"I've had a positive experience," David said. "There's nothing wrong, not even racial abuse or anything like that."