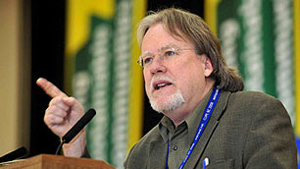 As Chinese miners in Tumbler Ridge head back to China, labour groups are pointing to the sudden decision by HD Mining to send its workforce home as an example of serious problems with the Temporary Foreign Worker Program.
The 16 miners were sent back to China -- perhaps only temporarily -- just days after the company handed over documents related to the workers' permits to two unions after a court fight aimed at getting a judicial review of the case.
The return also coincides with the Chinese Spring Festival, at time when migrant workers traditionally head home for a period of up to six weeks in some cases.
Jim Sinclair, president of the British Columbia Federation of Labour said sending the group of coal miners back on such short notice shows businesses using TFWs have too much power over them.
"On a moment's notice, like a political football, they were just piled up and sent home," said Sinclair.
"No one knows a thing about these people, it's just suddenly one day they're gone because politically they [HD Mining] are facing a court experience and a whole bunch of other stuff is going to be public."
The BC Fed has argued if such workers are genuinely needed in Canada, they should be brought to the country as immigrants, so they are afforded the same protection and benefits Canadians have.
Sinclair said it isn't known if the workers were eligible for EI until the dispute is finished in court.
"It sounds like they weren't given a choice to go back to China, they were sent back to China," he said.
HD mining blames cost and litigation
The Construction and Specialized Workers' Union Local 1611 and the International Union of Operating Engineers Local 115 filed for a judicial review of the permits, which lead to court wrangling as HD Mining resisted releasing the documents.
They accuse the company of not trying hard enough to find Canadian workers with the intention of using workers from China for smaller wages.
In a statement released earlier this week -- that included quotes from the mayor of Tumbler Ridge -- HD Mining said it was sending the miners home because it was concerned about the cost and litigation brought by the court action.
"HD Mining remains committed to the Murray River Project and will continue to vigorously contest this matter in court," said the release.
The company's head Yan Penggui said he needs the Canadian courts to be "reliable" and "fair" in dealing with the issue and could come back after the matter is ruled upon.
But speculation about other reasons they may have been sent back has been swirling around labour groups.
Some allege the documents the company had to hand over -- such as the resumes of 300 Canadians who applied for the positions -- could further incriminate HD Mining.
HD Mining insists it conducted a thorough search and found no qualified Canadians to work in the mine, saying a long-wall mining technique will be used that Canadians aren't familiar with.
Brian Cochrane, business manager of the International Union of Operating Engineers Local 115 said he hopes the company takes a second look at hiring Canadian staff.
"Now this gives them a chance to review the resumes that they've provided us and take another crack at crewing this line with Canadian workers," said Cochrane.
But he said the company has not approached his union about hiring Canadians.
Tumbler Ridge mayor endorsed project
Cochrane also said he was concerned mayor of Tumbler Ridge, Darwin Wren, was quoted in HD Mining's press release.
Wren has been an open supporter of the mine.
"Even though we are disappointed with this development, we are encouraged by HD Mining's ongoing commitment to the Murray River Project, including continuing construction of housing in Tumbler Ridge, environmental assessment and developing a training program for Canadians to work in long-wall mining" said Wren in the release.
"We look forward to welcoming the workers back very soon, and to full development of this project."
The company has invested $15 million into housing for the miners and other economic benefits are expected to come with the mine.
But Cochrane didn't approve of the comments.
"I don't think it's appropriate at all for him to be taking those kinds of positions the way he has publicly in that regard," he said.