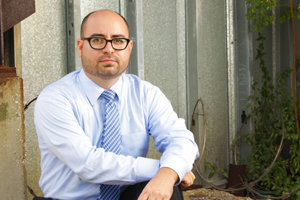 An investigative reporter who analyzed hundreds of FBI counterterrorism stings says the case of a Surrey couple accused of plotting to bomb the B.C. Legislature rings eerily similar.
John Stewart Nuttall, 38, and Amanda Marie Korody, 29, were arrested Canada Day in Abbotsford as a result of the five-month-long Project Souvenir, which involved the RCMP, Canadian Security Intelligence Service and Canada Border Services Agency. The accused weren't part of any group, but police said they were allegedly self-radicalized and inspired by Al Qaeda-style ideology.
Trevor Aaronson coordinated a 2011 database project for Mother Jones called "Terrorists for the FBI: Inside the bureau's secret network that surveils and entraps Americans." Stings are a key part of the $3 billion spent annually by the Federal Bureau of Investigation on counterterrorism, exceeding the $2.6 billion for fighting organized crime.
"It sounds a lot like the pattern we see here where you find these people who want to commit some sort of act of violence, they just have a general, vague idea of what they want to do, and then the FBI -- through the sting operation -- provides everything including the explosives," said Aaronson.
Aaronson told The Tyee. "They've been successful here with the prosecutions because they're able to get people to go as far as push the button or deliver the bomb. For a jury here at least it becomes hard to defend that because you have them on tape or on video going and delivering what they believe is a real bomb and expecting it to go off and when it doesn't, they're arrested."
FBI good at catching 'wannabe terrorists'
Aaronson, author of The Terror Factory: Inside the FBI's Manufactured War on Terrorism, led a team that scoured court files of 508 people charged for plotting terrorist acts, assisting terrorists or related crimes since the Sept. 11, 2001 attacks.
Of those, 243 were targeted by an informant, 158 through a sting and 49 were lured by an informant who led the plot. When the cases got to court, there were 333 guilty pleas and 110 convictions. The remaining 65 cases were awaiting trial.
"The FBI is really good at catching these people who are wannabe terrorists who, for whatever reason, hate the United States but have no means of committing an act of violence on their own, and they provide everything that they need to move forward on a plot that, were it not for the FBI, they never could've moved forward with," Aaronson said. "At the same time the FBI has an incredible record of missing the truly dangerous people."
People, he said, like failed May 2010 Times Square car bomber Faizal Shahzad and dead 2013 Boston Marathon pressure cooker bombing suspect Tamerlan Tsarnaev.
While 299 suspects, or 59 per cent, were listed as affiliates of Al Qaeda or other Islamist groups, a whopping 209 (or 41 per cent) had no affiliation at all.
"Generally they're not someone who is in a good place in life," Aaronson said. "The people caught in sting operations tend to be economically desperate and/or mentally ill and then they often have only a crude understanding of Islam."
Almost half the cases involved informants, many of whom have records for violent, drug-related crimes, and were paid upwards of $100,000 for cooperating.
"Not only are the people that they catch of really questionable danger and importance, the people they use to catch them are these odious people who are really terrible criminals on their own, but because they're working for the FBI, they're making so much more money than they ever could on the street," he said.
RCMP evasive about 'Project Souvenir'
During the July 2 news conference, RCMP Asst. Comm. Wayne Rideout was evasive when asked about the Project Souvenir's techniques, including whether undercover officers acted as collaborators. He said the investigation was within the "guidelines and the rules of the Canadian Criminal Code."
"The RCMP and its partner agencies used all of its available resources during this investigation," Rideout said. "I'm not prepared to go into the details of how we were able to disrupt and assure public safety, but there are a vast number of resources and specialty groups that are available to us. We employed most of them."
Little is known about Korody. Nuttall, however, appears to have frequented numerous online bulletin boards, dating back to 2007 when he was offering himself as a singer/guitarist to interested punk bands in a listing under the handle BL0TT0911.
The same BL0TT0911 handle also shows up in late 2010 and early 2011 discussion groups that claim longstanding addictions to morphine and heroin and two years confined to a wheelchair with the autoimmune disorder Guillain-Barre Syndrome.
During his time in the Victoria glam metal band Lust Boys, Nuttall was known as Johnny Blade, a monicker inspired by a Black Sabbath song about a bitter loner. An Aug. 2011 ad under the Johnny Blade pseudonym on LiveVan.com sought a drummer "and maybe another guitar" for "Moslim punk band N.W.O. (No World Order)" and included Arabic words.
"We are new to vancouver and looking to meet anyone else into Allah and hardcore punk," it said. "We have a place in surrey atm near skytrain. Still looking for jamspot inshAllah [God willing]... Music is NOT haraam [forbidden]! PS we are not adverse to you if you arent Moslim, even if you are just curious. we are just into hardcore and looking for like minded Musicians especially drummers lol" [sic].
Nuttall has a criminal record, including robbery and aggravated assault, stretching back to the 1990s. In 2003, he got an 18-month conditional sentence for his cocaine-fueled assault on a businessman and theft of his suitcase.
Nuttall and Korody's next appearance before a judge is July 9 in Surrey Provincial court.