I'm not sure what I expect a boom town to look like, but Fort Nelson isn't it. Only the low industrial buildings make a visible human dent on the wide, forested plains of British Columbia. The town is coated in record snows at the time of my visit in late October, and few pedestrians are about in temperatures that already exceed 25 Celsius below. Only the abundance of huge trucks rumbling through the town hint at something big humming beneath the surface. That something is spread throughout the rocks underlying a huge swath of British Columbia: natural gas.
Which is why this previously quiet corner of Canada is being inundated by an industry with unproven and potentially far-reaching environmental impacts: unconventional natural gas extraction, more commonly known as fracking. Yet both the BC Liberals and NDP agree this is a good thing, and a green thing. And they have lots of support in the town.
Everyone in Fort Nelson, from bank tellers to iron welders, can trace their employment or business success in some way to the boom in natural gas development. The manager of a construction company told me over a hotel breakfast that he is dead against fracking, and would rather the environment still be around for his granddaughter. But he made sure I didn't write down his name or his company's name -- he still has to make a living.
There is one group willing to try and slow an industry that may be growing out of control. Across the river from the town, a collection of small buildings ensconced among trees and deep snow marks the reserve set aside for the Fort Nelson First Nation. The reserve is a pinpoint in an extensive map of the Nation's traditional territory used by their ancestors since time immemorial. Their territory also contains the majority of two primary natural gas fields.
Over 100 years ago, the Nations' ancestors signed Treaty 8, one of a series of agreements between native peoples and the new British settlers spreading across the country. "My people signed the Treaty, we agreed to share, we agreed that was a beautiful idea," says Caleb Behn, a young Nation member and recent law graduate.
Now he calls the natural gas industry influx "the most recent kind of bullshit." In one sentence, Behn sums up the history of engagement between the Fort Nelson First Nation and Canada: "They came for gold, furs, they came for the trees, they came for the land, then they came for what's beneath the land; then they came for the water."
Policing the gas giants
On my second day in Fort Nelson, I set off in a pick-up truck that bounced down dusty roads with Fort Nelson First Nation employees, Marilyn Norby and Eva Needlay, to try and catch the natural gas giant EnCana in the act.
EnCana recorded profits of $398 million in 2011, and they have recently applied for the first permanent water extraction license in the Nation's traditional territory. Were the company to get its license from the BC Oil and Gas Commission (OGC), it would be allowed to build a concrete structure right across the Fort Nelson River to pump out billions of litres of water year-round. The huge draws of water are necessary for the fracking process, and a permanent extraction point would allow much bigger operations. The Nation asserts that the river is off-limits to all development. In their land management plans, the area is designated as a Cultural Protection Zone, but EnCana's proposed development is smack in the middle of it.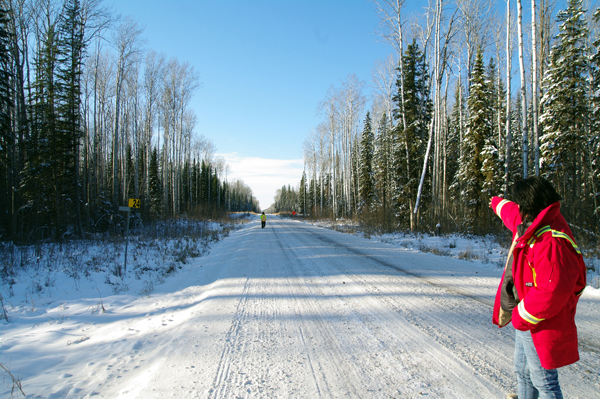 The decision on whether to grant the water extraction project approval was expected any day, so members of Fort Nelson First Nation's Lands Department invited me along to check if EnCana was jumping the gun by starting to prepare for construction. Norby explained that projects are always approved, despite strong protest. "Why do they even go through the process of having hearings when it's going to go anyway?" she says. Guessing that EnCana knows this too, they suspected the company had already started plowing a road to the river for the "proposed" project.
Norby says the project isn't far away, which in this vast terrain turns out to be about one and a half hours' drive from the Nation, down progressively rougher roads. EnCana isn't the only player in these gas fields, nor is it the largest. The last road we rumble down, the Horn River Project Road, is loaded with trucks and tankers coming from EnCana, Esso Imperial Oil and Apache projects that span the Liard Basin shale gas play.
Norby, who is comfortably entering middle age, has a heavy rural accent. Her thick black hair is busy on top and tapers out into a classically '80s style below her ears. She points out trash lining a roadside pull-out and tells me how they once found oily rags in bear droppings. Needlay, a little younger, smaller, and quieter, lists off the myriad disturbances they've seen: dried-out beaver dams from over-extraction of water, noisy flare stacks competing with a nearby eagle's nest, trees that were levelled to make way for development simply stacked and burned.
"Gas companies say they'll look into it, but when you see how much development has happened up in this area, you can't see everything. You wonder how much is covered up," says Norby. From the air, says Needlay, the footprint takes on a whole new scale: seismic testing lines, roads, wells, gas plants, all reaching into far corners of the forest.
The EnCana camp is a prefabricated series of rectangles belying a comfortable interior, complete with simulated fire and an unwatched TV blaring the news. Outside in the snow we meet Willie. He works for Eh-Cho-Dene Enterprises, the Nation's own construction company, which is working on a contract with EnCana to build a road to a new drilling operation nearby.
Willie's full chuckle through cracked but smiling teeth punctuates most of his sentences, but he has his serious moments, mostly of pride. He shows us how well construction is coming along and introduces me to some of the workers, all of whom are from Fort Nelson, many of whom are from the Nation. Despite the prosperity brought to some, Willie says he doesn't know anyone who works for Imperial Oil down the road.
As we pull away from Willie's road and get back on track, we pass the construction of a new flare stack. Vertical stacks collect and burn excess methane gas that can't be processed, releasing carbon dioxide directly into the atmosphere. Flare stacks shoot up from pipelines and wells branching across approximately four million hectares of northeastern B.C., a swath of mostly forested wilderness close to a quarter of the size of England.
Pipeline in the works
Sale of subsurface rights in the region began skyrocketing in 2006, when the average price per hectare in the Horn River Basin shot from $1,271 to just under CAD $4,000 in 2008. The selling of B.C.'s Crown petroleum and natural gas rights generated CAD $2.66 billion in bonuses in 2008 alone. Over 10,000 wells have been drilled in B.C. since 2002, although technology has improved in that time to allow more wells to be drilled per well pad, reducing their surface footprint. (See sidebar.) The development has transformed the landscape in this remote corner of a province renowned for its natural beauty, but the gas fields are not the end of the story.
The province wants to cash in on the Asian market and start shipping gas to China, South Korea, and Japan, where prices are higher. But Fort Nelson and the gas fields are nowhere near the coast, so first, pipelines will have to be constructed. In Sept. 2012, natural gas infrastructure providers Spectra Energy announced that they have teamed up with British company BG Group to construct an 850-kilometre pipeline that will be one of the largest in North America.
The pipeline, among others, is designed to feed one of several proposed liquefied natural gas (LNG) plants on B.C.'s coast. Liquefaction is a crucial step in preparing gas for tanker transport, through the complex archipelago around the coastal towns of Prince Rupert and Kitimat. If all of the proposed plants were built, the current production in B.C.'s shale gas plays would not be enough to satisfy them, but provincial Energy Minister Rich Coleman thinks this isn't a problem.
His confidence may be warranted if Apache's claim of discovering "the best shale gas play in North America" proves true. Based on estimates released in June 2012, Apache claims there are 48 trillion cubic feet of marketable gas within its own claims in the Liard Basin, two-thirds the size of all reserves held by multiple companies in the current hub of nearby activity, the Horn River Basin.
Those huge LNG plants have to be powered in some way. Using natural gas itself is one option, but in an effort to be greener, BC Hydro is proposing to build a new hydroelectric megaproject: a dam on the Peace River, also in northeastern B.C. On the books for decades, the proposed project, known as Site C, will drown 5,340 hectares of land, much of which is grade one agricultural land, a scarcity in this part of the province. The rising waters will also engulf boreal forests, wildlife habitats and heritage sites.
While BC Hydro doesn't say its recent renewed interest in the project is explicitly to provide power for liquefying natural gas, Premier Christy Clark called Site C "essential" for LNG development. However, the extra electricity generated by the dam will only add enough power to run one of the proposed plants.
Boomtown, BC
Town councillor Laurie Dolan was a figure skater when she first came to Fort Nelson 38 years ago. She loves the scenery, has perfect fingernails, idles her truck to keep it warm, says she doesn't want to wreck the trees, and thinks the town keeps getting better. After the figure skating, Dolan opened Fort Nelson's first franchise store, sold real estate for a while, and worked for Energy Services BC before joining the Northern Rockies Municipality council in 2012, which has Fort Nelson as its centre. She thinks that the provincial government, the environmental assessors and the gas companies have all the issues under control, and that if people looked, there's enough information out there to prove it.
I met Dolan in her office at the Northern Lights College on the outskirts of town to get her take on the industrial transformation underway in the region. She acknowledged there are concerns; environmental, health and economic. But she argues that those are concerns when you do any kind of industry. Shale gas, she counters, is a resource that belongs to B.C., and we have to figure out how to use it. It's got to be used. She hates it when people say "stop" to fracking and to oil and gas activities because it's ruining the environment. "It really hurts when you hear that. We're not here to rape and pillage and earn a bunch of money. We're here to live here."
Fort Nelson's airport isn't big enough to have a security section, but it was the busiest small airport in Canada in the summer of 2012. The gas industry is largely staffed by a flood of workers who fly in, board company buses, and shuttle out to the gas fields. When their shift is done, they fly out again. Most never see the town. Dolan likes this fly-in-fly-out model for two reasons. Firstly, she doesn't want to make anyone live in Fort Nelson who doesn't want to. It may be her paradise, but it's not for everyone, and she doesn't want to fill the town up with people who don't like it. Secondly, she doesn't want the town to turn into another Fort McMurray.
The capital of Alberta's oilsands region, Fort McMurray has arguably become a transient boomtown, packed sporadically with young men, money burning a hole in their pockets. Dolan recalls an oil and gas conference in Fort Nelson at which the mayor of Fort Mac (as it's been dubbed by many), Melissa Blake, gave a talk. What stayed with Dolan was Blake's admonition that they should never stop planning for the inevitable, or they might end up like Fort Mac, and then it would be "shame on you."
Dolan has seen her share of boom and bust. Fort Nelson used to be at the centre of B.C.'s forestry industry, and she said she was surprised that people didn't start jumping off the bridge when the last local saw mill closed in 2008. What helped, she thinks, is that vast discoveries of unconventional natural gas were announced just a couple of weeks later in the Horn River Basin. The town, and its people, survived. I asked Dolan what happens when all the gas is gone and the industry moves on, and she said the town will survive somehow, just like it did before.
Next: A closer look at B.C.'s 'transition' fuel that's hooked the north. Read that second half of this series here.