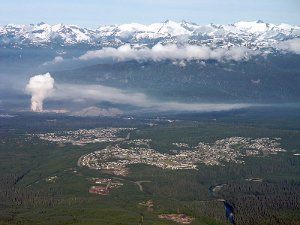 In December 2010, Kitimat LNG applied to the National Energy Board (NEB) for an export license. It wanted to ship 200 million tons of liquefied natural gas from Canada's West Coast over the next two decades.
Kitimat LNG at the time was a partnership between three major oil and gas companies. Two were subsidiaries of Houston-based corporations: Apache Canada and EOG Resources Canada.
The third was EnCana, a Calgary-based energy giant whose founder and former CEO, Gwyn Morgan, served on B.C. Premier Christy Clark's transition team. (Chevron recently bought EnCana's and EOG's stakes in the project.)
Two aboriginal groups presented concerns during the NEB's decision-making process. The Fort Nelson First Nation worried that Kitimat LNG's export plans would accelerate gas production in its traditional northeastern B.C. territory, potentially causing "significant harm" to freshwater, wildlife and muskeg ecosystems.
Gitxaala First Nation chief Elmer Moody explained how spiritual and physical nourishment for his coastal peoples comes from salmon, sea cucumbers, mussels and other sea resources. An LNG tanker spill, he argued, "would cause irreparable harm to [our] community."
Kitimat LNG countered that its project had already undergone several environmental reviews. NEB decision-makers, it argued, were under no obligation to revisit First Nations concerns.
But the NEB said it was "not persuaded" by the three oil and gas companies.
Granting an export license, it decided, would allow Kitimat LNG to pipeline western Canadian natural gas to a terminal at Bish Cove, near the Port of Kitimat, cool that gas to about -162 degrees celsius, and then ship it in tankers to foreign markets.
NEB decision-makers, therefore, thought it necessary to "consider potential environmental effects of the proposed export and any social effects directly related to them."
Even after that consideration, Kitimat LNG still received an export license in October 2011. A year passed. Then, in the fall of 2012, the NEB was tasked with another important decision: whether to grant an export license to LNG Canada, a liquefied natural gas project led by Shell Canada over three times larger than Kitimat LNG.
Once again, several First Nations asked the NEB to consider their concerns. But this time NEB decision-makers sided against them. Granting an export license would in no way "authorize or cause" any "potential adverse impacts" to First Nations, it decided.
It was a major reversal from the country's lead energy authority. And the order for it came directly from Prime Minister Stephen Harper's Conservative government.
Gas lobby presses for overhaul
It's not often that Canadian industry gets exactly what it wants from federal policy-makers. But that appears to be what happened for Canada's oil and gas firms in last year's Conservative budget.
Prior to the budget's release, in early March 2012 the Canadian Association of Petroleum Producers (CAPP) -- a major lobby group representing Canada's oil and gas players -- wrote to Natural Resources Minister Joe Oliver, proposing an overhaul of the National Energy Board Act.
(Its letter was obtained by iPolitics after an Access to Information request).
The Act had so far required NEB decision-makers to ensure two conditions were met before it granted an export license:
One, that the proposed oil or gas export project would not hurt Canada's energy security. And two, that any environmental and social impacts related to the project be addressed in a public hearing.
Canada's largest oil and gas lobby group asked Minister Oliver to limit the NEB's mandate, so it would only have to consider the question of energy security during an export license application, and not any other potentially harmful impacts.
CAPP cited Kitimat LNG's experience in 2011. That project, CAPP argued, was "delayed because the NEB elected to address environmental and First Nations consultation issues."
Such issues, it wrote, "should be considered elsewhere in the regulatory process."
Minister Oliver appeared to agree with Canada's oil and gas industry. The Conservative government's 2012 budget contained major changes to the National Energy Board Act, ones closely matching what CAPP had requested.
'A blow to the future'
An NEB memorandum sent out in July 2012 described the changes in detail. "Public hearings, with respect to gas export and import licenses," it read, "are no longer mandatory."
As a result, fossil fuel companies wouldn't have to provide any information about "the potential environmental effects" of their export project, nor "any social effects that would be directly related."
This would in effect limit the NEB's authority. For as the memo noted, NEB decision-makers would no longer be able to dictate "environmental requirements that must be met" by an oil or gas producer, before it received an export license.
Board spokesperson Ruth Anne Beck declined to discuss whether CAPP played a role in those changes.
"It's inappropriate for the NEB, as a quasi-judicial body, to comment on policy matters," she told The Tyee in an email.
The National Energy Board Act changes were implemented in Bill C-38, which had been approved by the House of Commons one month earlier. That bill also cancelled nearly 3,000 environmental reviews -- nearly 700 of them related to fossil fuel projects.
"A blow to the future health, security and sustainability of our nation," is how West Coast Environmental Law described Bill C-38.
'These are giant ships'
Shortly after the NEB changes went into effect, LNG Canada applied for a license to export 670 million tons of liquefied natural gas from Canada's West Coast over the next 25 years.
The partnership, which is led by Shell Canada, also includes Japan's Mitsubishi Corporation, Korea Gas Corporation and PetroChina, a firm owned by China's communist government.
Three aboriginal groups opposed the project. The Fort Nelson First Nation once again told the NEB that natural gas production is "damaging the environmental integrity" of its traditional territory.
The coastal Gitga'at and Gitxaala First Nations worried that hundreds of LNG tankers navigating the twists and turns of Douglas Channel could cause the "disruption of a pristine landscape." A spill, they felt, "would be disastrous."
Proponents of B.C.'s nascent LNG industry, including the Haisla First Nation, argue it's safer to transport liquefied natural gas by tanker than crude oil. In the event of a spill, oil coats wildlife and coastlines -- gas simply evaporates.
But this assessment may understate the damage an LNG tanker crash could cause to coastal First Nations communities.
"It's very important to remember that these are giant ships," said Tim Dickson, a Vancouver-based lawyer who represented the Gitxaala during LNG Canada's export license application. "They contain an awful lot of fuel oil to power themselves, and other toxic substances like lubricants."
Appeal sought
During Kitimat LNG's export application in 2011, First Nations were able to get their concerns considered, and taken seriously, by the NEB. The Board still granted an export license, but recognized its decision had helped enable the construction of a pipeline, terminal and tanker berths.
After the Harper government's changes in 2012, however, First Nations concerns were no longer a mandatory factor in the NEB's decision-making process.
And when the NEB granted an export license to LNG Canada last month, it argued that the decision in no way enabled "potential adverse impacts" from producing, pipelining and shipping natural gas -- a complete reversal from the year before.
"I want to put the export license in context," Shell Canada spokesperson David Williams told The Tyee. "It's one of many permits, approvals and assessments that take place" as the company's liquefied natural gas project moves forward.
LNG Canada will undergo a thorough environmental assessment sometime in the next few years, Williams said. And First Nations will have plenty of opportunities to raise their concerns.
"It's true that all this can be dealt with at later steps," said Robert Janes, a Vancouver-based lawyer representing the Gitxaala Nation. "But projects develop momentum as initial decisions are made."
He added: "Granting an export license creates very real economic expectations. People enter into contracts. It becomes increasingly difficult to revisit earlier stages of decision-making."
The Gitxaala Nation is hoping to raise those points in the Federal Court of Appeal. Janes filed an application earlier this month to revisit LNG Canada's export license approval.
Federal changes to the NEB's decision-making process have rendered the concerns of First Nations "essentially irrelevant," Janes said. "We're arguing that can't be right."