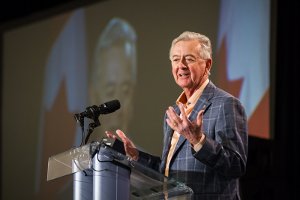 [Editor's note: Kai Nagata made the rounds at the Manning Networking Conference this weekend. After filing this dispatch, here's his second.]
Preston Manning, like Al Gore, never quite made it to the top job. Like Gore, this has freed him to dispense inconvenient truths, like this one. "Conservatives are generally considered, and this by our friends, to be weak or disinterested on the environment -- the issue of greatest concern to many of our children and grandchildren."
A thousand conservatives from across the country are gathered in Ottawa for the Manning Networking Conference. Some shift in their seats. A few nod. Their leader continues. "Whether it's fair or not, the bad news is that this perceived deficiency on the environmental front has become a political and economic liability."
The good news is Manning has plotted a roadmap to victory, for those brave enough to walk it. Halfway through the first CPC majority mandate, the conservative movement has a choice: heed its own philosopher, or watch rivals reinterpret his insights.
Here it is, according to Manning: Task one is to seize the moral high ground on environmental issues. Task two is to target and train your troops, better and faster than your rivals. Task three is to form coalitions, then cooperate long enough to win.
Task one: Go Green
Twenty-four hours earlier, I joined a breakout group as pollster André Turcotte unveiled the results of the Manning Centre's annual barometer poll on Canadians' political attitudes (full results here). At one point the woman in front of me let out an audible gasp.
"Preserving the environment in Canada," goes the poll question, "should be a higher priority than the expansion of our petroleum sector." Seventy-six per cent of respondents agree. And three quarters of the country can't be "socialist swine," to borrow a term from a visiting Republican panelist.
At another point I hear from Mark Cameron, former PMO policy and research director, that the "debate" about global warming is over. It's happening, and it has national security implications. "I don't think simply by changing our emissions policies we can turn back the clock on that. That will affect the navigability of the arctic, the ability to extract resources from the arctic, and we need to engage in a long-term planning process for that."
In another conversation I hear from a frustrated natural gas executive that "we're out there getting our asses kicked" by grassroots environmental groups and, he believes, sympathetic media outlets.
Enter Monte Solberg, former Conservative cabinet minister, PR consultant, and the man tapped to lead Conservation Works Canada, an organization being proposed to act as an intermediary between energy companies and the people standing in their way -- specifically livestock-tending, duck-hunting landowners, many of whom are natural conservationists.
Right now, Solberg says, "the discussions sort of start from the premise that we can't trust the big companies or that anybody who's concerned about the environment is a wacko. And I think that's a problem. You know, we're starting too far apart."
The key, he believes, lies in working with a neglected member of the family: the Green Conservative.
A Green Tory, according to Manning, recognizes that "conservation and conservatism come from the same root. They support the principle of 'living within our means' -- which is at the heart of fiscal conservatism. But they recognize that this is actually an ecological principle because inputs and outputs of ecosystems must be kept in balance for them to be sustainable."
Are there contradictions? Of course. But Manning believes by reframing the conversation around stewardship, key players like Solberg can build social license for the resource sector -- one long ranch driveway at a time.
Task two: Target and train
It turns out going door-to-door is measurably more effective in persuading people than phoning them. In most cases, having a volunteer phone someone is more effective than a paid call centre employee. And both methods are more effective than TV ads.
These findings come out of thousands of controlled experiments run by U.S. campaigns in the past several election cycles. So far the Canadian conservative movement has been quickest to adapt lessons on voter identification and persuasion.
This weekend Stephen Taylor, head of the National Citizens Coalition (NCC), described one early experiment by the Conservative Caucus Research Bureau.
"[The party] sent out, I think, probably a hundred million pieces of mail. Paid for by the taxpayer, I should say. They were each barcoded, and they were each very issue-specific. Most people would sort of ignore it or say 'this is garbage.' But the few people who would actually send it back and say 'Hell yeah, that's what I'm all about' -- you would be able to put them in a database."
Taylor's group, the NCC, gathers and cross-references sets of data to build pictures of voter types and figure out how to speak to them.
"We found that CBC privatization petition signers are most likely Molson Canadian drinkers, they watch Dexter on television, they enjoy Sun News Network, they vote Conservative, they're from Toronto, and they donate to World Vision." Those discoveries help shape the messaging.
A voter who proves unusually engaged on an issue can often be recruited as a volunteer. That's where Mike Martens comes in. Formerly the regional organizer for the federal Conservative Party in B.C., he now runs the School of Practical Politics at the Manning Centre. From now until the next election, Martens will be training thousands of volunteers online and at the school's new campus in Calgary.
Martens is borrowing heavily from the ground-level tactics developed by the Obama campaigns. "I'm not so proud that I can't learn form others, especially those of a different ideological mindset," he told the audience. "But to do that I will need trainers, and I will need students. And that starts right here in this room."
For Manning, the investment is a no-brainer. "If our forwards and defensemen are better trained than those of our opponents, if our goalies are better coached than theirs, we ought to win more games, play-offs, and Stanley Cups."
Task three: Cooperate
There's a reason the conservative movement is working hard to reframe the environmental conversation and diverting resources to train ground troops. They're worried. And that comes back to the poll conducted by André Turcotte for the Manning Centre.
"One of the changes that is quite troubling," Turcotte told the crowd, "is this nagging resilience of the Liberal brand. They're like a bad cough." Twenty-six per cent of respondents polled in the first week of February said they most closely identified with the Liberals. Twenty-five per cent picked the Conservatives, with 17 per cent choosing the NDP. (For the record, it was one of only three mentions I heard all weekend of the NDP.)
From 1997 to 2010, Turcotte says, conservative parties made steady inroads. This year he's seeing the first signs of retrenchment. "We have a very committed, strong base. That has delivered. We're very efficient at turning that into seats, but it hasn't grown."
I ask him, could the Conservative Party survive if the opposition were to cooperate? "Oh, it could survive. But it makes it harder obviously. There's just the pure math of it. If you ever combined the left."
What is most impressive about the Manning Networking Conference is the reminder of just how long its namesake has managed to combine the right. "The Canadian conservative movement is not a monolithic entity," Manning said in his closing keynote, "but a broad coalition." Or, as he prefers, a family.
"Thus the fiscal brother cannot say to the progressive sister 'We have no need of you in the family.' Nor can the libertarian uncle say to the social conservative aunt, 'There is no place for you at the family table,' if we want the family as a whole to be united and electorally successful."
To Manning's great credit, he has built a public forum in which to air the inevitable debates. The conference, a literal manifestation of the "big tent," is a symbolic display of the movement's strength. And if the party follows the path laid out by its oracle, there is reason to believe it will keep winning.