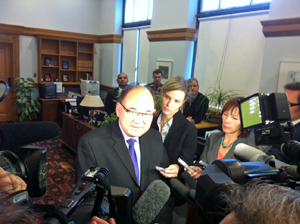 John Yap said he is stepping down as the minister responsible for multiculturalism, even though he hadn't seen a controversial outreach document before last week.
The move comes as a senior bureaucrat continues an investigation that opposition critics charged is far too narrow to get the answers British Columbians deserve. Premier Christy Clark did not rule out resigning herself, depending what that review finds.
"As minister responsible I'm taking responsibility and stepping out of cabinet," Yap told reporters. "As you would have seen last Wednesday during question period, I was caught completely off guard by this document.
"This document never hit my desk," he said. "Some of the ideas in there and some of the language used is clearly unacceptable."
On Friday Premier Christy Clark's deputy chief of staff in charge of operations and long time close political aide, Kim Haakstaad, resigned over her role in the production of the 17-page document. The plans included using government resources to woo ethnic voters, as well as "quick wins" like apologizing for historical injustices such as the Chinese head tax.
The same day Haakstad resigned, the government had earlier announced the terms of reference for a review led by John Dyble.
'I need to take responsibility': Clark
Yap said he does not know who wrote the document. When asked whose idea it was, he said, "Let's allow Mr. Dyble and his colleagues who are doing the investigation to complete the review and report out."
He said he expects to be personally cleared by Dyble's review.
Clark announced Yap's change in duties to the legislature, and in a scrum with reporters made comments that suggest the move was her initiative. "He and I sat down and talked about this and he agreed, he agreed it was the right thing to do to step aside until we see the results of the report," she said.
Clark stood by earlier comments that staff in her office did not craft the outreach document, but said Haakstad did oversee its production. "She oversaw its creation," said Clark. "There's absolutely no question about that. She should have put a stop to it when she saw what was in the documents. She didn't."
Haakstad's resignation is proof that she was responsible, said Clark.
Clark said she is waiting for the results of Dyble's review before deciding what to do. "When mistakes are made, we need to accept that they were made, I need to accept that they were made, I need to take responsibility for it, get to the bottom of it, and act on it, she said. "That's what we're doing."
Asked if she had considered resigning, she said "When we have all the facts and the report is tabled, we'll be likely required to take further action. And I will take that action, but I won't pre-judge what it is."
Narrow terms
Dyble's review, as announced March 1, is "to conduct a review of the draft Multicultural Strategic Outreach Plan to ensure that no government resources were inappropriately used, nor violations of the Public Service Act (Public Service Standards of Conduct) committed."
The review will include the premier's office, the ministry of advanced education, innovation and technology and minister responsible for multiculturalism, the ministry of jobs, tourism and skills training, and the intergovernmental relations secretariat. It will also include the main public relations shop, government communications and public engagement, as well as relevant ministers' offices.
The announcement also added three senior bureaucrats to the investigation team: deputy finance minister Peter Milburn, head of the B.C. public service agency Lynda Tarras, and deputy minister of citizens' services and open government Kim Henderson.
During question period on March 4, opposition MLAs argued that the mandate for Dyble's review does not go far enough. "He doesn't have access to the B.C. Liberal Party," said opposition house leader John Horgan. "He doesn't have access to the B.C. Liberal caucus."
Nor does Dyble have any authority to compel people to share their private emails, Horgan said.
'Wait for results': Coleman
"He is undertaking this review with other deputies across government and will be reporting back," Clark responded. "I'm confident that he is going to have the information that he needs to make that review. If he does not have the information that he needs, I can assure you he will say that in his report."
"You should wait for the results of this," government house leader Rich Coleman told reporters earlier in the day. "I think you'll be satisfied with the review."
He said he believes it will answer questions about whose idea the plan was, who knew about it and when they knew about it. "If you look at it it's a pretty broad scope, because he has to look at everything," he said.
Most Liberals emerged from an extended caucus meeting saying the discussion was private and that the party is united. Several have been critical about the outreach document and the premier's handling of the controversy.
"She leaves every day her son at home," said Dave Hayer, a BC Liberal MLA who represents Surrey-Tynehead. "She's a single mother who works here on behalf of British Columbians. It's a very difficult job to do. I think under the circumstances she's doing the best she can. On the other hand we haven't had an easy time over the last couple of years because of different issues."
Caucus chair Gordie Hogg said he's frustrated and disappointed with the situation, but caucus members don't want to make any decisions until they have all the facts.