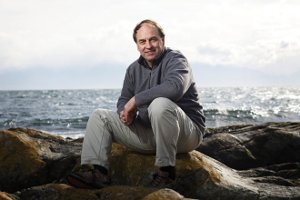 For climate geek and political hopeful Andrew Weaver, it was a controversial week. The University of Victoria scientist, who recently announced he would vie for the riding of Oak Bay-Gordon Head as a BC Green party candidate in the May 2013 election, tweeted Wednesday night that a friend and former federal NDP candidate asked him to drop out of the provincial election race.
Weaver claimed Michael Byers called him up in the fall and urged him to step aside, and talked about the NDP potentially offering him the deputy minister of environment position. For his part, Byers has said the phone call was between friends. He told the CBC the idea he would be asked to call Weaver on behalf of BC NDP leader Adrian Dix was "ludicrous," and on Thursday, in a recorded message played on CKNW's Bill Good Show, said he was "very disappointed (Weaver) is actually lying" about the content of their conversation.
On the show, Good asked Weaver to clarify his remarks about Byers' offer of incentives. "So he didn't offer you a deputy minister's position?"
Weaver responded, "No, he couldn't offer that... the term deputy minister was dangled as one of a... number of ways that one could influence, still have influence in the actual government direction of policy."
In an email to The Tyee, Weaver said he hasn't suggested that Byers was acting in any official capacity for the BC NDP.
"It was a phone call from a friend who is well-connected in the party and who suggested that there may be other opportunities to affect policy in the government should I be willing to step down from my campaign," he wrote.
"Whether or not Michael and I will be friends as this story fades away, I am confident we both want nothing but the best for B.C."
Columnists wonder whether the story will fade, and what impact it has on Weaver's race -- an issue the Vancouver Sun's Craig McInnes recently weighed in detail.
If Weaver does win, he'll leave behind his comfy Canada Research Chair at UVic for a sturdy seat in the legislature. He's been considered a star candidate for the Greens since it was announced in September. As party leader Jane Sterk put it then, "Andrew's candidacy changes politics in B.C."
A win for Weaver would also change the political climate of the island riding of Oak Bay-Gordon Head. A home for high numbers of seniors and students, it's been a Liberal stronghold since incumbent Ida Chong took office in 1996.
The Tyee spoke with Weaver before Wednesday's "tempest in an Oak Bay teacup" -- credit to MLA John Horgan and his quick Twitter wit for that one -- for more on his background and platform. Here's what he had to say.
On the Green groundswell and finally saying yes to Jane Sterk:
"It's the perfect storm. We have Elizabeth May, who won in Saanich Gulf Islands. We had the federal byelection here that was nearly won by the Greens. There's a willingness for change in the way government operates.
"For years and years I'd been asked by numerous parties, both at the provincial and the federal level, if I'd consider running and I've said no always. And I actually said no to Jane Sterk at least three times. And then I finally thought, you know what? Maybe I will.
"I think that people in Oak Bay-Gordon Head want change. You know, Ida's (Liberal incumbent Ida Chong) done a good job for the constituents. She's been here a long time. She's worked hard. But it's not a career, and I think the residents of Oak Bay-Gordon Head would like to see change. I've seen lots of that sentiment expressed to me, that people want change -- and I don't think they want the NDP candidate to represent that change."
On not being your typical Big Bang Theory scientist:
"When I was a little kid I was always good at math and I always loved science. So you tend to kind of bumble your way through school following what you're good at and what you like.... I loved the ocean, I lived by the ocean. I asked Santa Claus for books about the ocean. When I was just a little kid I loved Jacques Cousteau. I would watch it every time it came on.
"I played in high school on the rugby team and the chess team. You know, that's kind of weird. So you're playing on the one hand on the rugby team and then you go to a chess tournament. I wasn't your stereotypical Big Bang guy. I liked to be able to relate my science to the people that I hung out with, which typically were, you know, just regular people."
On getting rid of the stink, and other hot riding issues:
"A very big issue locally is the issue of what to do with the storm drains and sewage systems in Oak Bay. In Oak Bay, large parts of the uplands have the storm drain systems hooked in with the sewage systems, so that in big rainfalls you get raw sewage dumping on our local beaches. That's a big problem.
"(Oak Bay-Gordon Head) has four high schools in the region, and it has numerous elementary schools as well. It has a university (too). Education is a paramount interest to this riding. If you look at the demographics, people who live in this riding have a strong background in education as well.
"Of course, health care is always a concern because Victoria is a retirement destination. It always has been, it always will be, and so seniors' health care is important, and the civility of the health care system is crucial too."
On how B.C.'s current reliance on the gas glut is unwise:
"We have what I would argue is a completely misplaced, ill-posed, and a poorly thought-out economic trajectory for the province put forward by both the Liberals and the NDP, and that is a reliance on royalties coming from natural gas through enhanced fracking in northeastern B.C. We just have to look at the collapse of the natural gas market and the royalties accordingly to see why we're in the budgetary crisis we're in now.
"It's because everybody in the world discovered fracking, and as a consequence there's a natural gas glut in the market because prices are dropping.... You do not want to fund social programs on unsustainable economies, which are exclusively through royalties on a product that's crashing."
On the furor over his Alberta oil sands paper that found coal is actually a worse threat:
"When people stand up and say the tar sands is game over for planet earth if we burn them, well that's rhetoric. There are a lot of really serious problems in terms of global warming, really serious problems.... However, it's better to use evidence because if you start to say things that aren't factually correct you're easy to be dismissed.
"Ninety per cent of people recognized the discourse for what it was -- informing public policy. Five per cent on either side went nuts. The advocates in the tar sands industry and some of the die-hards in the Conservative government started to selectively quote bits to say, tar sands are no big problem. And on the other hand, you had some of the more extreme environmental people saying that we were undermining all of their efforts. Of course, neither of them were correct."
On putting the science back in political decision-making:
"Science is: I see something and develop a theory that explains all known observations about that theory, and then I use that theory to make a prediction. Ideology is: I have an answer, now what I'm going to find that information that supports my answer and selectively ignore everything else and then try to market that answer to other people.
"That's a very different way of looking at things. So for example, prior to the formulation of policy (and this is why I like the Green Party of B.C.), it's really important to seek information and input, because you can't formulate good policy without seeking input and evidence to support policy. Citizen engagement is a crucial component to the Green Party of B.C. platform and it's something I resonate with as a scientist, because I'm seeking data and information before I make decisions."