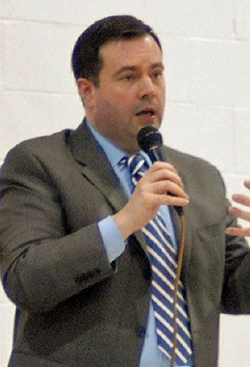 Permits allowing foreign workers from China to work at a mining project near Tumbler Ridge, British Columbia will not be rescinded by immigration authorities as a review of the case goes on, said the federal Minister of Citizenship, Immigration and Multiculturalism.
Minister Jason Kenney gave a different picture from news reports stating controversy over Chinese miners in B.C. "prompted" the review, saying the Conservative government had already been reviewing the Temporary Foreign Workers Program for months before the uproar in B.C.
The minister was addressing a Burnaby Board of Trade function Friday afternoon and afterwards told media the 201 miners will still be able to work at HD Mining's Murray River project.
The issuing of the permits has become a major concern among B.C. labour groups since the United Steelworkers Union found advertisements placed by HD Mining that said those who spoke Mandarin were preferred for jobs at the site.
In order to get a permit under the Temporary Foreign Worker Program, a Labour Market Opinion showing sufficient efforts to hire Canadian workers was carried out must be submitted.
Yesterday Canada's Minister of Human Resources and Skills Development Diane Finley said, in light of the revelations, a review of the case and the entire program would be launched.
But Kenney said as far as his ministry is concerned the workers will still be able to work at the mine site, despite demands they not be allowed to do so until after any investigations are completed.
"People who have been issued valid work permits have the permits, so they have status in Canada," said Kenney.
"If there's a review of the validity of the Labour Market Opinions we'll wait to hear from HRSDC about that -- but as my ministry does the work permits, as far as we're concerned they were validly issued."
'Permits must be pulled': Steelworkers union
Labour groups alleged the language requirements were put in place to exclude Canadians and are also concerned the miners are paying hefty fees for the jobs.
The provincial government has also launched an investigation.
Stephen Hunt from the United Steelworkers said he can't accept the permits remaining valid during the government investigations.
"I think the permits must be pulled and I think the whole LMO was predicated on fraud," said Hunt.
"Don't continue to allow somebody to commit a crime by enabling them."
Upon announcing the review Thursday Finley admitted it does appear there are some problems with the TFWP.
But Friday Kenney said a routine examination of the entire program was already underway and has been for some time.
"The Government of Canada has been doing an overall review of the Temporary Foreign Worker Program for the past several months and we'll be finalizing that in the next few months," he said.
"What she (Finley) commented on yesterday was something that's already been underway."
Foreign temp worker controversy grow
B.C. hosts about 70,000 temporary foreign workers and the program has been mired in controversy, especially during the last month.
News a group of workers awarded $2 million after winning a human rights complaint in 2008 has yet to be paid was brought to the spotlight by the media earlier this week.
The B.C. Human Rights Tribunal found the three dozen workers from Latin America were discriminated against because they were paid far less than their European counterparts when digging the Canada Line tunnel.
As well, Friday the B.C. Public Interest Advocacy Centre launched a human rights complaint on behalf of four Mexican workers working at a Tim Horton's in Dawson Creek, B.C.
The workers said they were the victims of mental abuse, racism and poor living conditions.
At Minister Kenney's appearance in Burnaby Friday there was a brief struggle as a woman protesting the alleged mistreatment of foreign workers was forcibly ejected from the lobby of the hotel where Kenney was speaking.
Immigration lawyer Tim Bailey said some foreign workers are vulnerable and can be hesitant to file complaints or stick up for themselves in the workplace.
"The Canadian government is not saying to everyone who gets a work permit, 'welcome to Canada,'" said Bailey.
"It's saying, 'you're here for a limited purpose and we will tolerate your presence here until your work permit expires.'"
He said consequently many foreign workers who are in Canada based on LMOs are usually afraid of being seen as doing something wrong and then being deported, which encourages silence when their rights are infringed.
"Ultimately that is what they're facing," said Bailey.
He added his curiosity was raised when he heard about the language requirement issues related to HD Mining's permits and that the company applied for so many permits at once, saying in his experience it was a large request.