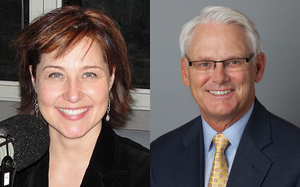 On the morning of March 26 this year, B.C. Premier Christy Clark spent half an hour on the phone speaking to Gordon Campbell for reasons mysterious.
While it might seem nothing out of the ordinary for a premier to touch base with her predecessor as Liberal Party leader and premier, this particular conversation invites deeper interest for a couple of reasons.
For one thing, Clark had gone to great effort to publicly distance herself from the unpopular Campbell, now Canada's High Commissioner to the United Kingdom.
For another, March 26 was the day John van Dongen assailed the leadership of both Clark and Campbell in his startling speech in the Legislature declaring his resignation from the BC Liberals and his deep misgivings about the tax-payer funded $6 million dollars to cover legal expenses of David Basi and Robert Virk after they pled guilty to criminal charges related to the BC Rail scandal.
Clark's agenda, acquired by The Tyee, shows this entry on March 26: "9:00 a.m.-9:30 a.m. Phone call with High Commissioner Gordon Campbell -- HE will call PVO [Premier's Vancouver Office]."
What was the reason for the call? What was discussed? Who initiated the appointment?
The terse, official answer emailed to The Tyee by the Department of Foreign Affairs and International Trade is that the topic of conversation was the upcoming Olympics in London. But Clark's own press handler refused to confirm that's what was discussed.
Tumultuous times
March 26 was the last Monday of the most tumultuous month in Clark's short premiership.
Four days earlier, she announced the by-elections for Port Moody and Chilliwack.
Two days earlier, John Yap was sworn-in as Minister of State for Multiculturalism in a hastily arranged, $3,600 Saturday afternoon ceremony at the Chinese Cultural Centre that was closed to the media. Yap was filling the seat left vacant by Harry Bloy, Clark's only leadership supporter from caucus who quit cabinet on March 15 for breaching his oath of confidentiality by giving a reporter's email to a party supporter.
Backbenchers Rob Howard and Moira Stilwell got Parliamentary Secretary posts on the same day as Yap.
Then, just five hours after Campbell and Clark had their phone conversation, John van Dongen rose in the Legislature to announce his resignation from the Liberal caucus to sit as a Conservative independent. In doing so, he fired a verbal salvo at Clark.
"I had hoped that there would have been renewal in my party and in government, but in the last 12 months I feel that has not happened," van Dongen said. "Indeed, every week constituents question government actions and issues that I am not able to defend. What I believe people expect from political leadership are core values that include integrity and a genuine commitment to public service."
Clark was not at her seat and her whereabouts were unclear until the next day when she appeared at a news conference in Victoria to accuse van Dongen of hastening a split in the centre-right coalition that would lead to an NDP government.
In public, Clark's wide berth to Campbell
Clark now is mulling a name change for the BC Liberal party that has never recovered from then Premier Campbell's imposition of the Harmonized Sales Tax.
Clark famously refused to pose for a photograph with Campbell while at a June 4, 2011 fundraising party at constituent Jacqui Cohen's Point Grey mansion.
She phased out Campbell's "Best Place on Earth" slogan and replaced it with her Canada Starts Here.
She even rebuffed Finance Minister Kevin Falcon's bid for a British Columbia promotional presence in London during this summer's Olympics, because she wanted further distance from Campbell.
Campbell was a no-show to receive his Order of British Columbia last fall but returned for a Feb. 11 luncheon speech to the Vancouver Board of Trade. Clark and the inner-circle of her cabinet made other plans. They were in Olympia, Wash., for a joint cabinet meeting with Gov. Christie Gregoire.
Yet records reveal that six weeks later, amidst a particularly busy and high-stakes period in her political life, Clark found a half hour to check in with Campbell via phone.
Slim details
A request for information or an interview to the High Commission's press officer, Christie Tucker, was forwarded to Foreign Affairs and International Trade spokesperson Ian Trites in Ottawa.
"High Commissioner Campbell telephoned Premier Clark to discuss the upcoming London Olympic and Paralympic Games, as he has done with other premiers across the country," Trites said in an emailed statement.
The same question was posed Sara MacIntyre, Clark's press secretary.
"I can confirm the call, but not the substance of the discussion," MacIntyre wrote in an email.
MacIntyre did not respond to a follow-up query seeking to know whether Clark is planning a trip to the Olympics and whether Clark sought advice on any current or past issue from Campbell.