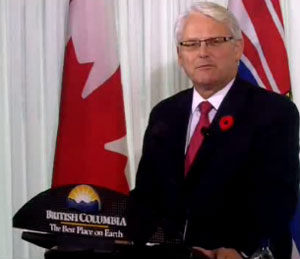 Gordon Campbell has announced he is stepping down as the premier of British Columbia.
"After considerable soul searching and discussion with my family I've decided to ask the BC Liberal Party executive to hold a leadership convention at the earliest possible date to select a new leader," Campbell said at a press conference in Vancouver.
"It's time for a new person to lead the province," he said. Debates on policy issues have become overshadowed by the public's dislike for him personally, he said. "When that happens it's time for a change."
Campbell left a cabinet meeting to make the announcement. He did not take questions, but an official said Campbell will speak to media tomorrow in Vancouver.
Campbell said he would work on a smooth and orderly transition and thanked his supporters, colleagues, the public service and particularly his family.
"They have all paid a price for my 26 years of public service," he said. "Politics can be a nasty business." Sometimes that nastiness has spilled over into his family members' personal lives as well, he said, with emotion in his voice. "I am sorry for that and I want to thank them all for their support and love."
His time as premier has been exciting yet challenging, he said. "I feel blessed to have had the opportunity to serve in this position longer than most of my predecessors."
Campbell was to face several challenges in the coming months. A caucus meeting was scheduled for Nov. 4, where some believed he would face a challenge to his leadership. The party convention starting Nov. 19 was to include the release of the results of an internal vote on Campbell's leadership.
The most recent Angus Reid poll had Campbell's personal popularity at nine per cent and his party far behind the NDP.
Missed connections
New Democratic Party leader Carole James thanked Campbell for his years of public service, but said it was time for him to go.
"I think the lesson for all politicians is to stay connected with the public," she said. "You need to make sure you are listening and consulting with British Columbians."
Campbell and his government lost the public's trust after they rammed through the harmonized sales tax after the 2009 election to make up for a budget shortfall, she said. "I think it was pretty clear that Mr. Campbell was not up front about the budget situation," she said. "I don't think it's simply the HST. I think this is a government that lost connections with the people of this province."
James said she's looking forward to running in 2013 against whomever Liberals choose to lead the party. "It doesn't change the work I have to do over the next little while to show people there's a positive alternative," she said.
"They can change leaders. It doesn't change their record," she said. "It doesn't matter if it's Mr. Campbell or another Liberal. Their record speaks for itself."
The Liberal caucus has failed to raise the minimum wage, address climate change, protect the environment, or reduce child poverty, she said. "I also believe we've seen the record of a more divided province under Mr. Campbell."
Financial backers got nervous?
Campbell is a realist who recognized it was time to go for the good of his party, said Dennis Pilon, a political science professor from the University of Victoria.
By announcing his resignation today, he's able to leave with some dignity, he said. "He's choosing rather than being pushed," he said.
Campbell has strong links to the business community and was likely hearing concerns from them about his leadership, Pilon said. "I think probably some of the financial backers, Howe Street, started to say maybe it's time to go," he said.
It would just take a few powerful people who write cheques to the party to take away the leadership, he said. "If you lose those people, then you've got a real fight on your hands."
Pilon said Campbell will likely stick around in public life somehow, either with appointments to boards or through politics. "The guy seems addicted to the attention," he said. "I don't think he's just going to fade away."
It seems unlikely that any of the current Liberal MLAs will be able to take over as leader and win the next election, he said. "The problem is the cabinet is so tainted by basically jumping as high as he told them to," he said. "You've never seen a bigger bunch of followers than that bunch who are there now."
The party will likely look outside for the next leader or Blair Lekstrom, the Peace River South MLA who quit cabinet over how the HST was implemented, may return as a possible leader less tainted by the HST, he said.
"It's certainly a sad day for us here at the BC Liberal Party," said party spokesperson Chad Pederson.
Campbell united supporters of free enterprise in support of the Liberal Party and won three consecutive elections, something that hadn't been done in the province for 30 years, he said.
Party president Mickey Patryluk now has 28 days to call a meeting of the party executive, Pederson said. The executive will then have to set a leadership convention for a date within six months. At that convention each member will have one vote in the leadership contest.
It's not yet known, he said, whether the party will proceed with its convention scheduled for Nov. 19 and 20 in Penticton.