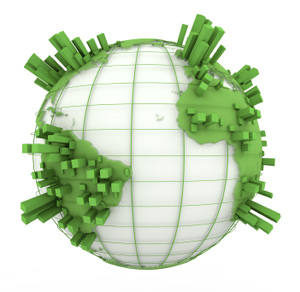 From modest homes made of recycled shipping containers, to living laboratories that actually produce more energy than they consume, The Tyee's 'Green from the Ground Up' series illuminated the many roles buildings play in creating a sustainable future.
With buildings responsible for approximately 35 per cent of our greenhouse gas emissions, and energy prices on the rise, there are good social and environmental reason to make significant shifts in our building standards and expectations.
In the past decade, there have been positive developments in British Columbia, and particularly Vancouver, toward greener building practices. But we still have a long way to go.
How can we make green building the norm, rather than the exception? The Tyee Solutions Society sought the insights of knowledgeable veterans from across the building industry, people with the experience to know what works and the vision to see where it might take us. Here's what they had to say.
Make it code
In 2008, British Columbia introduced a green building code that raised the bar for the industry across the board. It included new construction standards to save water, improve energy performance, and make it easier to install renewable technologies, such as solar hot water systems.
Blair McCarry, a mechanical engineer with architectural firm Perkins & Will says these "code forces" are key to advancing green building techniques.
Mechanical engineers like McCarry design the heating, ventilation and air conditioning (HVAC) systems that make our living space comfortable. These systems consume most of the energy a building uses, so how efficiently they run determines to a large extent what the building will cost to operate as well as its environmental footprint.
McCarry says that up until recently, codified reductions in energy requirements moved very slowly, "just kind of oozed down a gentle slope."
Then in 2004, the American Society of Heating, Refrigeration and Air-Conditioning Engineers (ASHRAE) introduced the latest iteration of its internationally-recognized standards and raised the bar considerably for energy efficiency in buildings.
Jurisdictions across North America adopted ASHRAE's stiffer standards. Among them was Vancouver, which is unique in Canada for maintaining its own bylaws to regulate building design and construction. Now Vancouver is considering adopting the even more stringent 2010 ASHRAE standards.
"The 2010 version [of AHSRAE] is a 30 per cent energy reduction on the 2004 version," says McCarry. "The energy norms or standards are plummeting, going down dramatically, as various jurisdictions adopt them."
McCarry compares HVAC systems to the engine system that drives a car. "When you think of making a more efficient vehicle, the vehicle becomes lighter, uses different materials, maybe it's a little smaller, so it doesn't need the V6 engine," he explains. "By looking at the design processes... you can figure out how to get more use out of a component."
Design a building with energy in mind -- a tighter envelope, for example, or window shades that let in light and heat when you need it, and block it when you don't -- and automatically you require less 'fuel' to keep it operating. The PassivHaus is a radical example of this; a building so tight, so well-designed that it needs no systems at all.
Sell them on comfort
All of which gives an architect, a client's first point of contact when a building is going to be developed, a large role in determining a structure's eventual efficiency.
Architect Helen Goodland is the executive director of Vancouver's Lighthouse Sustainable Building Centre, an enterprising non-profit whose website declares its dedication "to advancing and catalyzing sustainability in British Columbia's built environment."
Goodland agrees that with the 2008 provincial building code, "everything got better." Even so, Goodland says, Vancouver's architectural aesthetic of a "city of glass" is inherently unsustainable. While that gleaming glass office tower with ample mountain views might be alluring, all that glazing also makes it inescapably inefficient to heat and cool.
Goodland notes that those fab expansive views of mountain and ocean may lure office tenants into a commercial tower at $40 or $50 dollars a square foot -- but that when the client actually moves in, the first thing that happens is usually that blinds go up and partitions go in.
"No one gets to see that view," she says. "And people in the prestigious offices in the corner are either boiling or freezing."
Yet "utility paybacks are not enough" to persuade consumers to choose energy efficiency, Goodland says emphatically. "What we find much more compelling is comfort." She says European firms have been quicker to catch on to the fact that a more comfortable work environment makes for happier and more productive employees.
"I need light, I need to be acoustically protected, I need to be thermally comfortable, I need to have fresh air. All of those things are hard to pin down... you can't have a number, necessarily," says Goodland. "But when you have it, you know you've got it."
LEED standards are one way to balance all of these things; daylight and ventilation without excessive energy loss through windows; acoustic protection without using hazardous materials. As Katie Hyslop reported in this series, the B.C. provincial government's push towards LEED-certified schools is making them more efficient, but also more comfortable and conducive to learning.
"Unfortunately," says Goodland, "what we're seeing a lot still [in the marketplace] is this emphasis on form and style -- as opposed to performance. I would love to see the architectural community step up and truly embrace the notion of performance in their design."
Change is difficult. But like McCarry, Goodland believes government can play a decisive role. When government is willing to "throw down the glove," as she puts it, and be clear about what it expects from builders now and into the future, industry finds it easier to tackle green projects that might seem riskier or more complicated than familiar but inefficient styles of construction.
Goodland believes that aggressively pursuing higher building standards was a "gutsy move" for Vancouver, "And kudos to them," she says. "It's been very helpful to industry. They can dust off their real green projects now."
Reward the greenest
Norm Shearing, vice president of development for Parklane Homes, says that policies, rules and regulations needs to complemented by rewarding those who choose to do good.
"Probably most developers would say this, but I think the most effective way for getting this green building movement really under way -- I mean, it is underway now, but to really pick up the pace, and get people adopting it -- is incentives," he says.
Parklane is currently developing the River District, a 130-acre former industrial site in southeast Vancouver on the banks of the Fraser River. Shearing describes it as a "comprehensively-designed community" and sees it as a model for suburban development in the future, an alternative to the cookie-cutter suburban neighbourhoods that are ubiquitous in the Greater Vancouver area.
"It's seen as very much a walkable community," says Shearing. "What it provides essentially, is residential, retail space, office space, parks, full size community centre, two schools, four daycares, and the community is connected by a series of pedestrian pathways."
The size of the development allowed Parklane to develop a neighbourhood energy utility that will use hot water heating systems instead of highly inefficient electric baseboards and, says Shearing, rely on a renewable source of energy, possible sewer heat. All of the large buildings are being built to LEED platinum or gold standard, and the smaller wood frame buildings are going for Built Green (see a primer on these rating systems).
Shearing says Vancouver's goal of achieving carbon neutrality by 2020 envisions a "paradigm shift" from where we are now. Early adopters of the new paradigm, he thinks, should get a hand up.
"Tax [and] density incentives are really the two biggest tools the city has," says Shearing. "And a speedier approval process would certainly help."
Incentives, he thinks should also be extended to homeowners who 'green' their houses. On-bill financing for energy efficient retrofits is an idea that's taking off in the U.S. with positive results. Vancouver has recently introduced its own pilot program. Such programs, says Shearing, are key to shifting the residential market.
Be better than 'less bad'
When asked what can be done to advance green building in British Columbia, and around the world, Guido Wimmers throws this question right back: "Are you talking about making green building more mainstream, or actually more green?"
Wimmers is the principal of Building Evolution, a Vancouver-based design firm that specializes in PassivHaus buildings. The PassivHaus standard dictates that a building use no conventional heating or cooling systems at all, but rather is designed to regulate temperature with excellent insulation, air-tightness and orientation to the sun's rays.
Wimmers is among those in the industry who say that many of the current generation of green buildings, including those certified by LEED or other standards, are simply "less bad" than older construction -- and that that's not good enough.
From his perspective, and compared to Europe, Vancouver still has a long way to go, despite its green reputation.
"With architects or mechanical engineers who have studied a lot, you find this attitude like, 'I know it all,'" he says. "Especially in Vancouver, where they got promoted as the 'greenest city', it's probably more difficult for them to accept that there is much more out there to learn."
Wimmers's answer to both questions -- how to make green building more mainstream and also raise the standards of what's considered green -- is education.
"Education of the public, of everybody," he says. "It should begin in schools."
Trade schools are beginning to recognize that green building requires a new skill set as well as a new mindset. Okanagan College recently opened the Centre for Excellence in Sustainable Building Technologies at its Penticton campus. The centre is a kind of living laboratory that offers programs in sustainable construction, geo-thermal energy capture, and metering and monitoring of green buildings. The centre's building itself provides a model of green anatomy: wherever possible its mechanical and electric systems are exposed, so students can learn from the building itself.
The centre was built to meet the stringent standards of the Living Building Challenge (the CIRS building at UBC is another example of a potential Living Building, although neither were certified by the time reporting for the series was completed.)
Jason McLennan is the founder of the Living Building Institute and the man behind the Living Building Challenge. Its standard represents the next generation of green buildings: structures that produce as much energy and water as they consume, outlaw toxic materials, and are sourced as close to the site as possible.
"Our organization operates from a position that there's global urgency, and merely being 10 per cent less bad or 30 per cent less bad, is not a successful long term strategy for humanity, frankly," says McLennon.
While we've seen more green building in the higher education and institutional sectors, we are further behind in commercial buildings and especially the production housing sectors, says McLennon. He gives an example of a typical suburban house, with a two-car garage and what he calls a "bonus room" built above the garage -– "the house a lot of us grew up in."
"If you took a two car garage and a bonus room above it -- the cost of that piece of the house is the same, approximately, [as] energy independence with renewable energy," he says. "We question, what's the payback on solar panels, an asset that actually makes you money? But we don't question what the payback is on a two-car garage that covers an asset [your car] that depreciates so rapidly."
For things to change, we need a complete paradigm shift, a re-thinking of what we value, McLennon says.
"We're seeing now projects that will never have an energy bill and water bill, they will never release carbon into the atmosphere, so it's a completely different paradigm. What we're showing is that sustainable is possible now, it's not this far-flung utopian idea. We can move much further and much faster and when we do there are social benefits and health benefits and we provide a much more exciting vision of the future."
[See more Tyee environmental coverage.]