In New Orleans, on the very spot where Hurricane Katrina breached a levee, more than 50 LEED Platinum homes have been built for an average cost of about $150,000 each.
In Philadelphia, on an inner-city infill site deemed worthless by mainstream developers, a two-storey LEED Platinum home has been built for only $100,000.
And on Lopez Island, just east of Victoria, B.C., a group of families have built their own net-zero homes for a net cost of just $112,000 apiece.
While megaprojects such as the Olympic Village helped introduce green building to the public, small homes like these may come to define green building in the next decade.
In New Orleans, a green neighbourhood rises
Hurricanes Katrina and Rita destroyed more than 350,000 homes. Another 146,000 suffered major damage. Five years later, much of New Orleans remains a ghost town.
The Make It Right foundation was created to help rebuild a 16-block area within the city's Lower Ninth Ward. Its founder, actor Brad Pitt, sought not only to rebuild one of New Orleans poorest districts but to transform it into a neighbourhood of green homes that cost less to operate, provide better indoor air quality, and are built to survive the next hurricane.
Make It Right has built 50 LEED Platinum homes housing 179 people. A hundred more homes are under construction.
Property owners are able to choose from more than a dozen green home designs. Some of the designs incorporate elements of the neighbourhood's architecturally distinct "steamboat houses." Others are distinctly modern.
The first 50 homes cost about $150,000 each to build. Make It Right hopes to build the next group for even less.
Though inexpensive, these homes aren't cheap. The list of features is impressive. Metal roofs absorb less heat and reduce the need for air conditioning. Photovoltaic panels, tankless water heaters and Energy Star appliances slash monthly power bills. Bluwood framing, spray foam insulation and mold-resistant drywall reduce moisture problems. Zero-VOC paint, formaldehyde-free cabinets and green carpet improve indoor air quality.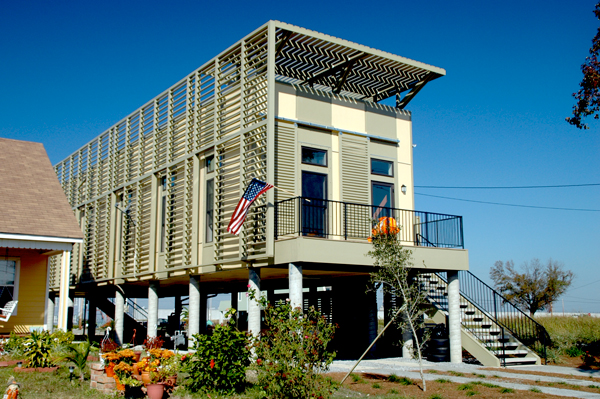 And the Make It Right homes -- the first of which was built on the very spot where the Industrial Canal levee breached on Aug. 29, 2005 -- are designed to withstand the next hurricane.
They are built with advanced framing techniques designed to withstand winds of more than 130 miles per hour. They are elevated beyond U.S. government requirements to ensure they will stand above the next flood. They are landscaped with pervious concrete sidewalks and driveways that allow stormwater to drain freely. And they include roof hatches, just in case.
The new houses have been estimated to be 10 times more sustainable than the homes they replace. And the Lower Ninth Ward now boasts the largest community of LEED Platinum homes in the world.
In Philadelphia, a LEED home for $100K
Proof that one does not need to build 50 homes at a time in order to lower the cost of building green is provided by Philadelphia developer Postgreen, which built a 1,150 square foot LEED Platinum row house for a construction cost of only $100,000.
"The 100K House was conceived as an attempt to prove that green construction can be affordable if properly designed and executed," said Postgreen president Chad Ludeman.
The two-storey row house demonstrates how the modern construction methods (such as structural insulated panels) can update a familiar urban floor plan: two bedrooms separated by a bathroom upstairs, a living room and kitchen downstairs.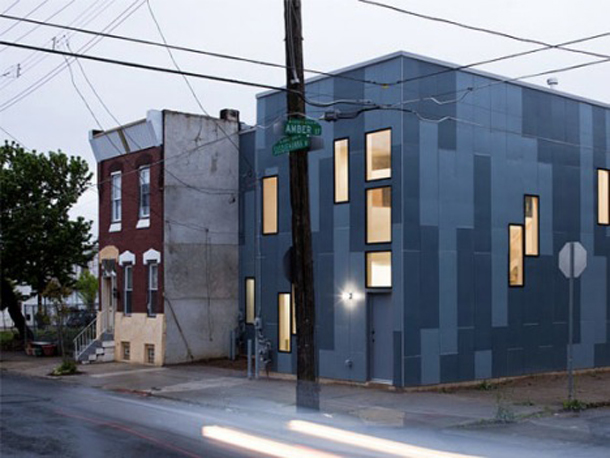 The 100K house's roof uses solar energy to heat the house's hot water, and collects rainwater for use in the garden. Its walls are constructed from prefabricated panels of rigid foam insulation sandwiched between sheets of oriented strand board (called "SIPs") and fitted with high-performance casement windows to create a tightly sealed envelope.
The home is cooled through a ductless (mini-split) air conditioner, heated via a radiant in-floor system, and tempered year-round with a small energy recovery ventilator. The interior features low- or no-VOC finishes, while the small yard is landscaped with drought-tolerant plants and 100 per cent permeable walkways.
In addition to being certified LEED Platinum, the 100K House won a LEED for Homes Project of the Year award from the U.S. Green Building Council.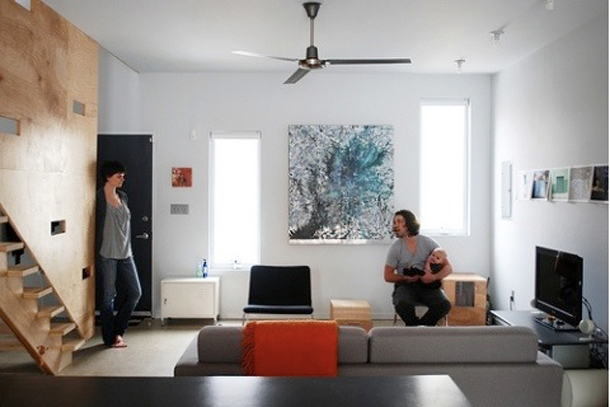 "Wherever possible we reduced complexity and finish level until we had a very clean, modern, simple home. Then we focused on those areas of green building where we saw the most value... location, site and energy efficiency," Postgreen wrote in accepting the award.
Postgreen's post-100K experience also proves there's money to be made in small green homes. The company sold the 100K House for more than twice what it cost to build, and is now developing a Passivhaus and other projects in the Fishtown, Kensington and Northern Liberties neighborhoods of Philadelphia.
On Lopez Island, a net zero co-op
By pooling their resources and providing much of their own labour, a group of Washington State families have succeeded in building 11 net-zero homes for a net cost of just $112,000 apiece.
Lopez Island lies due east of Victoria, B.C., in what the Americans call the San Juan Islands. As is the case on the Canadian Gulf Islands such as Mayne or Salt Spring, home prices in the San Juans have spiraled beyond reach of working families. According to a government report, "Working people and people who grew up in the islands have a hard time finding permanent housing in the county at prices local wages can support."
The Lopez Community Land Trust was created to address this problem. And Common Ground, a cooperative project of 11 family homes, is Lopez' newest development.
The project has functioned like a green building workshop since its inception. Residents were involved in the design and construction, and remain responsible for efforts to maximize ongoing performance. Dozens of volunteers, professionals and interns also participated.
Though the site is only seven-tenths of an acre, the project's design takes advantage of its strengths. These include solar gain for heating water, prevailing winds for ventilation, rain fall to offset potable water demand, and a climate suitable for gardening. Passive design strategies enable the project to minimize heating and cooling demand.
Lopez Common Ground uses 60 per cent less energy and 30 per cent less water than similar buildings. A solar photovoltaic system -- funded through a grant and a rebate program provided by the utility -- provides much of what power is required.
The total price per unit (including land, construction and soft costs) was $236,000. But after deducting grants and incentives such as those for the solar power panels, the net cost per household came to about $112,000 -- plus a lot of labour.
The Lopez homes were designed to produce as much energy as they consume, and data collected in the past year show that several have achieved net zero energy consumption.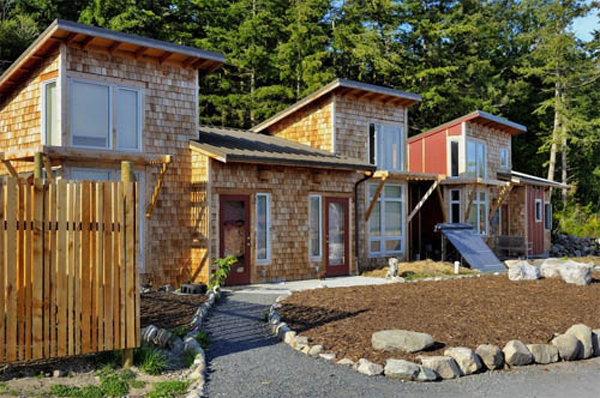 Though the Common Ground project did not pursue any certification, the cooperative used the LEED for Homes, Built Green, and Energy Star programs as guidelines.
And last fall, the Home Depot Foundation awarded Common Ground its Award of Excellence for Affordable Housing Built Responsibly. The award came with $75,000 to help the Lopez Community Land Trust get started on its next project.
'Polishing the turd'
Consider what these three projects have in common with one another, as well as how they differ from the sea of (unsold) new housing built in the past few years.
Here's what you'll find in each of these affordable green homes: A high-performance building envelope. Each of these homes have walls that are almost twice the thickness of the minimum that code requires. Each of those walls contain high-performance insulation. (None of these builders use fiberglass batts.) The doors and windows in each of these homes are not only double-glazed but also tightly sealed. And each of the gaps between doors, windows, junction boxes and the high-performance walls are foamed, taped or otherwise sealed to prevent air leakage.
Here's what you won't find in any of these homes: Italian marble countertops, European faucets or Sub-Zero kitchen appliances.
In other words, these builders invested in the parts of a house that last for 100 years or more, rather than squandering money on fixtures that are typically replaced every 10 to 20 years.
Postgreen partner Nic Darling put it this way:
"Why do production home builders and established developers, people who have been building homes for many years, have to spend 15 per cent more to get to LEED Platinum while us rookies are getting there at a discount?" Darling asked.
"Most of the builders and developers reporting high premiums for pursuing LEED are still trying to build the exact same home they have always built. They are simply adding features to make that same house energy efficient, healthy and sustainable," Darling continued.
"So, they polish the turd. Rather than redesign the house that has been successful for them in the past, they add solar panels, geothermal systems, high-end interior fixtures, extra insulation and other green features. The house gets greener. It gets certified, but it also increases significantly in cost. Since the features are add-ons and extras, the price rises as each one is tacked on."
Yesterday: Five Myths About Green Building.
Next Tuesday: Rating the Green Building Raters.